Master Series Asylum Locking Chastity Cage Review
By Pleasure Panel reviewer StrapOn_Banana
So the Master Series Asylum Locking Chastity Cage is certainly an intriguing looking device and Mr. Strapon_banana and I were delighted to be given the chance to review it for the lovely Cara Sutra.


Enjoy all our chastity cage reviews & chastity advice articles
As a couple we're not new to chastity. We already own a CB-6000 chastity device and silicone Dickcage. I'll not go into the benefits of caging your man too much but I will say this… expect lots of extra attention… and household chores actually getting done! Yes it's true, putting your man's cock into a cage makes him a better person. He will literally do anything to get a release. Now… on to this chastity device in particular.
Packaging is plain and simple. You get a good view of the cage before you rip that box open with eager hands. The Master Series Asylum Locking Chastity Cage is beautifully made in stainless steel, welded together and finished off with a polish so you don't get any chafing on sharp edges.
What You Get
The chastity cage
Ring for the base of the penis
Locking pin and lock with 2 keys
Urethral sound (penis plug/tube which goes down the penis)
The first thing we noticed about the Master Series Asylum Locking Chastity Cage was how heavy it was – but hey, it shouldn't come as any surprise… it is stainless steel. My partner used the usual method of getting into the chastity cage using the stocking method. To do the stocking method, you place some tights or a thin sock over the penis make sure there is some slack at the end of his cock. You then pass this through the cage and through the end of it and pull the entire sock through the cage along with his cock. This is our favourite method of getting into chastity as it ensures the foreskin is pulled forward with the sock instead of beings tight and pulled back. With my partner in the chastity cage I noticed how low it rests between his legs – which would make it great for wearing out, I devilishly thought.
Now on to the urethral sound/penis plug. It's worth noting this is new territory for us. With a little struggle to get things aligned perfectly with the urethral opening, we used some lube and attempted to insert it very slowly. Unfortunately it wasn't happening on this first occasion. He found it quite uncomfortable and a little painful which indicates to us STOP. We decided we would try it again another day and practice without the cage.  Going back to my earlier devilish thought, I decided now was as good as ever an opportunity to test the Master Series Asylum Locking Chastity Cage out under clothes, I pulled his boxers up over it and off we went out for the evening for a family dinner – gasp – so naughty! You couldn't really tell he was wearing it but it was such a thrill knowing he was.
My husband reports that he found the chastity cage very comfortable. He also felt it was a more hygienic design to his usual, as it lets the penis breathe, as opposed to the CB Series of cock cages. The chastity cage also allows for showers without need for removal, ideal for those dedicated long-term chastity device wearers.
Urethral Sound/Penis Plug… Again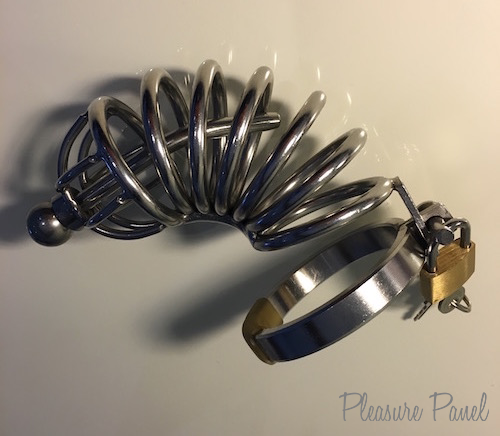 Second time round with the urethral sound/penis plug and this time we opted to try it without the cage. We took things very slow and managed to slide it in up to the bend with relative ease. The bend however seemed too severe for him and at that point  it became painful. We may try straighten the tube a little another time but for now we were happy to just accept the Master Series Asylum Locking Chastity Cage as a great chastity cage. We did both mention how we thought a similar design with a flexible urethral tube would be great.
7/10
Great cage but the urethral sound/penis plug isn't for everyone.
– StrapOn_Banana
---
Thanks to our reviewer StrapOn_Banana for this review of the Master Series Asylum Locking Chastity Cage.


This product was sent free of charge, in exchange for a fair and honest review by the Cara Sutra team.
This review contains affiliate links