John Thomas Umbungo's Finger Anal Probe Review
Review of the John Thomas Umbungo's Finger Anal Probe (large, soft) by Tigerlily
Who is Umbungo, and why is his finger so unreasonably long? Your guess is as good as mine. But what I can tell you is that his finger feels utterly lovely going up my bum.
Thanks to John Thomas Toys for sending over this… elongated finger for an honest review. Orders include a free Vac-U-Lock suction cup adaptor, and a handy faux velvet case to keep Umbungo's Finger in top form for his next use.


Enjoy all our John Thomas reviews
plus our guide to pegging dildos & anal sex toys
The John Thomas Umbungo's Finger Anal Probe is a platinum silicone toy designed for anal pleasure, combining depth play, a nice long dildo, and a wide end to stretch you. If that sounds like something you'd enjoy, read on.
Spoiler: it almost certainly is something you'd enjoy.
Packaging
Your toy should arrive shrink-wrapped, with a golden seal of authenticity and with an indication of what firmness you chose.
Take note of the sticker that says "wash before use", and do so, as it's likely covered by a dusting of powdery release agent from the molding process.
As a platinum silicone toy, the John Thomas Umbungo's Finger Anal Probe is thankfully very easy to wash and sanitise thoroughly. Most of the time, washing with a little soap and warm water should be sufficient, or you can spritz with some sex toy cleaner to be especially safe. For a deep clean, you can even boil it or place it in the dishwasher. A bleach solution can also be used if there are any undesirable smells you want rid of, but generally, just soap and water after every use will be fine.
Sizing
I opted for Umbungo's Finger in large size, but curiously, it's a lot smaller than other large toys I own, and about the same size as other Mediums.
Generally, I find sizing across the John Thomas Toys ranges to be consistent, but in this case, I'd suggest going one size up from usual. I usually opt for a Medium, so this certainly wasn't too large, but nor was it as challenging as I'd hoped it might be.
This brings us to the point that you should always check the sizing on the John Thomas Toys page because that's literally why they put it there. Compare the actual measurements to toys you already own for a realistic idea.
The large size pictured throughout this review has a massive 11 inches of insertable length. The widest point is the ring closest to the base (the "knuckles"), at 11.5 inches in circumference. The tip is a mere 3 inches around and doesn't get much thicker until about halfway down the shaft, where you'll meet the first ring. These rings are Umbungo's "knuckles". The entire finger is devoid of texture, with a completely smooth surface to ride down. This means you can concentrate on the depth and stretching elements.
Although the John Thomas Umbungo's Finger Anal Probe bends over at 90-degrees or more, and somehow manages to maintain that bend when gravity demands otherwise, it's so long and flexible that you wouldn't know it during use. It'll snake where it needs.
Vac-U-Lock Cavity
Like most John Thomas Toys, you'll find a very useful Vac-U-Lock cavity on the underside, which can be used with the included suction cup adaptor, fitted to a strap-on harness, or used with a suitable fucking machine.
While Umbungo's Finger isn't exactly an ideal match for pegging, it is possible – just make sure you mount him a little first before your partner starts thrusting.
Using Umbungo's Finger
Mounting Umbungo's Finger is tricky, given how thin and flexible it is, so you'll need to grab the end and guide him in. However, there's no need to be gentle: the smooth surface should easily slide in once you've inserted the tip. Getting over the first knuckle is easy, but you might encounter some resistance at the second.
The John Thomas Umbungo's Finger Anal Probe offers up sensations unlike any dildo you've tried before. It's so long that you'll be forced to push slightly into your colon if you want to take the entire length. And at the same time, the toy's base is much broader than the shaft, so you'll be tackling that, stretching ever wider, while his tip is teasing your deepest insides. It's quite the experience.
As with any toy that penetrates the colon, even a little, you find more cleanup than usual is required.
Ready To Be Umbungoed?
So what exactly is Umbungo? The origin is unknown. But "Um Bongo" is a tropical fruit drink, still sold in little ol' blighty despite the somewhat racist overtures, and entirely best forgotten about. I include it only for context of the tune to the playground rhyme my childhood self would chant, which, who knows, may have inspired this particular John Thomas Toys design. "Umbungo, Bungo, they stick it up your bum-go."
Umbungo's Finger is a fun and quirky anal dildo for those who want to indulge in a bit of depth play, and a bit of stretching, without being too much of a challenge (even in large) from unusual textures.
Admittedly, it's not the most textured or visually stunning design in the John Thomas Toys range—you should look elsewhere for colour-mix marbled fantasy alien dildos, full of all manner of knobbly bits and tentacular treats. But it is unique.
I score the John Thomas Umbungo's Finger Anal Probe a tall and equally filling 8/10.
– Tigerlily
Buy Yours Today
Thanks so much to Tigerlily for this fantastic & thorough sex toy review! Find more fab dildo & sex machine reviews by Tigerlily here at CaraSutra -as well as at their own website, sextoydb.com.
Buy your John Thomas Umbungo's Finger Anal Probe directly from JohnThomasToys by clicking through the big green button below: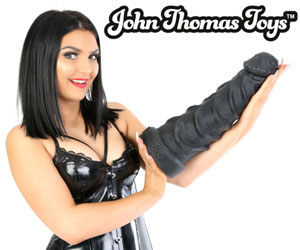 John Thomas Toys is a sponsor of carasutra.com