Big Guide To Strap-On Dildos, & Our Pegging Dildo Reviews
You may remember my last 'big guide' – the Big Guide To Strap-On Sex Harnesses I published last month. Obviously you'll need a fantastic dildo to attach to your new strap-on harness, so here's the follow-up feature: my big guide to strap-on dildos!
Remember, strap-on sex and indeed anal pleasure (not that the two are mutually dependent) aren't for any one specific gender, sexuality or relationship type. You can enjoy the pleasures of strap-on sex and/or anal stim whether you're kinky or vanilla, het, gay, bi, cis, non-cis, queer –it's for whoever. The strap and dildo don't care who they're pleasuring, so adventure on! Just don't forget the lube if you're an anal play explorer, and consider ditching the anal desensitising gels. Really… they don't do you any favours.
Selecting the right pegging dildo for you and your partner is incredibly important. Just as you want a strap-on harness to feel secure and comfortable during use, so too the dildo you're using to fuck your happy partner.
Consider the type of harness you have. Is it an O-ring style attachment or vacuum plug? What will you be using the pegging dildo for –vaginal or anal stim, or both? Silicone dildos are non-porous and can be cleaned then boiled between uses to ensure they're completely sterile. A g-spot angled tip can mean the difference between 'mmm…' and 'OH GOD YES' in the heat of the moment, whether you're pleasuring a vagina or someone's prostate.
And when it comes to sex toys (if nothing else): size matters. If unsure between two sizes, go smaller. Objects in your arse feel much bigger than they appear.
Will you choose vibrating or non-vibrating? Some have an internally worn portion for the 'giver' for added thrills.
Then there's the aesthetics, if they're important to you. A realistic style phallus or an abstract work of art? Rippled and noduled or smooth? Which colour takes your fancy? Is the pegging dildo that first caught your eye made of a non-toxic and body-safe material? There's certainly a lot to consider.
Without further ado, let's take a look at the strap-on compatible dildos from known brands.
Guide To Pegging / Strap On Sex Dildos
BMS Factory 
A recent guest review awarded a full 10 out of 10 to the BMS Factory Rotating and Vibrating Dildo. As well as being a sizeable, silicone dildo with balls, this toy also has a suction cup base. It means that (as well as sticking it to smooth surfaces) you can use it in an O-ring strap on harness. Strictly a vibrator due to the vibrating stimulation it offers, this is a brilliant option for those who want something a little more sizzling during their strap-on adventures. USB rechargeable and realistically styled.
A spectacular product from the effective and well-priced BMS Factory range.
Read our BMS Factory sex toy reviews.
Bondara 
Much of the strap-on offerings at Bondara are the harness with dildo integrated kind, or at least harness plus at least one compatible dildo. That said, you can find separate strap on dildos for sale at Bondara if you look through the category carefully.
I particularly like Bondara have made some of their own strap-on dildos from silicone, the non-porous, non-toxic and body-safe material of choice. The Bondara Silicone Smooth Dildo is available in either 5- or 7-inch lengths and is priced from just £12.99. Or, opt for the 8-inch Bondara Silicone Realistic Dildo which costs £19.99. For large toy lovers, the Bondara Rider Black Silicone Realistic Dildo is available in a whopping 10-inch length.
Read our Bondara strap-on reviews.
Doc Johnson: Vac-U-Lock 
I've been using Doc Johnson dildos since I started my adventures in the sex toy world. It wasn't long before I came across the Vac-U-Lock sub-section of Doc J, which is a range of strap-on products which use a vacuum plug attachment method rather than traditional O-rings.
It's such a shame that many in the original range of Vac-U-Lock dildos are made with materials which aren't fully body safe, such as PVC and jelly. You can find strap-on compatible dildos in the Doc Johnson family which are made from silicone, such as in the Platinum collection, but I've found them harder to locate at retailers.
Read our Doc Johnson strap-on reviews.
Fun Factory 
Fun Factory were originally known for their pulsating Stronic line of vibrators, but soon branched out into the design of other styles of sex toy. Now, Fun Factory have an award-winning range of adult products which includes vibrators, penis masturbators, jiggle balls, anal toys –and yes, dildos.
The Fun Factory Tiger Dildo is a personal favourite, while my reviewing team loved the Boss Stub which has a larger than usual tip for higher levels of pleasure. They both have the flared base required to make them both anal friendly and strap-on harness compatible. Plus, they're made of non-toxic, non-porous silicone.
Read our Fun Factory sex toy reviews.
GODEMICHE
GODEMICHE are the UK-based manufacturers of a colourful array of silicone dildos and anal toys. Their dildos are called Adam, Ambit, Peg, Apprentice and Hercules –each one boasting a different design according to your needs and desires.
Adam's design was inspired by real genitals, whereas Ambit is smooth but curved to precisely target those G-spot and prostate pleasure zones. Peg is a slender but anal safe insertable, while Apprentice is a slightly larger relation. Hercules is the girthy veined god of your delicious dildo dreams, complete with pendulous testicles for super swinging action. All of the above are strap-on compatible with the correct sized O-ring (see the specific product pages for sizing details).
Read our GODEMICHE reviews.
Lovehoney
Lovehoney make and sell… well, pretty much everything. And at great prices too. Amongst their overflowing cyber aisles you'll find some fantastic strap-on dildos, including eponymous styles, the Lifelike Lover range and the self-erecting bionic beauties: UPRIZE.
Whether you like them smooth, rippled, curved, realistic, skin toned or all the colours of the rainbow (sometimes literally!), Lovehoney has the strap-on compatible dildo for you. Of course there's a fantastic loyalty scheme, as well as the guarantee of secure and discreet packaging for your pleasure packages.
Read our Lovehoney strap-on reviews.
Loving Joy 
Loving Joy is an up and coming sex toy brand which is fast establishing itself as a reliable manufacturer and retailer of great quality adult products. The newest toys in the range are being made with body safe materials and to high standard, while the team behind the brand have pledged to move towards completely 'plastic-free' packaging over the next three years.
A guest reviewer loved the Loving Joy Curved 5 Inch Silicone Dildo With Suction Cup, which is petite but perfectly formed. The black or cream options at the Loving Joy website range from 5 to 8 inches in length, with suction cup bases which are also harness compatible.
Read our Loving Joy sex toy reviews.
NS Novelties
NS Novelties are widely known for their effective, mid-price vibrators, but they also offer a few strap-on compatible dildos such as the NS Novelties Silicone Colours Pride Edition 5 Inch I recently reviewed for Lovehoney.
The 8-inch edition was reviewed previously by the incomparable Dom Strap On.
Read our NS Novelties sex toy reviews.
Pipedream 
Pipedream are an enormous sex toy manufacturer and wholesaler whose products can be found on the vast majority of sex toy shopping websites. You just have to be careful that you select products made from body safe materials, so many Pipedream toys are made from unappealing and unsafe materials such as jelly, TPR and PVC. I'm not too keen on their sexist marketing either.
If you can overlook all of the above, you might enjoy trying out one of the dildos in Pipedream's King Cock range. They're realistically designed dildos which have flared or suction cup bases, making strap-on use possible. They're offered in skin tones and a plentiful variety of lengths and girths to fit every… niche.
Read our Pipedream Toys reviews.
Shots Toys 
One of the leading wholesalers in the adult product industry for many years, Netherlands based Shots Toys provide myriad styles of adult toys to satisfy every inch of the market. This includes strap-on dildos, of which Shots Toys have crafted various styles. I'm pleased to see silicone options amongst the vast assortment, in bright colours and with flared and/or suction cup bases.
A guest reviewer recently loved her experiences with Shots' SLT Self-Lubricating Suction Cup Realistic Dildo. Despite unfortunately being made with TPE, this 7-inch wonder is a cream coloured, realistic style dildo with balls and suction cup which simply self-lubricates generously with the slightest drop of moisture.
Read our Shots Toys reviews.
Silexd
I hadn't heard of this brand before the Silexd 9 Inch Realistic Silicone Dual Density Suction Cup Dildo With Balls was kindly offered to the CaraSutra team for an honest review by Sex Toys UK. The major draw is that it's made from the flexible toy material of choice, silicone, rather than a cheaper but lower quality/potentially toxic option. It's also a whopping 9 inches; perfect for size queens (and kings).
The reason why such a sizeable silicone dildo is also still affordable in this case is because Silexd use a different material for the firm inner core. Their patented Silexpan material is cheaper than silicone, and used only to fill the inside of the toy. The outside is still made from/coated with gorgeous, silky and safe silicone material. In this way, you're promised a weighty, sizeable, quality silicone covered dildo at a lower price than from many competing brands.
Read our Silexd dildo reviews.
So Divine 
It's been fascinating watching the So Divine brand grow exponentially in terms of product range, acclaim and availability in mainstream stores (for example Superdrug, Tesco and Boots) as well as in various adult toy stores online.
So Divine have taken time to manufacture and offer sex toys to the market only after the appropriate research and development, meaning there have been identifiable stages of their brand's growth. To begin with, there were So Divine bullet vibrators. Larger vibrators came along after those, both classic and rabbit styles. Now you can purchase a So Divine 7 Inch Dildo, with balls and suction cup, in black, blue or pink. Our reviewer enjoyed her pink version with its silky soft silicone outer and firm inner core.
Read our So Divine sex toy reviews.
Tantus 
Tantus are world-renowned for their top-quality silicone dildos and other styles of sex toys. They offer just about every style, size and colour dildo you could possibly want, in varying degrees of firmness. The vast majority of Tantus dildos also have a wider disc base, making them suitable for use with an O-ring style strap-on harness.
Tantus dildos have received consistently high ratings here at the Cara Sutra sex blog. The reason? They don't try to be something they're not. Tantus have simply focused on delivering the highest possible quality dildo which is beautiful, effective, reliable, body-safe and versatile.
Read our Tantus reviews.
Vixen Creations Vixskin Dildos 
Heard of Vixen? My Vixen Creations Mustang Royale Dildo remains one of my absolutely favourite dildos, despite receiving it to review many years ago now. It's dual density, silicone and styled realistically. The base makes it beautifully compatible with strap on harnesses, plus it's shaped to provide sensual vulva stimulation. The dildo itself feels just like a real, erect penis; it has that little bit of squish to the outside but the dual density provides a solid feeling core, and weight, which closely resembles the 'real thing'.
The majority of Vixen Dildos are in realistic skin tones, as well as styled with veins and detailing to look like a real penis. However, Vixen have recently added a splash of colour to their range with a few dildo styles, perfect for those who prefer vivid aesthetics in their sex toy collection.
Read our Vixen Creations VixSkin dildo reviews.
Ylva & Dite
A recent addition to my list: I was sent the Ylva and Dite Aria dildo to review earlier this year. Ylva and Dite are a Netherlands based manufacturer and retailer of silicone dildos, which are available in a few different styles and a wide variety of colourways.
I was thrilled with my Aria dildo, which I chose in Fruit Green colour that turned out to have a truly gorgeous oceanic sparkle. The flat base means it's perfect to use with an O-ring strap-on harness, and the ridged shaft and rounded tip results in a fully satisfying pleasure session every time.
Ylva and Dite go above and beyond to provide the exact dildo to fit your needs, with a mesmerising choice of 13 dildo styles in 12 colourway options with 8 types of finish.
Read my Ylva and Dite Fruit Green Aria Dildo review.
It's clear that there's a huge amount of choice available when it comes to shopping for the strap-on sex dildo of your dreams.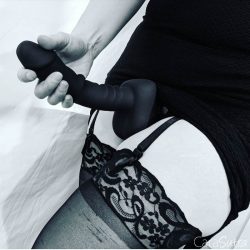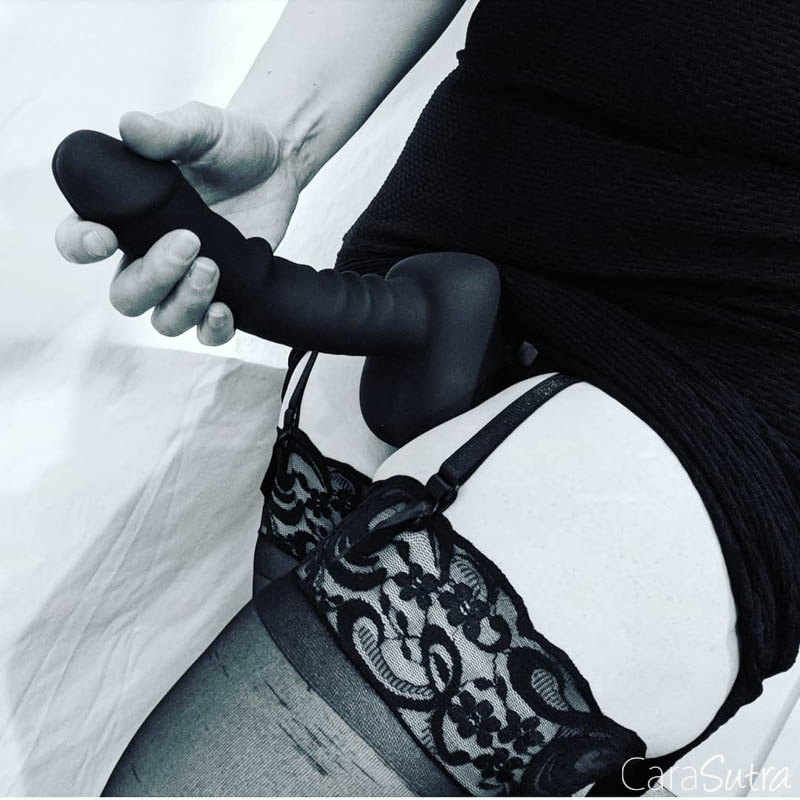 Just bear in mind what harness attachment you'll be using, and the base circumference of the dildo, which impacts what size O ring you'll need to use. It's also important to think about how you'll be using the dildo itself – for vaginal or anal use – as this may affect both the style of dildo you opt for and the size.
Consider not only the length of the dildo but also the width; particularly important when it comes to anal play/pegging. As I mentioned at the start, objects in the butt feel larger than they look in the packet…
After you've made your choice and received your lovely strap-on dildo, all that remains is to buckle up, grab the lube, take it slow and ENJOY.
Here's to your happy strap-on sex adventures!

Contains affiliate links