Perfect Fit Fat Boy Penis Extender 7.5 Inch

Review
By Pleasure Panel reviewer BarginHunta
The idea of a penis extender had held my interest for a while; not so much through any great feeling of need, but rather the arousing thought of presenting my wife with something on the larger scale. I had always been cautious of purchasing one due to concerns of 'fit', but when the Perfect Fit Fat Boy Penis Extender 7.5 Inch came up for review and I saw that the sex shop website described it as "insanely stretchy" I just knew if it was going to be any extender, I had to give the Perfect Fit Fat Boy Stretchy Cock Extender a try!
Packaging
There is no mistaking the Perfect Fit Fat Boy Penis Extender!
It arrives packaged in a clear plastic clamshell packaging clearly displaying the product, and emblazoned with the product name:
The front of the box contains a few points of interest about the Perfect Fit Fat Boy Penis Extender and also contains a handy image giving a preview of the texture of the extender.
Whilst this might perk the interest of anyone hoping to be penetrated by this, a quick look at the Perfect Fit Fat Boy Penis Extender (even in the packaging) soon reveals that this texture is on the inside of the sleeve, so is purely for the wearer.
Flip the packaging over and there are some directions for use for use (lube, lube, lube!), as well as some basic care instructions (soap and water wash).
It also states that the Perfect Fit Fat Boy Penis Extender is made from "SilaSkin", which is described as "a proprietary blend of TPR and silicone – ultra soft, ultra stretchy".
Notably NOT on the package, but mentioned on the Prowler website is that the material IS porous, and should NOT be considered a contraceptive. Yes, it does have a 'closed tip', but at the microscopic level it is porous, and therefore you should not rely on it as a form of contraception.
Unboxing
The Perfect Fit Fat Boy Penis Extender is super easy to unbox. The clamshell style case simply opens – no heat-sealing in sight meaning no frantic hacking with scissors to get in!
Once the 'shell' is open and removed the Perfect Fit Fat Boy Penis Extender itself is sat on a plastic tray.
I found this really handy (not just for the photos!) as it gives a convenient place to leave the extended both prior to use and after washing, without any concerns of it rolling away or picking up lint.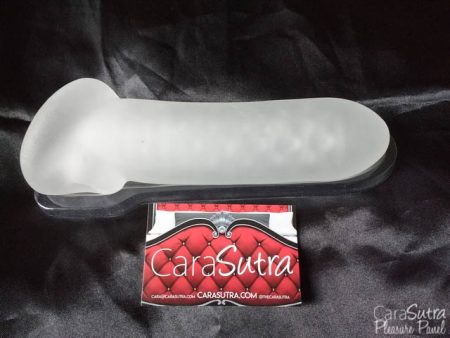 Initial Thoughts
The Perfect Fit Fat Boy Penis Extender itself is incredibly soft, and actually does feel quite like the texture and resilience of skin & flesh. It is very flexible, to the extent that if you pick it up it will not remain straight, but rather bend along the "shaft".
It looks well made, and has no noticeable seams or 'mould lines' either.
On receipt the Perfect Fit Fat Boy Penis Extender was relatively clean on the 'outside', but the inside was covered in a fine grainy powder. This is not an issue since the extender can easily be washed; in fact the SilaSkin is resilient enough for the entire extender to be turned inside out without damage.
I would not advise using the product before giving it a good wash, but that is fairly sound advice for any sex toy, irrelevant of how clean it may or may not look.
One item of concern to me after unboxing the Perfect Fit Fat Boy Penis Extender was the "ball loop"; this is intended to be stretched around your testicles to hold the extender in place, but on initial inspection it seems tiny!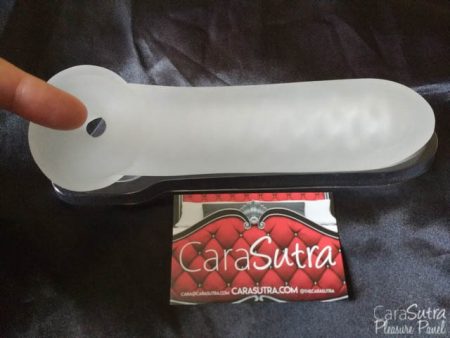 However, if anything this really does just show how much the SilaSkin material can stretch, as it is easily stretched wide enough to be slipped over comfortably:
In terms of size, the extender on its own is approximate 7.5" (19 cm) in length taken on the top edge to the tip, and just under 2" (5 cm) in girth, giving a circumference of approximately 6" (15 cm).
The internal opening of the extender runs for the full length, and is approximately 0.8" (2 cm) across, so is likely to be a comfortable fit for fingers or toys should that be desired (as described on the packaging), as well as the stretchability meaning that it should also be a comfortable fit for a range of sizes of penis. However, as mentioned previously, the SilaSkin is fairly soft, so if your length isn't close to the length of the sleeve you may find that it folds or creases during use and becomes uncomfortable.
On seeing it for the first time my wife described it as being similar in size (from her perception) as the majority of 'slightly larger than average' sex toys.
How It Feels
From his point of view
The inside of the Perfect Fit Fat Boy Penis Extender is covered in lots of lovely ridges and bumps throughout the entire length.
I gave myself a generous coating of a water based lubricant as well as the 'opening' of the extender (as recommended), and then (having first compressed the extender to remove as much air as possible) proceeded to slip it on. This was a tricky manoeuvre and is best performed somewhere where you can both apply lubricant, and also get it back off of your hands in order to grip the extender and pull it onto yourself. The internal texture feels great against you and with the lube these textures do tend to move against you the whole time you are wearing it.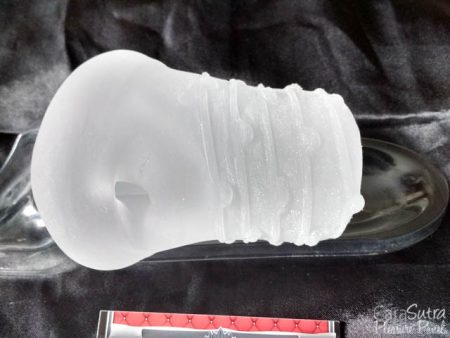 Once on I must admit I found it a strange sensation to start with. Despite being super stretchy there is still a certain amount of 'compression' that can be felt, and it does have a reasonable amount of weight to it once it is hanging off of you!
Despite that it does feel good and certainly feels 'impressive' as you hold it to coat the outside with lubricant.
From her point of view
Knowing the size of the Perfect Fit Fat Boy Penis Extender "in the box" I opted to warm myself up with one of my other toys whilst he got it on and prepared. Being slightly apprehensive of the potential size I deliberately chose not to look at the extender on my husband before we attempted to use it, deciding to judge it on sensation alone.
I have to say our first attempt to use it was less than satisfactory, with us barely managing any penetration, and with me almost calling a halt to the whole thing.
We then decided to start again, but knowing how my body reacts too cool toys in general, this time we left the extender to warm in a bowl of warm water for several minutes before he put it on again. The second time with it pre-warmed, (and lubed again), went much better!
I had wondered how much sensation I would get from the totally smooth outer surface of the extender but am pleased to report that I found it great! The SilaSkin has just the right balance of resistance and give to feel firm when worn, without feeling 'solid'.
My recommendations (unless you happen to like the cooler sensation!) is definitely to warm the Perfect Fit Fat Boy Penis Extender before use, and ensure you use plenty of lubricant. Once we followed that approach I have to say it felt pretty amazing!
Overall
For him; the sensation of the sleeve felt very good. Without a doubt it does change the sensation of sex, but then it is bound to, you are wearing a "second skin" after all!
However it is not a 'bad' difference and having both the inside and outside of the sleeve lubricated does mean that you get some movement within the sleeve, allowing the ridges and bumps to do their work! In addition to this I have to say that personally the arousal from the visual element of using this with my wife certainly added to the whole experience.
For her; be sure to warm up beforehand (and did I mention, lube, lube, lube!) and this is a very enjoyable toy to use together. You may find that you need to take the initial penetration slower than usual until you become accustomed to it, but after that it does make for a very interesting twist to sex!
Cleaning
As mentioned earlier, cleaning is very easy. The SilaSkin is reasonably robust, and each time we've used it we have tended to wash the outside, turn it completely inside out, wash and dry the inside, turn it back the right way, dry the outside and then leave to air dry. The SilaSkin does not seem to attract dust, fluff, or lint like some other materials either, so once clean it does tend to stay that way.
Summary
The Perfect Fit Fat Boy Penis Extender is a very well made, and generously sized extender. It was a pleasant experience to find an extender that was both accommodating and comfortable for both partners. The SilaSkin feels great, and seems to be reasonably robust putting up with vigorous use, and thorough cleaning.
It is not something that we would use everytime as it does without doubt change the sensation for both people, but then you are unlikely to use any sex toy everytime and having it available in the toy box for when the desire takes you is certainly going to be something to look forward to for us both!
Personally we have used the Perfect Fit Fat Boy Penis Extender both with, and without, condoms (on him; they would never fit over the extender!), and both worked equally well.
However in writing this review we did notice that the Prowler website states "This product is not compatible with latex products", but this is not mentioned anywhere on the packaging, and we have noticed no detrimental effects from using it with condoms –make your own decision on that!
A note from Mrs BarginHunta:
Only you know how your body reacts; for me personally I find that if I am apprehensive about a toy at all, then my body will naturally 'tighten', which with something like the Perfect Fit Fat Boy Penis Extender is definitely going to cause a problem!
In this case I do advise that perhaps you make your first use 'blind', as I find that this helps me a lot (although I guess for some people it could just make the whole situation worse?!).
After we had used it (successfully) I measured it on him, (already knowing what size it was in the box); and it came out at close to 8" (~20.5 cm) of insertable length (along the top surface), but more of an eye-waterer was that it was a little over 8" (~20.5 cm) in circumference too (which works out at just over 2.5" (6.5 cm) in diameter!).
I can honestly say that I think if I had seen him approaching me with THAT between his legs originally I don't think we would have got very far with the testing!! – Thankfully the design does mean that the tip tapers slightly, and I have to confess I am now rather fond of it!
Overall rating 10/10
– BarginHunta
---
Where To Buy
Thanks to Pleasure Panel reviewer BarginHunta for this review of the Perfect Fit Fat Boy Penis Extender 7.5 Inch.
The Perfect Fit Fat Boy Penis Extender 7.5 Inch was sent free of charge, in exchange for a fair and honest review by the Pleasure Panel.
Contains affiliate links