Sweet Smile Horny Pink Silicone Hollow Strap On Review
By Pleasure Panel reviewer Duke of Monroth
Pleasure Panel Review: Sweet Smile Horny Pink Silicone Hollow Strap On from Bondara
From the Duchess:
The Sweet Smile Horny Pink Silicone Hollow Strap On packaging screams German engineering, and my initial assumption — namely, that only a German company could engineer a hollow strap-on that could nevertheless penetrate my man anally — was incorrect. I was surprised to read the Made in China on the box. Darn.
That said, the Sweet Smile Horny Pink Silicone Hollow Strap On was enjoyable from my perspective. It was fun to strap on, and I needed no adjustments of the straps, which are silicone, just like the product. I stepped into it just like panties and pulled it up, where it stayed put. The hollowness keeps it erect without heaviness, but a sturdy, solid tip (I think it is ABS plastic covered with silicone) makes it strong enough to penetrate with no problems. It didn't crumple in the slightest, which surprised me.
The dildo is is slightly pointy and curved at the tip, which looks nice to me (better for finding the g-spot on a lady or the p-spot on your man if your fucking facing him), but I don't think my husband liked the feel as much as I did. I had a ton of fun wearing this strap-on with my knee-high, pink hedgehog socks and penetrating my Duke of Monroth.
One cool feature was that the hollowness makes it suction to my skin. The Sweet Smile Horny Pink Silicone Hollow Strap On stays perfectly in place just above my labia, making it feel like a real appendage. That was simply fun. I love stroking my own cock! I actually wondered whether I would get a little hickey there, but I didn't. I do have a full Brazilian, so I don't know what it would feel like with bush, but I don't think it would stick.
The straps for adjusting the fit are a bit like bra straps, but I was really not looking forward to adjusting them because of the silicone. It just seemed like it would be sticky and difficult. Regardless, out of the box the Sweet Smile Horny Pink Silicone Hollow Strap On fit me comfortably with little to no adjustment, and it stayed put during use.
It's no Spareparts Joque (my personal harness of choice). There are several spots for adjustment, and two of them are strangely placed almost directly at the base of the toy below the dildo. It seems like they would poke one or the other of us, but I wasn't bothered, mostly because I didn't insert the full length of this cock, I'm assuming.
My Duke and I prefer, as I said above, our Spareparts Joque harness with a 6 inch BS Atelier silicone dildo which the Duke could take pretty easily and comfortably. This Sweet Smile Horny Pink Silicone Hollow Strap On is more pointy at the tip and has a thicker girth all the way down the shaft, making it more difficult to push all the way in, even with a lot of lube. In the end (pun intended), this strap-on is probably better for vaginal penetration by design.
As for anal, this product is a one-time use for us, pushing my rating to a 4/10, even though I liked the look, feel and role-play of it. Based on my husband's review, I don't want to try it myself.
Duke's view:
When I received this Sweet Smile Horny Pink Silicone Hollow Strap On I didn't really know what to do with it… is it an extension for me to strap-on and fuck the Duchess giving her a little extra, or is it meant for my wife to strap on and plough me? The packaging, which is in several languages (German primary and English secondary), implies you could use it for either.
Upon closer inspection there is no way my erect cock is going to fit inside this dildo, so that use was out of the question. So it was time for me to turn around and take it like a man.
The Duchess strapped on and was a sight to behold with her knee high socks and a bright pink cock protruding from her hot body. If you want to see what playful, sexual joy is let your wife strap on a cock and resolve any penis envy she might have.
For a silicone toy the tip of this dong is very hard; it almost feels like plastic and based on the packaging/description online I think it is ABS underneath the silicone layer. With lots of lube we got down to business.
We started in a doggy position, but the upward angle of the tip of the cock and a firm ridge down the center on top and a slight seam underneath made insertion somewhat uncomfortable.
With a little patience we were able to get the tip in but this cock feels thicker than the advertised 1.5 inches! The silicone also seemed to absorbs/spread/distribute large amounts of lube so we had to keep adding more as we went, and when I say more I mean more than usual (which is a lot). The Duchess turned me over to fuck me front facing and that was a better angle for me. As my wife said above, surprisingly the cock didn't bend or fold during heavy use. Once the tip began to press against my prostate in this new position we were ready for lift off. 3, 2, 1, climax!
I'm not sure who this Sweet Smile Horny Pink Silicone Hollow Strap On is designed for (man, woman, either) or who would necessarily buy it. For a beginner new to pegging (the price range it seems to be at) it seems a little large and uncomfortable. For someone who is more experienced at pegging I'd expect they would decide to buy a harness and a dong to meet their specific desires at a higher price point. In a pinch, if you were to pick it up for a little fun for a quick kinky weekend romp I'd say go for it. There are better products and combinations out there, but this Sweet Smile Horny Pink Silicone Hollow Strap On certainly got the job done as well.
Rating: I'll agree with the Duchess and give the Sweet Smile Horny Pink Silicone Hollow Strap On a 4/10.
– Duke of Monroth
---
Where To Buy
Thanks to Pleasure Panel reviewer Duke of Monroth for this review of the Sweet Smile Horny Pink Silicone Hollow Strap On. You can buy it here at Bondara for £34.99.
This product was sent free of charge, in exchange for a fair and honest review by the Pleasure Panel, by Bondara. Thank you! 🙂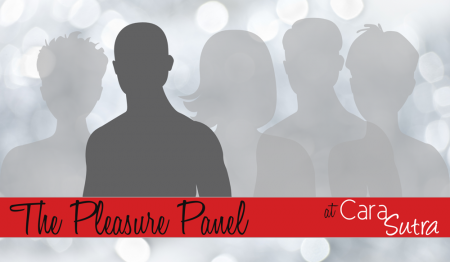 This review contains affiliate links.