Rocks Off Ignition Bullet Vibrator Reviews
Rocks Off Ignition Bullet Vibrator reviews by Random Red Rose & She Bangs
Random Red Rose's Review
As part of Cara Sutra's sex toy tester program I was given the amazing opportunity to try, test and thoroughly bloody enjoy the Rocks Off Ignition Vibrator.
Enjoy all our Rocks Off sex toy reviews
I'll just describe the packaging of the Rocks Off Ignition Vibrator very briefly as there is so much more to specifically discuss about this little cutie and I don't want your eyes to glaze over with boredom or for you to start skim reading.  The packaging is a compact, mainly black box with a lovely geometric pattern which just shouts class.  It's eye catching and yet subtle.  Clearly visible in the midst of the blacks and greys is the stunningly simple and elegant gold Rocks-off Ignition Bullet.  The box is easy to open (always a bonus as you desperately plunge into the box for your new investment in blissful pleasure).  At the bottom of the box is a USB charger.
I normally don't appreciate metallic looking toys.  I normally think they look fairly cheap and tacky but the more I looked at the Ignition the more I loved it! It's so, so smooth and has no flaws in it at all. It was a beautifully warm gold too with the Rocks-off Logo embedded in the bottom and two small black rubber circles, one is a button and the other is for charging. It was just very classy looking.  I'm all for discretion too and when I mixed this 3.5 inch bullet in with some of my makeup it didn't look out of place at all.
I did have a little bit of a blonde moment when it came to charging the Rocks Off Ignition Vibrator as I really wasn't sure quite how to attach the charger to the bullet.  The port is easy to identify as it has a little lightning bolt symbol in the rubber on the side of the toy but as my other rechargeable toys have a removable button that hides the charging port or a magnetic charger I did have a moment of panic about inserting the pin.  I really didn't want to ruin it or its ability to be waterproof. When you first use the charger it does put up a little bit of resistance but with a bit more pressure it does go through. Once the battery is fully charged it provides 60 minutes of fun, but really I only needed a couple of them.  This toy is that good.
The tip of the Rocks Off Ignition Vibrator is quite pointy but this means that there is a lot of power in a very concentrated area which if you are a power queen is excellent, if this amount of pinpoint power is too much for you then using the side of the bullet on your sweet spot is just as wonderful.  The Rocks-off Ignition offers 10 functions, 3 constant intensities of vibration and then 7 patterns.  To start the Ignition just press the rubber button once and to scroll through the functions keep pressing the button until you find the one you like.  To turn off you just hold the button down for a few seconds.
The vibrations are very powerful and just really felt amazing. I have to admit it has produced some quick and intense orgasms.  The vibrations are so powerful that I could easily use it over clothing too.  The first time I used it the sensations it produced are hard to describe. You know that moment when your significant other passionately kisses you, then teasingly runs their lips over your neck and a tingly sensitive feeling washes up from your neck across your cheek and then down your body and into the sides of your tummy, a sort of butterfly delicate tingly sensation…that's what I got when I first gently brushed this against my clitoris and it's probably the reason I love it so much.
The Rocks Off Ignition Vibrator is very light, much lighter than I had anticipated but this could be because I haven't used a rechargeable bullet before and the batteries add to the weight significantly.  It's also not a very quiet toy the slowest setting is ok but as the intensities increase so does the noise level.  I would still give this a high score though because of how damn good it feels.
Pros
It's very pretty.
It's powerful.
It has a lot of different patterns.
It's rechargeable.
It's waterproof.
It's discreet.
Cons
It's a noisy little devil
9/10
– Random Red Rose
She Bangs' Review
I'm Paige and I am one half of She Bangs; I'm the one that writes the reviews and will do my best to find adequate words to let you know if a product is right for you. My lovely partner Steele is the techie brains behind what we do as well as a willing tester!
Do you have a favourite type of sex toy? Vibrators are usually a winner for me so I was excited to try out this Rocks Off Ignition USB 10 function bullet vibrator! Wow what a mouthful  😉
We treated ourselves to this Rocks Off Ignition Bullet Vibrator as bullet style vibes feature heavily in our sex life. They are great to use alongside other toys and their small, lightweight design means they don't get in the way and can add a little extra something. We love Rocks Off products and this being a waterproof, rechargeable bullet felt like a great investment.
Packaging
A quick note about packaging first off. In recognizable Rocks Off style the Rocks Off Ignition Bullet Vibrator came in a small black box with a clear front to show the product; inside contains the user manual and the USB charging lead. Minimalist, functional and all that you need without providing a ton of packaging to have to dispose of.
Measurement & Operation
The Rocks Off Ignition Bullet Vibrator itself is very petite at just 3.5 inches long, which is great for discretion and storage. It is a gold coloured ABS plastic with a small Rocks Off logo.
On the base is the power button; just a simple push button to turn on, keep pressing to scroll through the speeds and functions then press and hold to switch off.
Charging
The charging point is one of those awesome self seal ports that you push the charging pin into and then it just disappears again once removed. This is what allows this bullet to be waterproof. If you have never had a product with this type of charging set up before it may seem a little difficult to find as it is not immediately obvious as to where the lead will go… don't worry though, give it a firm push into the little silicone seal on the side and 'hey presto' once plugged in you will see a red flashing light to indicate its charging!
The business end of the Ignition comes to a tapered point that is perfect for precision stimulation. Win!
Functions
So let's talk about power and the functions. The Rocks Off Ignition Bullet Vibrator has 10 speeds/functions. This includes 3 increments of speed then 7 different pulse patterns.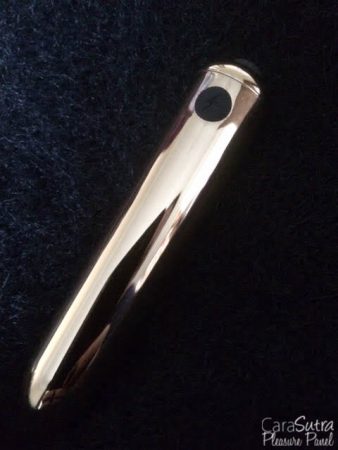 With the first push of the power button you are straight into the lowest speed which is pretty decent to be fair; the next 2 are stronger again then on the fourth press you hit the pulses. These vary from a stuttering kind of effect to a longer pulse with a pause then repeat and everything in between. I'm not a massive fan of pulse functions if I'm honest but these do have sufficient power to be interesting at least and mix things up a bit if that's what you like.
How It Feels
Although for a bullet vibe the power does have a kick behind it there is no denying that it's a very buzzy power. There's no deep rumbling to add a resonance so the feel is very much a surface pleasure rather than a deeper more distributing power; that said this is a precise stimulator so pretty typical in the whole scheme of things.
The big downside for me personally is that because the Rocks Off Ignition Bullet Vibrator gives such a high powered buzz my hands start really feeling a numbing tingle after holding it for a while and my clit can get a bit angry too! This is definitely more of an addition toy for me rather than a sole use, as the buzzy vibes alone aren't guaranteed to get me off. It will however massively hit the spot if I'm already a bit warmed up and want an extra hit to finish the job.
Appearance
The gold colour is not a personal favourite but at the same time anything that isn't shocking pink or bright purple is a welcome change and mixes up the sex toy rainbow nicely 🙂 It does make it look luxurious and the glossy finish is a lovely smooth, silky texture; although don't let that slippery little sucker escape your lube covered hands! As a side note, any type of lube should be fine with the Rocks Off Ignition Bullet Vibrator. However I would maybe be a little over-cautious and stick with water based, purely to avoid any detriment to the power button and charging port.
Clean Up
Cleaning is easier than ever with the Rocks Off Ignition Bullet Vibrator being a waterproof bullet. No worries about destroying your lovely new play thing when you can safely dunk it and get into those little grooves around the Rocks Off logo.
Summary
Overall I feel that the Rocks Off Ignition Bullet Vibrator is a great bullet. It definitely has a kick behind the power, it's waterproof if you want some bath or shower time fun and makes cleaning easy and effective, and the best feature in my opinion is that it is rechargeable which saves that awkward moment of realising you have no batteries in the house, scouring the shops for some weird and wonderfully shaped battery you've never seen before and any future costs are obsolete as you just plug it into either a plug that takes a USB lead or a laptop and you're good to go again!
Rocks Off products have always been a favourite for us; they seem to be of good quality, stand the test of time and body safe which is top priority.
Who We'd Recommend It To
We would recommend the Rocks Off Ignition Bullet Vibrator to anyone that enjoys direct, precise stimulation, likes a good level of power and wants a waterproof and rechargeable product to hit the right spot. This could easily be used by any mix of couple as it is small enough to fit wherever you need it and shouldn't hamper you during mid play. It's also great for solo play.
8/10
– She Bangs
---
Buy Yours
Discover the fabulous Rocks Off sex toys collection through the links below.
These products were sent free of charge in exchange for fair and honest reviews by the Cara Sutra team. This post contains affiliate links.