AMOREMEO Vanilla Kissable Massage Gel Reviews
AMOREMEO Vanilla Kissable Massage Gel reviews by the Cara Sutra team
Meitiman's Review
The AMOREMEO Vanilla Kissable Massage Gel is a very good massage gel if you like the sweet aroma/flavor of vanilla. It not only smells great, but it tastes good and has a fun warming effect when you blow on it. It's definitely a great addition to my wife and I's massages. AMOREMEO Vanilla Kissable Massage Gel is made with a handful of ingredients. There's glycerin, water propyleneglycol, aroma, Cl 19140, and sodium saccharin.


Plus: Our AMOREMEO Salted Caramel Kissable Massage Gel reviews
& all our erotic massage reviews
This massage gel is edible and is great for licking off your partner's body. I'm not sure if it really had a vanilla flavor. The smell is definitely all vanilla, but the taste of this gel really was more of a very sweet flavor and not so much a vanilla flavor. That didn't really matter to me, but just so you're aware in case that's what you were after.
The aroma from this AMOREMEO Vanilla Kissable Massage Gel is very strong, but pleasant if you like vanilla. I don't think it's too much smell, but there's definitely no wondering if the gel is being used or not. The vanilla scent is unmistakable. Since I'm a vanilla-lover, I thought it smelled great and tasted good enough that it didn't bother me to lick it off my wife often. The gel also has the bonus of warming up when air blows across it. It's fun to tease your partner by gently blowing across their skin when they're absorbed in the massage. It gives them a pleasant surprise and adds to the erotic nature of a massage.
The AMOREMEO Vanilla Kissable Massage Gel worked really well for a massage. It definitely is a gel consistency and not as runny as some massage lotions I've used. The gel stays pretty well where you want it until you can slip it around with your hands. The only slight downfall to this, however, is that it feels like it sticks on your hands and skin a little longer than those other lotions. While this is great during the massage, it can be slightly annoying after the massage is over. I felt I had to go wash my hands so I didn't get everything I touched all oily.
I'm not slamming the AMOREMEO Vanilla Kissable Massage Gel for that because I think it's hard to get a gel just right like that. If it wasn't as long-lasting, you'd have to constantly reapply during the massage and that would be worse. I didn't feel like I had to keep applying more and more. Usually it stayed slippery enough during the massage that there was no need to reapply. Just know that if you use this, you might want to keep a wash cloth close by or just plan on cleaning up afterwards.
My wife and I really enjoyed this AMOREMEO Vanilla Kissable Massage Gel. It has a great smell/taste and has the bonuses of warming when air blows across it and moisturizes the skin. The slight problem of having to clean up after the massage didn't bother me as I kind of expect to have to do that with any massage lotion/gel. I love that the gel stays where I want it until I can run my hands over it and that it stays slick enough that I don't have to reapply to keep massaging the same area.
The AMOREMEO Vanilla Kissable Massage Gel is a great product to try for your next massage. There's a lot to like with this one.
9/10
– Meitiman
Bondagegod1's Review
The dark nights are now upon us and what better way to pass the winter evenings than to give your partner a deep sensual massage. What better way to do this than with the AMOREMEO Vanilla Kissable Massage Gel 125ml. This arrived from MEO as I was given the opportunity to test the gel as a part of the Pleasure Panel. Thank you very much Cara.
The bottle of AMOREMEO Vanilla Kissable Massage Gel comes tastefully presented with its bright golden appearance, as the gel would fall into the romantic gift category. The bottle does arrive sealed in a plastic wrapping. There is a plastic cap that covers over the pump action function of the bottle that is an ideal way to use the gel and save on wastage when applying the gel during use.
A varied range of massages can be on offer with the gel such as a sensual, romantic or a erotic massage for the kind of evening you would like to create.
We have indulged in all three types of massages as the smooth texture of the AMOREMEO Vanilla Kissable Massage Gel allows for this to be possible, Applying the gel to my wife back for a deep massage I used a palm sized amount as this allows the gel to go along way before needing to reapply. I like the fact the oil isn't of a runny nature, as this allows the gel to rub into her skin that leaves it feeling delicately soft without leaving a greasy feel to her back. As the wonderful smell of the vanilla is pleasantly noticeable as she enjoyed a deep sensual massage from myself that leaves her feeling refreshed and relaxed from the gel covering her skin as she loved her full body massage.
While the sexiness of a massage can be a good choice of foreplay, that did create an close romantic feel to our evening events, to treat your lover to a massage that can turn into an erotic experience, as intimate body parts are able to be massaged and with the oil being kissable, tasting the vanilla can be a treat for the masseur as I got to taste the gel of her naked body. The taste of AMOREMEO Vanilla Kissable Massage Gel is simply divine as there is a very sweet taste to vanilla which adds to the experience of the session. Sex did follow the massage which added to the feel of our session for a relaxed romantic lovemaking evening.
Overall the AMOREMEO Vanilla Kissable Massage Gel 125ml from MEO Is a lovely smooth gel that is ideal to provide a loving massage to your lover where you can provide them with either a relaxing romantic massage or an erotic sexual massage. If you're on the searching for a gift that both can be enjoyed as a couple for some close intimate times this Christmas then this bottle of massage gel could be an ideal present.
This is one of the best massage gels we have used, for this reason I will give the gel a 10/10.
The AMOREMEO Vanilla Kissable Massage Gel is available to buy from MEO for the sale price of €9.90. Thank you to Cara for sending me the vanilla oil to review; this in no way influences my opinions, which are my own.
– Bondagegod1
DivaFoof's Review
I was on the hunt for some massage gel a few weeks back as I had a really sore neck, and thought it would go down a treat.  I opted for Vanilla as I understood it was a kissable/edible gel and I'm not a massive fan of Salted Caramel.
On receipt of the bottle, it was in a clear cellophane wrapped plastic. The AMOREMEO Vanilla Kissable Massage Gel comes in a 125ml bottle with a pump dispenser and the dispenser has a hard plastic cap that stays on nice and tight.
The AMOREMEO Vanilla Kissable Massage Gel can be seen through the bottle to be a golden / yellow colour which means the branding of the gel is well suited.  This gel can be for anyone who fancies massaging their partner or even for a family member or friend, it doesn't need to be kissed or licked if you don't want to! Nothing about this gel shouts that it's sexual and so can be used for a multitude of reasons.
That said, if you do want to use it in a sexual nature – it's sadly a glycerine based product and I'd suggest steering clear of the vagina if you have a sensitivity as glycerine turns into sugar which can cause a yeast infection and no one wants to finish a lovely massage with Thrush and a trip to the pharmacy!  Moreover, according to the website (not the bottle), the AMOREMEO Vanilla Kissable Massage Gel is not condom compatible but on looking at the ingredients, I'm not sure why this is as other than the glycerine there is nothing remotely scary about the content.
Also on the label, in the English translation it states it's a warming massage oil with excellent vanilla flavour.  On testing the gel, I was quite surprised at how runny it was. It's less gel and more oil in line with the small print than the name. The gel does not stay in place when you squeeze it onto your body. It starts to run immediately. It's certainly not a warming – there is nothing in the ingredients that could contribute to any warming properties. Moreover, because of the saccharin in the gel it has a metallic aftertaste which doesn't make me want to kiss anything.
In use, it running everywhere was a problem. It needs to be much much thicker.  The AMOREMEO Vanilla Kissable Massage Gel massaged in nicely but left a tacky feeling which needed to be washed off. The not condom compatible and the glycerin content limited the use and put a whole downer on it as a massage aid.
Sadly,  it's not a gel, it's not warming, the vanilla taste is too metallic like and it leaves a funny feeling on your hands so it's a no from me, and I shan't plan on using it again any time soon.  The only positive I can come up with really is that it's an okay price and that it smells alright.
4/10
– DivaFoof
BarginHunta's Review
Packaging
The AMOREMEO Vanilla Kissable Sensual Massage Gel comes packaged in a simple 125ml pump bottle.
The bottle is hygienically sealed in a clear cellophane wrap. It is unclear whether it is a general issue, or if we were just unlucky, but when we received our review item it was fairly obvious that it had leaked into the packaging, and also the cellophane wrap showed signs of 'leakage'
After removing the wrapper we did wash the outside of the bottle as best we could, using both soap and water, but the bottle still feels a little strange, as if it is still coated slightly.
Not detrimental to the use of the product at all, but something to keep an eye out for when unpacking.
Initial Thoughts
As with all massage gels, the fact that it comes in a pump bottle is of huge benefit as far as we are concerned. The last thing you want to be worrying about when using the AMOREMEO Vanilla Kissable Sensual Massage Gel is spilling it, or trying to fit or remove a lid.
The bottle is a comfortable size to hold, and surprisingly doesn't seem to get slippery during use.
It should be noted, it is NOT stated on the bottle, but IS stated on the website that the massage gel is not compatible with condoms. Personally we think that this is pretty poor, and ideally the label on the bottle should be revised to make this clear.
Users should also be aware that this is a Glycerine based massage gel, so if you have any sensitivity, or wariness about this you should avoid this gel.
In Use
Out of habit we shook the bottle before use, just to ensure that all of the product was fully mixed.
At first I dispensed a small amount of the gel into the palm of my hand; the first thing that quickly became apparent is that this really isn't a gel as much as we would expect it. This is very thin, to the extent that it will run, flow and drip, more like an oil, but we can also understand that MEO may not want to describe a non-oil based massage item as an "oil".
The vanilla scent of the AMOREMEO Vanilla Kissable Sensual Massage Gel is quite subtle, but pleasant and it doesn't seem like it is trying to mask anything else.
It is classed as a "kissable" gel, so next was the taste test…
It is advertised as having a "yummy taste"; Ok, so it isn't a bad taste, but also not something either of us are going to be eager to taste again. There is a hugely overpowering taste of the saccharin artificial sweetener that is used in the product, and no vanilla taste to it at all.
As a massage gel it actually worked really nicely on her skin. It went on smoothly and leaves the skin feeling soft without feeling greasy like oils can. Even once the gel has been massaged into the skin it still feels slick enough to continue the massage without having to constantly reapply, although of course more can always be used as per personal preference.
If there was one thing that we disliked about the gel it is having to remember that it is not condom compatible, and we are also left wondering how it might affect any toys post-massage. This does involve leaving 'safe' areas if you intend to do anything else following the massage, and we also resorted to good hand-washing post-massage so as not to risk damaging any toys. We may have been being over cautious, but preferred to be safe rather than sorry! However this would also have been the case if we had used a massage oil or similar, so not a huge negative to the AMOREMEO Vanilla Kissable Sensual Massage Gel.
Overall, a great little massage gel with a nice scent, but don't going using it expecting to be licking your partner after use!
Overall rating 7/10
– BarginHunta
Duke of Monroth's Review
This is probably the most straightforward review I've undertaken for Cara Sutra, and in some ways the most difficult. I know this item has been sent out to many different reviewers so I've avoided reading any of their comments so I could give my own unbiased review.
The plastic bottle of AMOREMEO Vanilla Kissable Massage Gel was wrapped in a vacuumed cellophane that has a perforated strip to peel open. (I tried to get a picture of this but it is very hard to see). That's it.
The bottle was easy to hold and pump out the massage gel. The gel came out of the bottle thick and clear and quickly thinned as it warmed in my hand.
This gel has a very strong vanilla smell, what the Duchess described as smelling like cheap store bought ice cream.
The packaging says it is a warming massage gel, but I, nor the Duchess noticed any warming sensation.
The gel when used gives no sheen or luster to the massaged skin, doesn't stay slippery smooth and over time (maybe 5 minutes) starts to get a little sticky. I doesn't seem to absorb into the skin like a normal massage oil and afterwards the Duchess felt the need to shower to get the gel off her body.
A massage is always a time of intimacy, but the AMOREMEO Vanilla Kissable Massage Gel didn't add anything extra to the experience. The smell is a bit overwhelming and the feel a little sticky. We definitely won't be finishing the bottle and we'll go back to Neutrogena oil for our massaging of each other.
1/10
– Duke of Monroth
FesureMaybe's Review
This AMOREMEO Vanilla Kissable Massage Gel is designed for intimate massages and has a warming effect when applied to the skin. The bottle states it is vanilla in flavour and is designed to be a massage gel. With the gel being flavoured it allows the person to be able to still pleasure someone using their tongue without the horrible after taste of lubricants!
The bottle is a bit of a let-down, it's very plain font and quite boring colours which is disappointing as I expected something more romantic or sexy from packaging, something that jumps out at me. If I was to see it on the shelf I don't think I would bother picking it up.
One perk to this AMOREMEO Vanilla Kissable Massage Gel was that it has a pump dispenser, which I found was the best bit about this. As silly as it may sound there is nothing worse getting in the heat of the moment and finding that you get oil everywhere because of the style of the bottle.
I gave the bottle of AMOREMEO Vanilla Kissable Massage Gel a good shake out of habit and found it to shake easily in a sense of the gel seems more of an oil then what is implied on the bottle. Looking at the colour of the liquid through the bottle it was yellow. If I saw that once again on a shelf I definitely wouldn't pick it up purely because I have no desire to cover myself in anything yellow! One thing that is super important the bottle doesn't state this but I had to find from the website that this isn't to be used with condoms which makes it hard to understand where exactly this can be used and where it can't.
I dispensed some AMOREMEO Vanilla Kissable Massage Gel into the lid to get a good smell and as far as it seems the vanilla is very subtle. Its not as over powering as other flavours of this brand, which isn't a bad thing. I rubbed a little between my fingers to start and found it to be smooth and I used some on my partner and found it rubbed into the skin well.
We both agreed that we didn't find any warming effect came through from the AMOREMEO Vanilla Kissable Massage Gel which was disappointing. We both also found that it left a greasy feeling on the skin after which you kind of expect I suppose. I didn't use this on any sensitive bits purely as it doesn't state on the bottle whether you can or not so for fear I caused my bits to set on fire I decided against it.
As a normal massage oil this is lovely, it rubs well into the skin and goes quite far when using a small amount. Big let downs though as being advertised as a gel and also as having a warming effect as I don't get why anything else apart from intimate bits would benefit from this warming idea. So unfortunately the AMOREMEO Vanilla Kissable Massage Gel just wasn't for me!
3/10
– FesureMaybe
By Joanne's Reviews
Who doesn't love receiving or giving a massage? I know that I love it which is why I was delighted to be able to review the AMOREMEO Vanilla Kissable Massage Gel for Cara Sutra's sex blog.
MEO actually do their AMOREMEO massage gels in two flavours, Salted Caramel and this one, the Vanilla. I just love vanilla and so I jumped at the chance to give this one a slippery run for its money.
The AMOREMEO Vanilla Kissable Massage Gel comes in a 125ml bottle with a plastic cap sealed for hygiene. It is available at the moment on sale for just £8.80 which is good value. It has a pump dispenser which makes it very easy to dispense onto your hand. The bottle is pretty sturdy and it carries brand information and a list of ingredients, these are glycerin, water, propylene glycol, aroma, CI 19140 & sodium saccharin.
There are no really strange ingredients in that list, most are either sweeteners, colouring or flavouring. I wouldn't recommend using this product directly in your pussy due to its glycerin content and warming sensation. Glycerine is a sugar derived sweetener and it can lead to yeast infections in some women.
So nothing too radical about the AMOREMEO Vanilla Kissable Massage Gel; it comes in a nice bottle and is a yellow liquid smelling distinctly of vanilla. It really does smell of vanilla, in a sickly-sweet way. It isn't unpleasant but it's quite strong.
The first thing that surprised me with the AMOREMEO Vanilla Kissable Massage Gel is its viscosity, it's a runny gel. In fact, it's almost more like an oil than what I would call a gel so be careful when dispensing it. If you are not careful then it would be easy to apply too much and have it run everywhere.
This AMOREMEO Vanilla Kissable Massage Gel dispenses easily and once on my hands I proceeded to rub my hands together to spread the gel around and to warm it up before application. This is where you really notice the sweet vanilla smell and it soon fills the room setting a warm and relaxing tone to events. If you really like Vanilla then you are in for a treat, this one smells very sweet and for me, it was like being taken back to my childhood when I would love to bake cakes with my Nan.
As with all the lubes and gels that I experiment with I also did a taste test. This was where I was surprised for a second time as the AMOREMEO Vanilla Kissable Massage Gel doesn't actually taste much like vanilla. It's sweet, sickly sweet in fact but it's a plain sweet taste that has a bit of an aftertaste to it.
Due to the strong aroma of the AMOREMEO Vanilla Kissable Massage Gel, you think it's vanilla as your nose tries to convince you of that fact. I had to taste it two or three times to check. It isn't a problem as you buy this to massage into skin not to taste or bake with so moving on.
This is a warming massage gel, as you rub it in it delivers a gentle warming sensation. This is another reason to keep it away from your genitals if you are like me as these types of warming gels tend to warm me up a bit too much down there.
Massaging it in is a pleasant experience for both the giver and the receiver of the massage. It isn't as lubricating as an oil, but it spreads well and feels very sensual. I did have to use quite a bit to get good coverage.
I can affirm the warming sensation as when I was massaged with it I found it most pleasant and very relaxing too. As it warms it seems to release even more of its aroma and the whole room fills with it.
After use, the AMOREMEO Vanilla Kissable Massage Gel left a little bit of a sticky residue. Not so much as having me want to shower but it didn't seem to all be absorbed. My partner really enjoyed sucking my nipples after he had given me what he calls a boobie massage. The sweetness of my nipples really turned him on so this can lead to some kinky fun, so it would make an ideal foreplay product.
I like this AMOREMEO Vanilla Kissable Massage Gel, the bottle works well, the pump action has you using just enough and not wasting anything. It's definitely a warming gel and it's safe to lick and taste. The vanilla is a very strong aroma that is very relaxing and for me conjures up memories of my childhood. It has me curious to try the Salted Caramel now to see how that compares. If the scent is half as strong as with this vanilla version I can see me putting on a pound just from sniffing the air.
I'd like to thank Cara Sutra and MEO for giving me the opportunity to review this AMOREMEO Vanilla Kissable Massage Gel for them both.
Rating: 8/10
– Joanne's Reviews
Edger's Review
We absolutely love massage, it often makes up part of foreplay as a couple and we absolutely love trying out different products to use as part of our massages. We're always looking for something that will add even more sensuality to the experience.  In the past we have tried different oils, butter and candles and even experimented with making our own products to both relieve those aches and pains and to also put us in a relaxed and ready mood.
So, I was really happy that Cara had allowed me to try the AMOREMEO Vanilla Kissable Massage Gel in exchange for a review here on the blog.
Having previously reviewed the Salted Caramel flavour of the product, I felt I was a little more prepared for what the product might provide and was looking in terms of both a comparison with the Salted Caramel and a look at the Vanilla flavouring in its own right.
Vanilla always seems to be the forgotten flavour in terms of ice cream etc…. It is your standard go to friendly, always present flavour. In fact, in terms of the use of the word vanilla for a sexual context, I have always considered it to mean plain, boring, unadventurous.  Would this product wow me and break Vanilla back into the flavour limelight?
As with the Salted Caramel gel, I was impressed with the sturdy bottle that the AMOREMEO Vanilla Kissable Massage Gel comes packaged in.  It looks and feels like there is little risk of the bottle breaking and an annoying clean-up of massage gel dampening the mood.  The pump is also nicely covered by a lid that further prevents the risk of spillage, why can't more manufacturers consider this simple and cheap addition to their lotions, oils and gels?
The details on the side of the AMOREMEO Vanilla Kissable Massage Gel bottle feel quite matter of fact and having used the Salted Caramel flavour I was a little less surprised this time to find that the massage gel is described as a warming gel, with it clearly stated on the side of the bottle.
The side of the bottle also describes the ingredients for the gels, which differ only slightly from the Salted Caramel.
The AMOREMEO Vanilla Kissable Massage Gel contains:
Glycerin, Water, Propylene Glycol, Aroma, CI 19140 and Sodium Saccharin.
So essentially the same ingredients, just a subtle difference in the flavourings that are used.  As with the Salted Caramel flavour, the inclusion of glycerin could potentially be a problem to some, so I have reviewed this as an external use only gel, rather than using it for any penetrative use.  Due to this chemicals sensitivity with a number of people, I am still surprised to see its inclusion, as it surely limits the function of this gel.
Once opened, the AMOREMEO Vanilla Kissable Massage Gel had a very similar consistency in comparison with the Salted Caramel gel again I found it to be a little waterier than I would expect from a gel, but it did spread well during the massage.  I found that it really did not have the longevity that I would expect from a massage product and appeared to be absorbed by the skin relatively quickly.  As a result of this, the initial slide that the gel offered was quickly gone and the process of reapplying began, this has quite an impact on flow of what we are trying to achieve.
When it comes to the aroma and the flavour, this is where I would say that the products really differ the most.  If you read my review of the Salted Caramel gel, I found the flavour to be quite intense and strong.  The flavour and the aroma of the AMOREMEO Vanilla Kissable Massage Gel was significantly subtler and did not linger for nearly as long as the Salted Caramel flavour. Flavour wise, I was still fully expecting it to taste a little chemically during use, but I actually found it still a fairly natural and pleasant flavour.  With it being less overpowering than the Salted Caramel flavour, I found that I was able to use it for longer as part of foreplay.
The AMOREMEO Vanilla Kissable Massage Gel did once again provide a warming sensation.  It still felt a little strange to be kissing and licking the person getting the massage only to find that my mouth was getting this warming sensation that the massage gel was providing, in terms of the sensation for the person getting the massage it is quite pleasant without being the strong intense burning sensation that similar products can give.  The warming sensation for both the Salted Caramel and Vanilla were comparable without either "winning" in this category.
As for clean-up the AMOREMEO Vanilla Kissable Massage Gel washed off with relative ease and left no residue on the skin.  It also had no lasting effect in terms of sensitivity or reaction.
In summary, I would say that I preferred the subtlety of the Vanilla flavour in comparison with the Salted Caramel, and again I liked the confidence that the packaging gave me.  However, I still feel that the AMOREMEO Vanilla Kissable Massage Gel falls into the novelty category rather than the serious massage use product range.  The flavour, odour and the warming sensation are all pleasant and add an extra dimension into foreplay, however, for a serious massage product that did not require such frequent reapplication, I would still look elsewhere.
6/10
– Edger
Jezebella's Review
I love both giving and receiving a massage. It relaxes me and makes me feel closer to my partner. I also enjoy the warm scent of vanilla mixed with warm skin. I was pretty excited to give the AMOREMEO Vanilla Kissable Massage Gel from MEO a thorough test.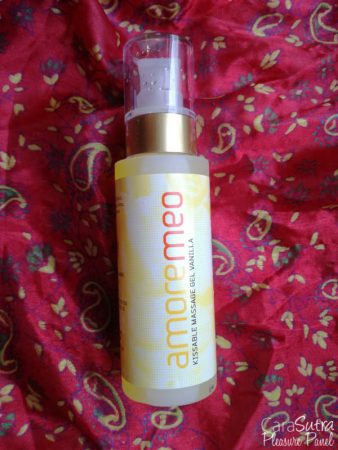 I like to know what's in a product before I put it on my skin, so first of all I took a look at the ingredients.
Ingredients: glycerin, water, propyleneglycol, aroma, CI 19140, sodium saccarin.
Glycerin is in almost every cosmetic under the sun, and it's basically a sweet tasting, non-toxic liquid. I've looked up propyleneglycol, and found it is an additive in some foods, it has a sweet taste and it is safe to eat and to put on skin (except the eyes). So far, so good. Aroma just means that there is a chemical compound in it that has an odor (presumably of vanilla). It unfortunately doesn't tell us exactly what that compound is. CI 19140 is a yellow food colouring also known as Tartrazine. It is in lots of yellow food products and cosmetics. Sodium saccharin is an artificial sweetener, used to sweeten sugar free food and drinks (e.g. diet soda).
What I gleam from researching the ingredients is that the AMOREMEO Vanilla Kissable Massage Gel is yellow, very sweet liquid, that smells like something. It seems like it would be safe to eat and rub on your skin.
Looking at the bottle the AMOREMEO Vanilla Kissable Massage Gel comes in, I can confirm it is indeed a yellow liquid. The bottle is a generous size (125ml) and it has a pump applicator. Other than this, I find the packaging a bit lackluster. It doesn't make me think of sex, or relaxing, or indulgence or romance. It's just pale yellow and simple. Sure, it's not offensive, I just would have liked to have seen at least a suggestion of some luxury. The bottle also seems to leak. I'm not sure how, but the oil gets out and makes the lid and bottle sticky.
Pumping out a little of the AMOREMEO Vanilla Kissable Massage Gel onto my hand, my first thought is "why did they call it a gel?". It is very viscous, running quickly off my skin and onto my jeans, much more like a thin oil than a gel. It should be called Amore MEO kissable massage oil.
The second thing that hit me was a powerful sweet smell of vanilla. It smells like if you read the recipe wrong when you were making vanilla cupcakes and accidentally poured in 1 table spoon of vanilla extra rather than a teaspoon. I like vanilla, and sweet things, so for me it's pretty enjoyable. However, if you wanted a dark, musty vanilla scent, without so much sweetness, you may be disappointed.
The only thing left was for me to taste it. The AMOREMEO Vanilla Kissable Massage Gel doesn't taste like vanilla, it just tastes sweet (unsurprising given all of the sweet ingredients), with a bitter aftertaste. However, the smell of vanilla tricks your brain into thinking it might taste a bit vanilla. The after taste is a bit much for me, but you can safely lick it all you want.
In use, it functioned as a massage oil. I squirted it onto my partners back and leg, enjoying the ease of the pump action top. I liked the vanilla scent while I was working on him. I did find I needed quite a lot of it to be able to massage him without any friction. It was more than my other massage oils, and the AMOREMEO Vanilla Kissable Massage Gel felt like it was a slightly different texture. It almost felt like water that continued being wet, rather than an oil. It's hard to explain, it definitely stayed on the skin and didn't all get absorbed, but it didn't feel very oily, or moisturizing. Like water.
I have to say, things got a little sexy and I ended up giving him a hand job. My hands were still covered in the AMOREMEO Vanilla Kissable Massage Gel and there's nothing on the bottle saying not to put it on a penis. In retrospect that wasn't the best of ideas. When we were finished, his balls had gone bright red, almost purple, and he said they felt like they were burning. He quickly jumped in the shower and washed it off and then he was fine.
What was weird was he didn't have a reaction on any other body part, and I didn't squirt any directly on to his balls, it just would've got there off my hands. I'm not sure if he is allergic to one of the ingredients, or if the chemicals are just too harsh for such sensitive skin. I won't be using it on him again, just in case, and I don't recommend putting it near your junk.
He also said that it felt like the AMOREMEO Vanilla Kissable Massage Gel is chemically warming. I tried it on my forearm and I can see what he means; it feels like it heats up with the friction of rubbing the skin. When I took a look at the description on the bottle it does say "warming massage oil with excellent vanilla flavor" so perhaps it is intended to heat up as you use it. I'm not sure which ingredient out of those listed on the bottle is supposed to have this property though.
After use, I found it left my skin a little sticky. Not awfully so, but like there was a little bit of a sticky residue that I wanted to wash off. Some massage oils can leave you feeling deeply moisturized and smelling great. Unfortunately the AMOREMEO Vanilla Kissable Massage Gel leaves me feeling like I've had a disaster whilst baking a cake naked, and I desperately need a shower.
Overall, I'm not really into the AMOREMEO Vanilla Kissable Massage Gel. It does smell nice, I like the pump dispenser, and it functions okay, but I'm a bit of a snob when it comes to massages. I want to feel indulged and luxurious and leave relaxed with skin that feels fantastic. The AMOREMEO Vanilla Kissable Massage Gel left me a sticky vanilla mess.
4/10
– Jezebella
Married2Sexy's Review
At least one time every month my wife and I️ give each other a sensual massage.  On our night we focus on touching the other's body and ultimately bringing them to orgasm.  Our go-to massage lotion is a homemade Shea Butter/Cocoa Butter/Almond Oil Mix for which I️ found a recipe online.  At room temperature the cocoa butter/shea butter is a solid, but eventually spreads and gives a wonderful smell of chocolate, but lacks the flavor to lick off the body.  When Cara Sutra provided me with AMOREMEO Kissable Massage Gels in both Salted Caramel and Vanilla, I️ was game.
The manual pump dispenser the gel comes in is thick walled and won't crack in your bag during transportation.  A snap on/off lid prevents the pump from leaking into you drawer if it falls on its side.  I️ also appreciate the pump head's surface area. It provides a wide surface to push down on when things get slippery.
Looking at the ingredients list, the AMOREMEO Kissable Massage Gels contain:
Glycerin, Water, Propyleneglycol, flavoring, and artificial sweetener (sodium saccharin). 
Sadly, I️ cannot use the AMOREMEO Kissable Massage Gels on my wife's vulva because we found out the hard way that glycerin does not react well with her, irritating and inflaming her labia and vaginal opening.  Fortunately for me, I️ do not have that same problem, so she was able to flavor my body and lick it off.  The flavor is intense but very well done.  No saccharin taste or aftertaste.  The Salted Caramel has a spot on caramel taste, with a nice hint of roastiness that makes you come back for more.  The Vanilla has a candy sweetness to it, which pushes my limits of flavor intensity.
Applying this to her nipples I️ enjoyed rubbing it around.  The AMOREMEO Kissable Massage Gels provide a slight slickness, but quickly rubbed in they became more dragging then slippery.  The smell of salted caramel or vanilla did stay in the air and as I️ licked it off the flavor filled my mouth.  A slight slickness returned but not enough to provide lubrication and no where near enough to use for a body massage.  It left the area soft and smelling really good, but to use this over her whole body would not work well.
Since I cannot use the AMOREMEO Kissable Massage Gels near my wife's vulva, I tried them out solo to see if the warming sensation carried through.  The slipperiness was perfect, providing enough slide and friction.  I did not however get any warming sensation.  Though I cannot use this for vaginal intercourse, I can at least attest that it does provide great lubrication for a hand job.
The AMOREMEO Kissable Massage Gels are not for whole body massages in my opinion.  They are perfect to apply to your lovers body to lick off adding a layer of flavor. Similar to what chocolate syrup would provide but less staining.
I️ cannot attest to lubrication for penetration due to my wife's sensitivity, but if you do not have issues with glycerine, this should rejuvenate when mixed with your natural lubrication.  The flavor and smell is strong but not overpowering.  There is little to none chemical flavoring.
Personally, I️ recommend the Salted Caramel over the Vanilla because of the depth and uniqueness of it.
Thank you Cara for providing my wife and I with the AMOREMEO Kissable Massage Gels.  If you are a couple looking to add flavor to your night, pick up some AMOREMEO Kissable Massage Gels and enjoy your dessert.
7/10
– Married2Sexy
Toraval's Review
Well what can I say about this massage oil?
I was a bit trepidatious when I received the AMOREMEO Vanilla Kissable Massage Gel from MEO, as I have rather sensitive skin and tend to have a rather severe reaction if my body doesn't like some of the ingredients. Nevertheless I tried it anyway and suffice to say I didn't end up looking like a Beetroot – YAY!
My partner and I have tried a few oils and massage creams in the past and compared to them the AMOREMEO Vanilla Kissable Massage Gel measures up pretty good.
The AMOREMEO Vanilla Kissable Massage Gel has a good smooth consistency and doesn't get sticky, but also doesn't disappear into your skin immediately.
After a few minutes of massaging my back my partner found my skin was still sleek and moving well.
But after 10 minutes or so they found their hands did feel sweaty, whether this is because it drew off the the impurities from my skin, or it just reduced down to the base oil, we aren't sure. Either way, it wasn't the most pleasant feeling.
The AMOREMEO Vanilla Kissable Massage Gel has a nice enough smell, slightly vanilla but no overpowering scent.
The only drawback was that the morning after, my back felt very tacky and kind of itchy. At first I thought it was just me, but we have used this massage gel more than once now and both times my back has ended up being tacky the next morning. Plus in need of a lot of moisturiser as it seems to dry the skin if left on for an excessive time.
7/10
– Toraval
Romantic Isa's Review
I love giving hubby massages and I love trying out new massage gels. The AMOREMEO Vanilla Kissable Massage Gel from MEO comes in a stand up bottle with a pump mechanism which I find very useful. I always use a lot of massage gel, and consequently always get the bottle all slippery. With a stand up pump I can squirt more gel on my hands without getting the bottle all oily, which is great.
The AMOREMEO Vanilla Kissable Massage Gel is quite thin. I would call it a massage oil rather than a massage gel, which is not a problem for me. You just have to be a bit more careful with how you apply it and you have to rub it in before it slides everywhere. It rubs in quite well and a little goes a long way surprisingly. I am used to massage oils that soak into the skin in an instant and that can become frustrating. The AMOREMEO Vanilla Kissable Massage Gel is not like that, it spreads nicely without drying up.
Vanilla is one of my favourite scents and the AMOREMEO Vanilla Kissable Massage Gel smells amazing. So relaxing and delicious. Some massage gels can smell a bit like chemicals, but this one really smells like vanilla. So much so that my youngest son, upon coming into our bedroom the next day, commented that he smelt cake. Fragrance is very important in a massage gel, so the fact that this smells so delicious is a real plus in my book.
As the name says, this massage gel is kissable. I did try that out, and so did hubby. I am not really a fan of licking massage gel so I would not deliberately do it, but the taste is really not that bad. You can of course taste the chemicals, such as there are, but it didn't feel gross to get some on my lips.
Hubby tried the AMOREMEO Vanilla Kissable Massage Gel out on me as well and it does feel really nice. I was worried that because it is vanilla scented it may be all sticky, but that is not the case. Not sure why I thought that, it's only a scent, but it conjures up images of sugary cakes which immediately makes me think of sticky fingers. The massage oil felt great on my skin and despite the fact that we had planned to only massage each other, we ended up having sex as well, as we both felt great after our massages.
I love this AMOREMEO Vanilla Kissable Massage Gel, so I would give it 10/10.
– Romantic Isa
---
Buy Yours
Check out the AMOREMEO Kissable Massage Gels – and plenty of other sensual, sexy and kinky items – at the MEO online sex shop:


Plus: Our AMOREMEO Salted Caramel Kissable Massage Gel reviews
& all our erotic massage reviews
This review contains affiliate links