The Sensory Deprivation Leather Lockdown Hood from Honour is a spectacular piece of fetish equipment.
Priced at £125 and available here from Honour.co.uk, you may wonder why a simple hood costs more than the standard hoods and masks available from the likes of the Pipedream Fetish Fantasy range amongst others. One reason: this hood isn't merely a simple hood.
Oh, don't get me wrong, it is fantastically easy to use. The features of this hood ensure it is both comfortable to wear as well as easy to fit to your chosen submissive or willing partner. So just what does this fancy fetish piece have to offer?
Unisex design
This hood can be worn by a man or a woman, making it ideal for any kind of power exchange session or D/s play. Whatever your relationship or sexual orientation, the Leather Lockdown Sensory Deprivation Hood will fit your needs.
Leather Material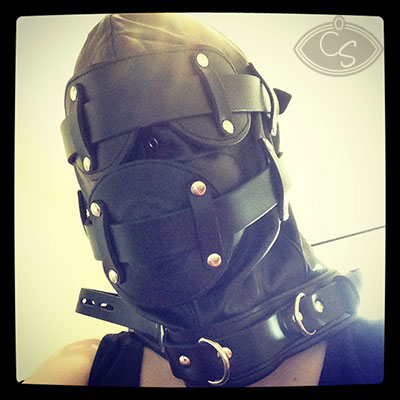 Made from genuine, soft black leather, this hood gives you that instant ripple of delight upon the very first feel and scent. There is something divine about real leather, the smell of it adding an unmistakeably provocative atmosphere to the room.
The Leather Lockdown Hood is also certain to last you through many years of use, being made from such a resilient and durable material.
Soft inner
The inner area of the hood is soft and comfortable, which makes it possible to wear for long periods of time. Unlike cheaper hoods which may cause you or your chosen partner to overheat or suffer discomfort, the Leather Lockdown Hood has been designed with comfort as well as functionality in mind.
Lace up back for a perfect fit
Achieving that deluxe, kinky look in skin tight leather is easy with this hood. It's all thanks to the lace up back, which means that no matter your intended's particular and personal head size, this hood will fit snugly.
Just slip this over their head, pull down til it is comfortable and all the front areas are in the right places. Eye holes, nose holes and mouth hole. Then, just pull the laces and tie as you would on a show. Perfection!
The straps around the neck make for a secure, well fitted finish.
Removable accessories
As well as being made from soft, seductive leather and being a high quality piece of kit in its own right, the Leather Lockdown hood has two add-ons which you can choose to use, in order to reach almost complete sensory deprivation level.
There is a padded, leather eye mask which you first place over their eyes, blocking the light through the reinforced holes in that area. Then, the slender leather strap is placed through the loops on both the eye mask and the hood, buckling up behind the head over the lace up area.
There is a padded mouth gag which fits over the hood in the same way. The mouth gag measures 1.5 inches in diameter, with a circumference of just under 5 inches. The insertable length of the gag into your intended's mouth is 2.9 inches.
Again, a second slender leather strap is fed through the two loops on the round, flat outer of the gag, sealing it in place in their mouth. Fasten with a buckle fastening at the back of the head over the laces.
Both buckle fastenings, for the eye mask and the mouth gag, are in a lockable design. This means that the prong that slips through the holes on the strap has a metal hook. Use your own padlock through one or both of these hooks and the buckle cannot be unfastened without first unlocking the padlock. Kinky!
Breathable, with nose holes
Even if the eye mask and mouth gag are in place, your partner will still be able to breathe easily thanks to the two nasal breathing holes which benefit from a metal ring reinforcement to avoid fraying or damage over time.
Integral collar with D rings
Once the hood is completely fastened, laced up at the back and your choice of eye mask, mouth gag or both in place and buckled, you will notice something else.
The buckle on the collar style part of the neck, finishing the collar perfectly, is also a lockable style. Once again, use a padlock through the hook on the metal prong to lock in place.
To the front of the collar area there are 3 metal D rings, a central one then one to either side. This makes the Leather Lockdown hood compatible with your own fetish accessories, from trigger clips and leashes to rope, wrist cuffs and a lot more.
Summary
This hood is a sensual paradise. It opens your sensory play sessions to whole new levels of anticipation and excitement, whilst removing your ability to see or speak. The leather is genuine, sumptuous and soft, moulding itself to the shape of your head for a seductive feel and a traditional BDSM look.
While it isn't complete sensory deprivation (unless you or your partner wears ear plugs underneath the hood), it comes very close. The only thing left available is your sense of touch and hearing. When you wear it, you feel entirely encased, sheathed in kink. When your partner wears it, you have a gimp available for your every need.
I truly adore this hood and can only apologise to Honour for the delay in writing this review, I wanted to do the item justice as it is just such a brilliant, fetish essential.
I cannot recommend this Leather Lockdown Hood highly enough. If you have any interest in Kink, Fetish or BDSM, you need it.