MEO Lockable Stainless Steel Ball Stretcher Review
By BarginHunta
Having tried a few different silicone ball stretchers I was interested in "stepping it up a gear" without going for the daunting solid rings, so when the MEO Lockable Stainless Steel Ball Stretcher came up for review from Cara Sutra I eagerly put my name forward. From the moment I saw I had this item allocated I could almost feel my balls anticipating the weight…


Enjoy all our kinky CBT toy reviews
When it got delivered it was put through the letter box, and the substantial BANG from it as it hit the tiled floor suddenly made me worry what I'd let myself in for!
Packaging
The MEO Lockable Stainless Steel Ball Stretcher arrives in some fairly 'industrial' looking packaging, consisting of a thick transparent heat sealed package. Through the package the front shows a general "man image":
Meanwhile the back of the package gives a much better impression of the items contained within, with the MEO Lockable Stainless Steel Ball Stretcher itself in one section, and the all-important Allen key as well as the small padlock and keys in another.
Unboxing
The packaging is opened fairly simply, but you'll probably want to use scissors since the plastic is quite thick and strong!
With everything unpackaged you can see clearly the padlock and keys, the MEO Lockable Stainless Steel Ball Stretcher (complete with its locking collar) and the Allen key.
Initial Thoughts
This is a quality looking ball stretcher. The highly mirrored finish of the stainless steel ring is only complimented by the sheer weight of it. It is a great touch that the padlock and keys are included, and a soft black velvet drawstring bag is provided too to keep the whole collection in.
The 'locking' facility of the MEO Lockable Stainless Steel Ball Stretcher is provided by a sprung steel 'belt' that goes around the ball stretcher, with an eyelet that the padlock can be placed through.
This 'belt', when fitted, prevents access to the Allen screw that fastens the two halves of the MEO Lockable Stainless Steel Ball Stretcher together, thus "trapping" the wearer until it is unlocked.
Whilst the idea of this is interesting, I can't help but think that the eyelet used for the locking is likely to make things somewhat uncomfortable. Added discomfort is not what I was looking for personally, but might suit some.
How It Feels
I had never worn a 'fixed' size ball stretcher before, and the split design seemed like a great introduction without inducing the apprehension of a solid ring design (and the thought of getting stuck!).
The MEO Lockable Stainless Steel Ball Stretcher is of a decent size at 20mm thick, but at 324 grams is the lightest weight in the range; personally I was very grateful for this! Whilst the slightly heavier weights do have some appeal, I think at this point I might struggle with the extra thickness.
The full range that are available are:
Height approx. 20 mm, weight approx. 324 grams (item being reviewed)
Height approx. 30 mm, weight approx. 500 grams
Height approx. 40 mm, weight approx. 670 grams
Height approx. 50 mm, weight approx. 844 grams
Height approx. 60 mm, weight approx. 1037 grams
Height approx. 70 mm, weight approx. 1270 grams
I wasn't really sure what to expect from it to be honest, and at times the 35mm centre hole seemed plenty big enough, and at other times had me seriously concerned!
Never having worn one before, getting the MEO Lockable Stainless Steel Ball Stretcher on was no mean feat! Part of the reason for wanting a ball stretcher was that I've never been overly happy at where they hang naturally, so how was I going to get this on!
First attempt was a complete failure, I just couldn't manage to get everything in the right place, and get the two halves together, and not pinch anything, and get the screw in and fitted… it felt like I needed about four extra hands!
Second attempt I was a bit more pragmatic first giving the ol' boys a warm flannel first to get everything nice and relaxed, and then I actually fitted one of the silicone stretchers I have. I found that this worked to keep everything tucked in, thus freeing a hand. I did actually manage to get the MEO Lockable Stainless Steel Ball Stretcher on this time, at which point I removed the silicone one, but I have to confess it was less than comfortable once fitted so didn't stay on for long!
Determined not to give up I looked online, and found that a small amount of lubricant can help; to much and everything is too slippery to handle, but just enough and it certainly helps everything slip into place. Since that time I've tried a number of different lubricants, and actually have found that basic Vaseline actually works the best. I think this is because it is thick enough that it doesn't spread to where you don't want it, and not being water based means that it stays slick.
Having tried a few times I am now able to put the MEO Lockable Stainless Steel Ball Stretcher on without too much hassle; a small amount of Vaseline on the inside edges of the ring, and a little on myself, then ease the two halves together, gradually moving any skin out of the pinch points and doing up the Allen screw little by little. Once I have it on I find that then applying some more Vaseline around the edges of the MEO Lockable Stainless Steel Ball Stretcher and to the area of the skin that the stretcher is on makes it a lot more comfortable.
Once on the weight is definitely noticeable, although does depend on the activities you are doing. Obviously wearing tight underwear and sitting, or standing still provides a vastly different experience to going commando and being more active. Only you can decide exactly how you 'like' the sensation, but at no point did I find the MEO Lockable Stainless Steel Ball Stretcher uncomfortable; the smooth radiused edges sitting comfortable against the skin, and allowing the fitted ball stretcher to be rotated freely (once coated with Vaseline) which can help ease any 'ache'.
It is important to gradually increase wear time, and not rush into extended periods of wear in order to not do yourself any damage, and like with any similar items you must keep a careful eye on things to ensure blood flow does not become restricted.
Cleaning
Being stainless steel the MEO Lockable Stainless Steel Ball Stretcher is incredibly easy to clean, but care should be taken when drying. I tend to leave the two halves apart, and the screw loose in the bag with it to ensure that everything dries out completely; both the threaded screw hole and the hole for the fixed post can become a bit of a water trap, so be sure to dry it thoroughly.
Summary
An excellent, well made, stainless steel ball stretcher. I actually found that I was quite anxious when wearing it, needing to make sure that I knew where the Allen key was at all times, and not wearing it out of the house (where I would not be able to remove it). As such I was unfortunately not able to test the locking belt and padlock, but both appear to be the same high quality as the MEO Lockable Stainless Steel Ball Stretcher itself. Hopefully given time this will be something I can explore in future.
I have actually found that I've grown to 'enjoy' the weighted feeling, and almost miss it when I am not wearing it.
Definitely something that I will be wearing on a regular basis, with it hopefully becoming more comfortable as my body gets used to it (and things stretch!).
All in all the MEO Lockable Stainless Steel Ball Stretcher itself is a great product, and one that will certainly be being made good use of!
Overall rating 10/10
– BarginHunta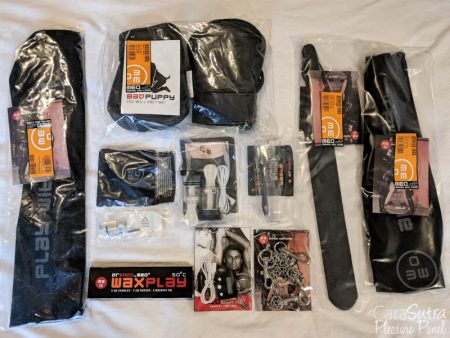 ---
Where To Buy
Thanks to our reviewer BarginHunta for this review of the MEO Lockable Stainless Steel Ball Stretcher 20mm.


This product was sent free of charge, in exchange for a fair and honest review here at the Cara Sutra sex blog. This review contains affiliate links.