MEO BDSM Breath Control Gas Mask Review
The MEO BDSM Breath Control Gas Mask was sent as part of a package destined for my sex toy tester team, but I just couldn't help myself. I used to have a kinky gas mask, then through circumstances it became lost to me. Now, at last, I have a gas mask of my own to play with once again. Thanks MEO!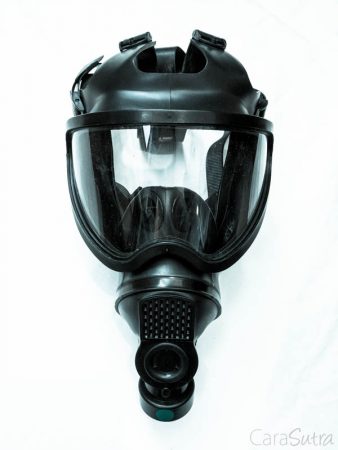 BDSM Gas Masks
There's something about gas masks. I don't have a fetish for them, but they're unashamedly kinky. There's no hiding one of these strapped to your face – unless you happen to have a body bag kink as well, I suppose. Maybe it's because I've seen gas masks in the context of BDSM and kink so much. I'm not of an era or location where gas masks fill me with dread or sadness, although of course I am aware of and despise that these things often need to be used for non-kinky reasons.
Not mine, though – the MEO BDSM Breath Control Gas Mask is 100% for pleasure. Maybe that's the key which unlocks my fascination with these items; a perverse enjoyment of turning the world on its head, using such a symbol of non-consensual repression, control and fear as an extreme expression of consensual pleasure and absolute freedom, instead.
Anyway, enough of my musing. What's the MEO BDSM Breath Control Gas Mask like? How do you use it? How on earth do you put it on, how does it feel, and what are you supposed to do when it's there?
Packaging
The packaging for the MEO BDSM Breath Control Gas Mask is exquisitely basic, a simple transparent sealed bag which is small and easily disposed of.  There was an advertorial flyer in the bag – I thought it might have instructions on it but it didn't.
Taking the MEO BDSM Breath Control Gas Mask from the packet it's quite clear at once how you're meant to put it on. Just like plenty of other headgear the instructions are self-evident; put on head, adjust straps.
Fitting
Actually, when it came to putting the MEO BDSM Breath Control Gas Mask on, there was a tiny bit more to it. You need to put your chin in the cupped area designed for it, inside, and make sure your nose is low enough so it's level with the internal air-flow regulator. This will also mean you can see clearly through the visor part of the mask.
Once on my head it was then pretty easy to adjust the straps (two below jawline, two to the sides and two more on the top of my head) so the MEO BDSM Breath Control Gas Mask was absolutely snug and secure on my head and face without any gaps in the rubber-to-skin seal.
How It Feels
The MEO BDSM Breath Control Gas Mask is surprisingly comfortable to wear. I know it might look scary, but I didn't find it claustrophobic or suffocating in the slightest (while wearing alone, without any of the air-flow areas blocked, of course!).
The straps, when adjusted to my exact head size, meant that the mask didn't feel too heavy and didn't swing or cause chafing. I could almost forget I was wearing it – apart from the fact I had a giant black gas mask attached to my face, of course.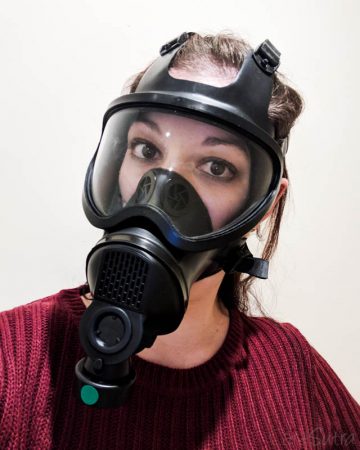 Gas Masks & Breath Play
It had been some years since I last wore a gas mask, and then not for any real length of time. My partner and I have toyed with breath play and I've really enjoyed it, but that's been with his hands round my throat, his hands over my mouth, his cock in my mouth and fingers pinching my nose shut til I gag on his cock… you get the picture.
In D/s sessions outside of the bedroom I am a Domme, therefore I'm not the one who would typically be wearing a gas mask – although they've become popular for photo shoots/fetish fashion purposes, regardless of BDSM orientation. Gas masks are usually worn by submissives or the one submitting in a particular scene or session, because of the mask's role in breath play and as a tool through which the Dom/me or Top can exert their control.
Connections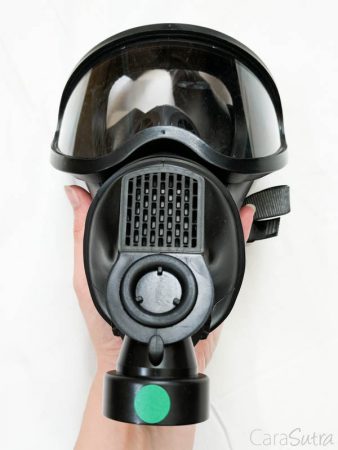 At the bottom of the gas mask, as you look at it head on (excuse the pun), there's a circular area to which a hose can be connected. In ordinary gas masks this would be where you connect the hose to an air cylinder so that the person could breathe safely while travelling through actual or potential hostile-gas areas.
I don't have any cylinders of interesting gases to connect to the MEO BDSM Breath Control Gas Mask; not even nitrous oxide, as tempting as that would be. I don't have a pipe or hose which connects to the circular area either. With just the gas mask alone the use is pretty limited, but it does make a fantastic feature in my bedroom products collection, whether as a kinky fashion accessory or to wear in bed while he has his way with me.
Uses
Besides an undeniably funky and supremely kinky piece of wardrobe, the MEO BDSM Breath Control Gas Mask does have a couple of other uses.
Sensory Deprivation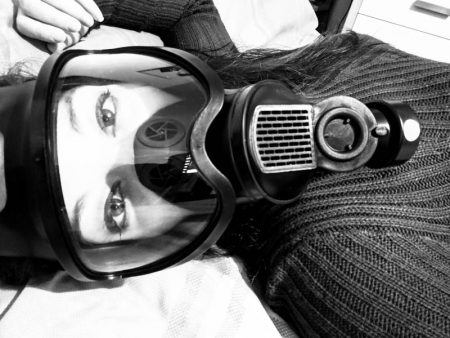 When wearing the MEO BDSM Breath Control Gas Mask, I am obviously limited as to what I can put into my mouth. It's totally covered by the mask. My talking is limited, to say the least; it's incredibly muffled. I can't smell anything either, other than the material of the mask itself, which I find quite erotic but that's personal taste of course. My hearing isn't limited with this particular type of gas mask, as it doesn't cover my ears. My sight is not too impaired either, but it's quite blinkered while wearing the gas mask. This is easily fixed (!) with the use of a blindfold under the mask.
Forced/Easier* Inhalation
While reading on-site gas mask reviews at MEO.de, I noticed a theme. Many customers use the gas masks in combination with poppers, also known as room odourisers. Poppers (akyl nitrate) are often used for their quick head-rush and the fact that many people find anal sex easier/more comfortable when using them. My partner and I have both used poppers, and while he quite likes the effect I find that they make me feel a bit ill and I get a long lasting headache. There may also be other risks involved with using poppers, so please do your research and make the right decision for you. Anyway, I'm not here to advise on poppers…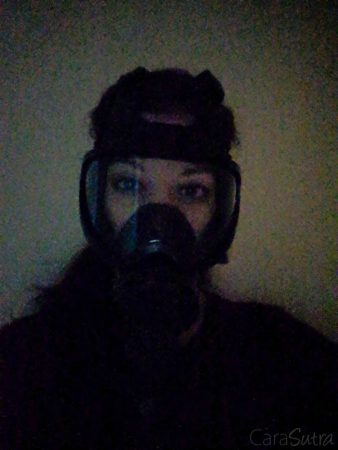 If using the MEO BDSM Breath Control Gas Mask in combination with something you inhale, then an additional accessory might be needed. This should be taken into account when budgeting, especially considering that the mask itself costs over £100 at the time of writing. Inhalation through the air valves on the mask alone might be difficult if also enjoying bondage/sex, for example, so this hose could come in useful.
A curious accessory that I'm considering purchasing is this air flow restrictor. The wearer then only has a 6mm hole through which to breathe, which I believe would lead to me having to force myself to be calm in the face of less air and potential panic. So there's the external control of the Top in the scene, and the internal control needed in order to keep breathing.
There's also the option with this device to put some poppers on a small piece of cotton wool in the opening; again, this is down to your personal thoughts on poppers usage.
We've had some very fun times using the MEO BDSM Breath Control Gas Mask and just his hand to restrict air, although I have to take it easy with breath play these days as I am prone to headaches the next day if the session goes on too long.
Stay Safe
Finally, and as with all BDSM activities, it's imperative to always arrange, accept and respect a way for all participants to safe out of the activity. As I can't talk clearly with the MEO BDSM Breath Control Gas Mask on, we use either finger signals or I have a little bell I can ring. Then all activity stops immediately, and I am released at once.
Apparently, there is some controversy in the BDSM scene as to whether gas masks are SSC or RACK (safe, sane and consensual vs risk aware, consensual kink). Although I largely follow the SSC way of BDSM, I have nothing against BDSM gas masks. In part this is because I don't see an inanimate object as being, by itself, dangerous. Anything is dangerous if used incorrectly; eg. if you made someone swallow a feather tickler, or use that cute bullet vibrator up your bum. Things don't have to look dangerous in order to cause you harm. What causes harm are the people using the items. Incorrect use, and a lack of respect for someone's safety, consent, or both.
Only play with someone you absolutely and 100% trust to keep you from harm at all times, no matter what else is going on at the time. Someone who will listen for and immediately respond to your agreed upon safing-out method. And someone who values you enough to prioritise your safety even if a time comes when you haven't felt like you want to, or felt able to, safe out quite yet (in extreme subspace, for example).
Buy Yours
Ready to give it a try? You can buy your MEO BDSM Breath Control Gas Mask here from MEO.de for €119 at the time of writing.


Thanks to MEO.de for sending this MEO BDSM Breath Control Gas Mask free of charge in exchange for this fair and honest review. Just loses a point for needing other accessories for full use (would like to see accessories, plus full instructions & some safety tips sent with it), but I love it nevertheless.
9/10


*Depending on your kinks; also, "forced" here refers to the specific kink of consensual non-consent, where enjoyment is gained from the bottom/sub roleplaying resistance, when in fact consent is given through the non-use of their provided and respected safeword and/or the BDSM traffic light system.
Contains affiliate links