Lovehoney Best Sex Of Your Life Couple's Sex Toy Advent Calendar 2018 Review
Advent calendars are a fun way to build anticipation in the run-up to Christmas Day, but the chocolate versions can get a bit boring. There are now all kinds of advent calendars available for people to enjoy – even sexy versions. Really? Yes, Lovehoney have created a sexy Christmas advent calendar so you can add a touch of mischief and spice to your adult Christmas time. I've been lucky enough to receive the Lovehoney Best Sex Of Your Life Couple's Sex Toy Advent Calendar 2018 to review (plus the Lovehoney 12 Nights Of Seduction Lingerie Advent Calendar) – and it's been SO MUCH FUN.
Last year's Lovehoney Sex Toy Advent Calendar was a sell-out (it sold out before December!) -so BUY YOURS WHILE YOU CAN!
Shop Sex Toy Advent Calendars: USA | UK | Europe | Canada | Australia
Lovehoney Sexy Advent Calendars 2018 Video – Spoiler-Free Introduction
Packaging & First Impressions
This is a seriously impressive advent calendar. They say size doesn't matter – but who could fail to be impressed at such a full-to-bursting MONSTER?! Despite its large size, the Lovehoney Best Sex Of Your Life Couple's Sex Toy Advent Calendar isn't too heavy to handle. The purple with gold Lovehoney heart detailing is festive with universal appeal, and wouldn't look out of place either in the bedroom or by your Christmas tree (if your home is suited to having a sex toy advent calendar in the lounge, of course).
Size
Want to know the exact dimensions? Here we go… The Lovehoney Best Sex Of Your Life Couple's Sex Toy Advent Calendar 2018 measures 17 inches in height, while it's 10.5 inches horizontally across the front (when closed, so double that for when you have it open and the doors are visible). It has a depth of 5 inches -which is a sexy amount of depth for an advent calendar, I'm sure you'll agree.
What They Say
Get £250 worth of incredible sex toys for only £125, including hand-picked award-winners, cult favourites and fabulous newbies guaranteed to spread good cheer this holiday season. Save 50% on the Best Sex of Your Life Advent Calendar before it sells out!
Spoiler-Free Lovehoney 2018 Sex Toy Advent Calendar Review
If you're wondering if the Lovehoney Best Sex Of Your Life Couple's Sex Toy Advent Calendar 2018 is worth the price tag – STOP. I can confirm that yes, it's definitely worth every penny. It contains sexy toys & sexy gear which would total approximately £250 if bought separately at RRP, and by Christmas Eve you'll have a fun and well-stocked sex toy drawer you'll be dipping into regularly. For half the usual retail price!
The impressive size of the calendar sets you off on the right foot; it's glamorous and sexy and festive and sparkly and packed full of pleasurable potential. It's everything your plain old bog-standard chocolate advent calendar isn't. Opening a door each day over advent is sure to keep the temperature sizzlingly high even if it's snowmageddon outside.
Whether you live alone or as part of a couple you'll be able to enjoy some seriously sexy adult time with the contents of this Lovehoney Best Sex Of Your Life Couple's Sex Toy Advent Calendar. Having this saucy secret by your bed, if you share your home with family, will provide you with a sensual retreat from the traditional responsibilities which can be libido-draining over the festive period.
The calendar contains a great variety of vibrating toys, silicone insertables, strokers, bondage accessories and more, leading up to a universally pleasing bestseller on Christmas Eve…  And I'll stop there! Get one, you won't regret it.
Buy your Lovehoney Sex Toy Advent Calendar today
You really need this in your life this Christmas. I've had amazing fun opening each door of the Lovehoney Best Sex Of Your Life Couple's Sex Toy Advent Calendar 2018, and at half the cost of the items if bought separately at usual retail price, it represents great value as well as festive excitement. Forget chocolate advents, forget getting stressed as the days count down to Christmas. Lay back and think of orgasms this Christmas – every single day – with this brilliant sexy advent calendar from Lovehoney.


---
WARNING: CONTENTS WILL BE REVEALED!
What's In The Lovehoney 2018 Sex Toy Advent Calendar?
So you really can't wait, huh? I don't blame you, this sex toy advent calendar is pretty damn exciting! This second-half of my Lovehoney Best Sex Of Your Life Couple's Sex Toy Advent Calendar 2018 review will show you exactly what's behind each door, starting off with my door-by-door reveal video below, then a full list of the contents. On with the show!
Unboxing Video


1. Lovehoney Gold Bullet Vibrator
Bullet vibrators are one of my favourite types of sex toys, and this festively gold bullet packs a seasonal punch (non-alcoholic variety). It's dinky, It's metallic ABS plastic coated (which transmits the vibrations exceptionally well and is compatible with any lube) and it's easy to operate via the end button. Comes with the 3x required cell batteries inside (remove paper disc to activate) plus another x3 batteries as spares.
This gold bullet vibrator can also be used with some of the sex toys you'll get on later dates in the Lovehoney Best Sex Of Your Life Couple's Sex Toy Advent Calendar 2018… Exciting!
Similar to: Lovehoney Love Missile 3 Speed Bullet Vibrator (£9.99) -However, this gold one has 7 functions!
2. Lovehoney Stretchy Double Love Ring
This figure 8 cock ring fits around the cock and balls to provide a comfortably restrictive, erection-engorging and pleasure maximising sex session. It's a lovely icy transparent blue colour, and from what I can tell it's made from stretchy TPR. Waterproof, washable, easy and fun to wear.
Similar to: Lovehoney Magic 8 Stretchy Cock And Ball Ring (£11.99)
3. Velcro Fasten Wrist Cuffs
You can kink up your sex life with these simple but effective velcro fasten wrist cuffs. Just slip one around each of your willing submissive's wrists, securely fasten the velcro, and use the attached gold coloured clips to secure them as you wish.
The trigger clips can be fastened to each other, or can be used with other bondage accessories (particularly those with O or D rings) for inventive and extremely arousing bondage sessions. Certain to satisfy, whether you're a newbie to all things bondage & are looking to spice up foreplay, or a BDSM enthusiast who could always do with a pair of easy operation, lightweight bondage cuffs.
Similar to: BASICS Wrist Cuffs (£9.99)
4. Lucky You Scratch Cards
If you love sexy stuff and advent calendars –and if you've bought this Lovehoney Best Sex Of Your Life Couple's Sex Toy Advent Calendar 2018 then it's pretty clear you do- then you'll love today's surprise. It's the Lovehoney Oh! Lucky You Scratch Cards, which is a pack of ten cards to enhance couple's play.
Just choose one heart to scratch off from each of the columns (Action, Location, Time and Bonus) to discover how you'll be enjoying each other's company… The first three hearts scratched off give you inspiration for what you'll be doing, where and for how long – while the bonus heart adds an optional extra to send the raunch factor into overdrive.
A brilliant way to overcome any pressure to create new and exotic sex sessions – let these scratch cards do the hard work of imagining creative sensual activities. All you need to do is lay back (or stand up, or bend over) and enjoy!
Available separately: Lovehoney Oh! Lucky You Scratch Cards 10 Pack (£5.99)
5. Black Silicone Finger Vibe G-Spot Sleeve
This silicone finger toy has been thoughtfully designed to enhance masturbation, or to provide a discreet extra dimension of pleasure during sex. The body-safe, non-porous and non-toxic silicone material is shaped to go over your finger, with the tip cleverly angled and, as a bonus, dotted with nodules to maximise the stimulation.
Use by itself, as an extension of your hand when exploring G-spot stim, or pop a bullet vibe in the hollow area and ensure a firm grip with the back loop. The bullet vibrator you received on day 1 fits perfectly! How convenient 😉
Similar to: Lovehoney BASICS Buzz Tingler Finger Vibrator (£9.99 -without the vibrator, and in silicone instead)


6. Black Silicone Butt Plug
Another insertable, and today in the Lovehoney Best Sex Of Your Life Couple's Sex Toy Advent Calendar 2018 we're exploring back door pleasure. It's a slim, body-safe, silicone butt plug in black. This traditionally shaped butt plug is petite and unintimidating even for anal beginners, at 4.25 inches in overall length, 3.75 inches insertable and a maximum circumference of 2.9 inches. It's dinky but delightful.
Add a splash of your favourite lubricant to ensure it's frictionless pleasure all the way, then get ready to enjoy some anal adventures. The generous flared base ensures this toy is anal-safe, plus it stands upright on a flat surface once you're done with it (handy). As it's completely waterproof (and non-porous) it's easy to clean between uses – and you can enjoy it in the bath or shower too, of course.
Similar to: Lovehoney Classic Silicone Beginner's Butt Plug £12.99
7. Lovehoney Gold Blindfold
A limited-edition, festively gold version of the popular Lovehoney Oh! Satin Blindfold. This sensual blindfold is lightly padded, and removes the person's ability to see, therefore heightening all other senses. Aromas, taste, sounds and physical touch will all feel intensified. Are you ready to submit to a sexy sensory extravaganza?
With an elastic head strap this blindfold will stretch to fit most heads, and it's easy to slip on then remove (unless you're strapped into the wrist restraints at the same time, of course). The Lovehoney heart motif on a side tag adds a touch of class, while the gold colour edged with black lends a decadent feel.
Similar to: Lovehoney Oh! Red Satin Blindfold (£5.99)
8. Mini Purple Feather Tickler
I did a little squeal when today's door revealed this oh-so-cute mini purple feather tickler. Honestly, I did – you can watch the moment in the video above. I love feather ticklers – they're so fluffy! They also feel extremely arousing when lightly traced over naked skin, but can be used as part of winding-down sessions, to relax the body, as well.
This feather tickler might be petite but it packs a lot of fun potential. The sturdy nub of a handle is easy to hold despite its short length, while the tickler area has a generous amount of short purple feathers. Its size makes it discreet –whether at home or packing to spice up a trip away- and of course because it's an unpowered accessory it doesn't need batteries/charging up and absolutely silent during use. Whether you will be, is another matter!
Similar to: Bondage Boutique Feather Tickler (£8.99)
9. Black Mini G-Spot Vibe
Today in the Lovehoney Best Sex Of Your Life Couple's Sex Toy Advent Calendar 2018 we reveal a rigid material, black angled tip vibrator created especially for G-spot exploration and stimulation. Although this vibrator is made from plastic, it has a velvet-cote finish, so it's extremely tactile and feels more luxurious than the glossy hard plastic styles.
You'll need a battery to get this one started, but happily it's one you're likely to have lying about the house – in fact you probably have dozens seeing as it's Christmas! Just one AA battery required for this little buzzing beauty, and you twist at the centre of the vibe to reveal the battery compartment. Twist back to lock into position, then you can start to enjoy your G-spotting pleasure session.
This vibrator is single speed, and the rigid material helps the vibrations feel more intense durin use. It measures 5 inches in total length, with an insertable length of 3.5 to 4 inches max. The maximum circumference is 3.25 inches.
Similar to: BASICS Powerful Mini G-Spot Vibrator (£9.99)
10. Stretchy Twin Vibrating Love Ring
You can add a little buzz to your bang with this stretchy twin vibrating cock ring. Made from exceedingly stretchy TPR, this ring is designed to be worn with one ring round the base of their shaft while the other goes around the testicles. A vibrating area provides pleasure to both partners during sex, while the tickling nodules on the surface of the cock ring help intensify those sensations even further.
Although the vibrating area has a non-replaceable battery (& the cock ring is therefore to be disposed of once it's out of power), there's a small on/off switch so you don't have to have your 25 minutes of vibrating pleasure all at once.
An exciting and easy way to ramp up the fun during sex this Christmas.
Similar to: BASICS Vibrating Twin Cock Ring (£8.99)


11. Lovehoney Over The Door Restraints
Ideal to use with the wrist cuffs you received earlier in the Lovehoney Best Sex Of Your Life Couple's Sex Toy Advent Calendar 2018, this over the door restraint turns any door into a piece of bondage furniture. Adjust the slide buckle so the strap is at full length, then slip the black strap over the top of a door (so the transparent bar is on the other side of the door). Close the door, and ta-dah! You have a D-ring secured for use with your usual bondage accessories.
As the velcro fasten wrist cuffs have small trigger clips, they're ideal to be clipped together to the D-ring on this door jam restraint. That said, you can use whatever you choose – your usual wrist cuffs, or even bondage rope for the more experienced/adventurous.
This door restraint packs into such a small space, and offers such a wealth of kinky play opportunity wherever you have a door, that it makes it a travel essential, too. Slip it into your case when you next travel and enjoy making the most of your hotel room…
Single and cuffless version of: Bondage Boutique Soft Over The Door Handcuffs
12. Unwrap Me Women's Thong
Today we reveal a limited-edition gold and black version of the beautiful Lovehoney Unwrap Me Women's Thong! The way this thong is designed is, like the best inventions, so simple but so effective.
The black lacy area feels comfortable to wear and looks gorgeous, while the gold coloured ribbon lends extravagant festive appeal. Each of the side ribbons are put through the loop designed for them at the top of the thong area to the rear, then tied in a bow to secure. The result? You've just gift wrapped yourself for a lucky partner – or hey, for yourself to enjoy unwrapping when you get 5 minutes alone. Why not, right?
I love how this Unwrap Me thong makes me both look and feel like a deliciously wrapped present, with the gold gift bow teasingly placed and inspiring my partner to unwrap and enjoy.
Similar to: Lovehoney Unwrap Me Thong (£9.99)
13. Purple Silicone Finger Vibe Tongue Sleeve
This silicone sleeve is similar to the G-spot silicone sleeve we revealed earlier in the Lovehoney Best Sex Of Your Life Couple's Sex Toy Advent Calendar, in that you can use it with just a finger or you can insert a vibrator for additional, buzzing thrills.
The Finger Vibe Tongue Sleeve is made with body-safe and smooth silicone, and comes in 'Lovehoney' purple. The hollow area is ideal for inserting a bullet vibrator – the gold one you received on day 1 fits perfectly – and you can keep a firm grip of the situation thanks to the finger loop.
The tip of the toy has stimulating nodules to maximise the pleasure, while the vibrations from the inserted bullet makes the thin silicone there deliver intense and fast vibrations where you want them most. Love oral sex? You need to give this beauty a try.
Similar to: BASICS Buzz Tongue Finger Vibrator (£8.99 -without vibrator and in silicone)
14. Transparent Textured Penis Extender Sleeve
Here's a sex toy you might not have thought of trying before, so here's your chance thanks to the Lovehoney Best Sex Of Your Life Couple's Sex Toy Advent Calendar 2018. It's a transparent textured penis extender sleeve made with TPR – and no, it's not only for people who feel the need to add some extra length to proceedings.
During couple's sex, he can wear the penis extender and enjoy the thrill of 'becoming a sex toy' – that additional length and girth, coupled with the stimulating nodules and non-real material adds a totally new dimension to sex which can be difficult to achieve otherwise.
No stunt cock? Grab your trusty smooth dildo or cylindrical classic vibrator and enjoy maximising your pleasure – literally. It's a great way to pimp your regular sex toy ride.
Available separately: Lovehoney Extra Texture 2 Extra Inches Penis Extender With Ball Loop (£14.99)
15. Velcro Fasten Ankle Cuffs
These are like the velcro fasten wrist cuffs you received earlier in the month, but this time, for your ankles! Or their ankles. Or whoever is willing to be tied up for a sexy cause…
Again, these cuffs are easy to use and lightweight, giving them universal appeal. Novices and veterans alike can enjoy the bondage pleasure potential here; just clip a cuff around each ankle and use the attached trigger clips to restrict movement. Or, use with your other bondage accessories for fully-fledged fetish fun.
Similar to: BASICS Ankle Cuffs (£9.99)


16. Lovehoney Star Shaped Nipple Pasties in Gold
Who wants five gold rings when you can have two gold stars to festively adorn your breasts? These nipple pasties are peeled from the backing sheets and are pressed over each nipple to instantly transform you into the sexy siren of Christmas present.
Whether you keep these gold star nipple pasties as a saucy surprise in the bedroom, or dare to bare through a sheer/revealing top at the office Christmas party, is totally down to you. Makes a seasonal and sparkly change from boring old tit tape. Let 'em show, let 'em shine.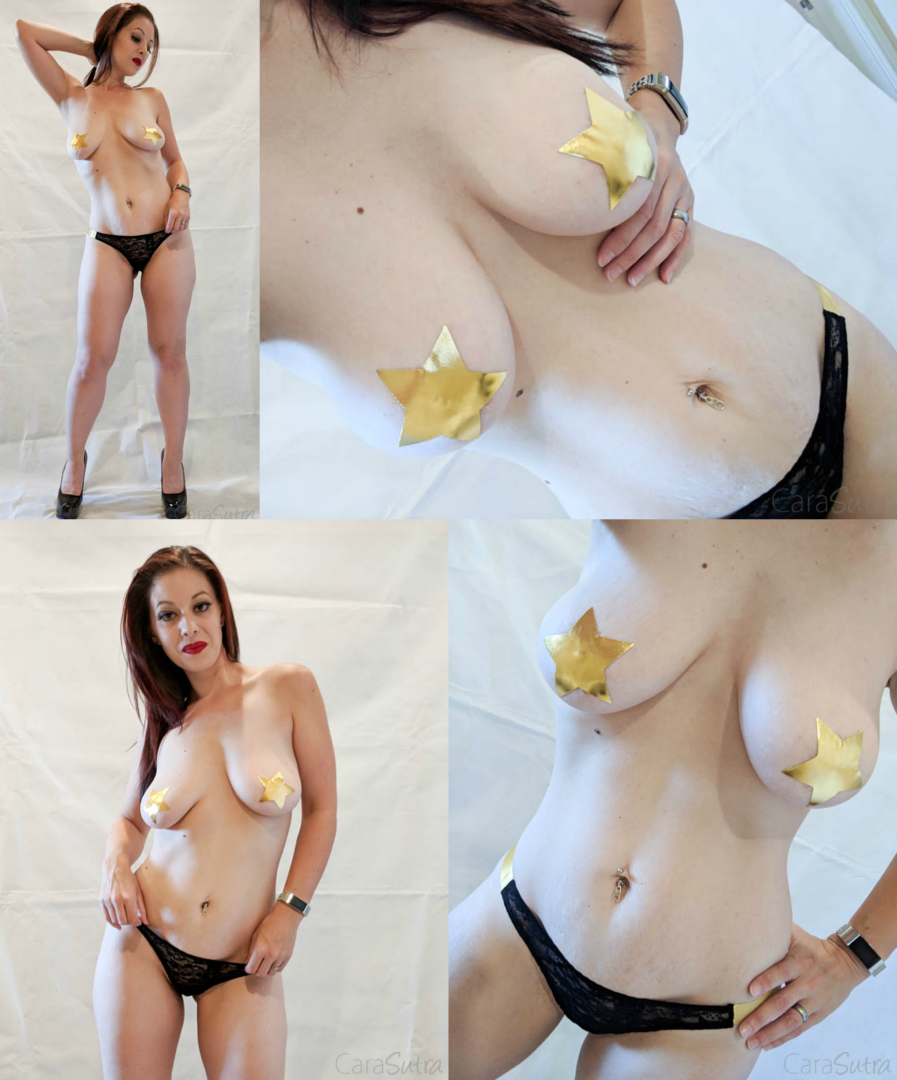 Team with the Lovehoney Oh! Gold Satin Blindfold and Unwrap Me Thong from earlier days for an outfit that will dazzle a lucky partner.
Similar to: Lovehoney Oh! Heart Shaped Nipple Pasties (£3.99)
17. Unwrap Me Men's Thong
The wearables in the Lovehoney Best Sex Of Your Life Couple's Sex Toy Advent Calendar aren't all for her… Today's door reveals the men's version of the Unwrap Me lingerie. It's the Lovehoney Unwrap Me Men's Thong, in black with gold trim. This cleverly designed thong is on posing pouch style, with comfy elastic straps to the sides and rear to fit most sizes.
At the front, the stretchy pouch area is adorned with a gold ribbon in a gift bow, set above a space made for revealing the crown jewels. Present your partner with the sexiest of all gifts this Christmas – you, wrapped up with a bow, and ready to go.
Similar to: Lovehoney Unwrap Me Men's Thong (£7.99)
18. Black & Gold Hog Tie Bondage Accessory
Oh god, I just love hog tie bondage accessories. The submissive position achieved when using a hog tie is just so arousing, so I was thrilled when today's door revealed a sturdy hog tie piece – in the calendar's theme colours of black and gold.
A central gold coloured metal ring has four tabs attached, to which there are four more (slightly smaller) gold coloured metal O rings. If you're not sure how to use hog tie bondage accessories, you can read my hog tie bondage article here. Basically: the submissive partner lays on their front or their back –whichever is more comfortable/achievable- and wrist and ankle cuffs are connected to each of the four O rings on the hog tie.
The end result is a submissive partner willingly and excitingly trussed up either on their back with limbs fastened to the central hog tie, or on their front with arms behind and legs bent and ankles by their wrists. Limbs all connected securely and completely restraining movement. Give it a go.
Bonus: Attempting escape is a great way to burn off those mince pie & mulled wine calories…
Central piece similar to: Bondage Boutique Soft Rope Hogtie
19 Black & Purple Silicone Jiggle Balls
You just couldn't create the Lovehoney Best Sex Of Your Life Couple's Sex Toy Advent Calendar 2018 without including some jiggle balls! After the explosion of jiggle ball popularity, thanks mainly to Fifty Shades Of Grey, it was always going to be the case. Yes, today's door reveals some silicone jiggle balls which are inserted vaginally for saucy secretive pleasure -and surprising health benefits, too.
The black silicone covered jiggle balls are removable from the outer purple silicone cradle, which has a slender length of silicone forming a retrieval cord for ease and comfort. When worn vaginally, the jiggle balls cause the vaginal walls to clench around them, which is a discreetly pleasurable sensation. The contraction of these muscles also helps to tone and strengthen the area, leading not only to a toned-up vagina, but possibly more intense orgasms and more enjoyable sex, too. Win!
Similar to: Broad City Nature's Pocket Kegel Balls (£22.99)
20. Purple Body Massager
It's almost Christmas Day – so chances are by now you could really do with a good, long, deep… massage. Happily, today's door reveals just that. Well, you'll need a little help from your partner.
This body massager is made from deep purple smooth plastic. The raised central area makes it easy to hold and use, while the four 'legs' have rounded ends to knead and massage the tension out of stressed muscles. Use with your favourite massage oil or lubricant for a soothing, revitalising glide.
Top tip: I strongly recommend erotic massage candles which combine festive ambience, soothing scents and tangible warmth for a full-body relaxation experience.
Similar to: Lovehoney Oh! Purple Sensual Body Massager (£5.99)


21. Lovehoney Slimline Silicone Suction Cup Dildo
Here's a versatile sex toy which offers you a multitude of pleasure possibilities. The Lovehoney Smooth Silicone Dildo is an unintimidating size at 5 inches in length, with a completely smooth, cylindrical shaft (max circumference 2.9 inches) topped with a just-as-comfortable rounded tip.
Because this dildo has a flat, flared base, it can be enjoyed by absolutely everyone. It's safe for anal play, whether you want to use it as an anal probe or team with your strap-on harness. Plus, of course, you can use it for vaginally penetrative pleasure. This dildo can also spice up couple's sex by becoming the 'third wheel'… Why not bring those double penetration fantasies to life this Christmas?
Similar to: Lovehoney Slimline Silicone Suction Cup Dildo 5 Inch (£14.99)
22. Bed Spreader Restraint Set
If the ankle and wrist cuffs from earlier doors (and don't forget that ho-ho-hogtie) got you in the bondage mood, here's a real keeper. It's an under bed restraints kit. Now, at first glance it's all just a bunch of tethers and metal rings, but once you have it laid out, you begin to see how it works.
There are two long length doubled up strap tethers, with slider buckles each side to adjust the lengths, fitted with a gold metallic D ring at each end. Feed both of the long doubled up tethers through the supplied large gold metallic O ring. Feed the two tether ends with D rings at the end under your mattress, until the metallic O ring is central beneath it, and the other two tether ends with their D rings are hanging on your side of the bed. Place mattress back in position.
You should now have two D-ringed tethers on the other side of the bed, and two on this, with lengths adjustable thanks to the sliders. The weight of the mattress helps keep the tethers in place, and the central O ring the tethers are fed through keeps them together beneath. Now you have 4 D-rings you can use with any of your bondage accessories –particularly those ankle and wrist cuffs you received earlier on. Where the hog tie bundles you up, this restraint set spreads you out!
This is a fantastic way to turn any bed into a bondage bed – and of course the tethers (and cuffs) are supremely portable, too.
Similar to: BASICS Bed Spreader Restraint (£24.99 -but without cuffs, as you already got them in earlier days!)
23. BASICS Neutral Beaded Penis Stroker
This extremely stretchy penis stroker is behind the penultimate door of the Lovehoney Best Sex Of Your Life Couple's Sex Toy Advent Calendar 2018, and the neutrally designed masturbation sleeve will appeal to any penis-owner this Christmas. Lube up, slide in, splash out.
Internal nodules and textures caress your penis as you stroke away, during a memorable pleasure session taking you far from the stresses of the season. Enjoy some solo stimulation time with this exciting new sex toy, which performs particularly well with a dash of water-based lubricant.
Top tip: The Lovehoney Enjoy Lubricant is extremely popular – check out their full range of sex lubes here.
Similar to: BASICS Neutral Beaded Male Stroker (£9.99)
24. Lovehoney Desire Luxury Rechargeable Clitoral Vibrator in Black & Gold
Merry Christmas Eve! Sadly, it's the last day of this year's Lovehoney Best Sex Of Your Life Couple's Sex Toy Advent Calendar – but you're sure to feel jollier than ever when the prize is revealed. It's the Lovehoney Rechargeable Clitoral Vibrator!
This gently curved vibrator is the Lovehoney Desire Clitoral Vibrator in limited edition Black with Gold trim colours, and it's easy to use and effective at its job. This vibrator is a customer favourite and it's easy to see why. It's made with smooth, body safe silicone, with a contrasting gold metallic plastic plate to the underside. The operation buttons are easy to navigate and the stimulation area features raised waves to deliver spectacularly orgasmic thrills to your clitoral area.
As an external stimulation sex toy, this vibrator isn't limited to clitoral use, although that's its intended purpose. It can be used to deliver pleasure to any erogenous zone, on either partner. Just charge up before use (yes, it's rechargeable, no batteries required!) by inserting the included charging lead into the hole at the base of the vibrator, and the other end into any USB port. Once charged, add a spot of water-based lubricant, lay back, and enjoy a truly memorable pleasure session (or 8) this Christmas.
Black and Gold version of: Lovehoney Desire Luxury Rechargeable Clitoral Vibrator (£59.99)
Buy Your Lovehoney Couple's Sexy Advent Calendar Today
I hope you've enjoyed discovering the contents of the Lovehoney Best Sex Of Your Life Couple's Sex Toy Advent Calendar as much as I enjoyed revealing them. This sex toy advent calendar is set to make your Christmas magically sexy, and completely overhauls your sex toy collection and transforms it into a treasure trove of pleasure potential.
With the contents worth £250 in total at their usual retail prices, the Lovehoney Best Sex Of Your Life Couple's Sex Toy Advent Calendar represents fantastic value for money as well as a spicy boost to your sex life over the Christmas season – and well beyond that, too. You'll see the New Year in with sensual style with this collection of thrilling sex toys, bondage gear and sexy wearables at your fingertips, thanks to Lovehoney.co.uk.
Buy your Lovehoney Best Sex Of Your Life Couple's Sex Toy Advent Calendar 2018 today! The Lovehoney sex toy advent calendar sold out in record time last year, so don't risk disappointment – buy yours through the big green buttons below. Have an exceedingly merry (and SEXY) Christmas!
Shop Sex Toy Advent Calendars: USA | UK | Europe | Canada | Australia


Contains affiliate links