Aneros Antibacterial Wipes Review
Well, it isn't often that I get asked to review wet wipes, but let's face it they are a product that is very useful at times, so I jumped at the chance. Aneros, who are world-famous for their range of prostate massagers and anal plugs, also have their own brand of lube and these Aneros Antibacterial Wipes.
Enjoy all our Aneros reviews
& check out the collection at Aneros.com
Similar in form and function to standard feminine wipes, they are aimed at their range of products and hence men in general. But, and there's always a but, (or should that be butt in this case) they can be used by anyone of course.
That got me thinking, feminine products like wipes are a huge market at the moment, but there are very few aimed at guys. Products like this one will hopefully address this imbalance, after all, guys like to be clean and fresh too, especially before or after some backdoor play.
Each pack contains 25 Aneros Antibacterial Wipes, and they are accessed under a re-sealable flap which should keep the moisture locked inside the pack for an extended period of time. They have a shelf life of two years from manufacture, but with only twenty-five, you would have to have an abysmal sex life if you keep a pack that long.
They contain basic ingredients, including:
Water
Bronopol
IPBC
Vitamin-E
Aloe Extract
Glycerol
Citric Acid
You can smell the Aloe extract and the citric acid when you sniff the wipes, and they have a pleasant and not overpowering smell.
I was surprised to find out that the Aneros Antibacterial Wipes are made from Bamboo and are flushable. I would not recommend flushing them though as wipes are notorious for causing problems in sewer systems, instead dispose of them in the bin where they can break down in a landfill site.
When you remove one from the pack, they are folded and very moist. Upon opening the pack, you will find the wipes surprisingly stretchy, which helps to hold them together, and I don't find tearing a problem with them at all.
They're very soft and perfect for cleaning yourself after a little backdoor play. They can of course also be used to wipe down toys after use but make sure those toys get a thorough cleaning afterwards, especially for anal ones.
They are anti-bacterial so will do an excellent job of cleaning your intimate areas after a play session, or you can even use them beforehand too to ensure cleanliness.
The Aneros Antibacterial Wipes are quick and easy to use, and they left me and my partner's skin feeling clean, soft and fresh.
As long as you keep the pack sealed, each wipe should be as moist and soft as the first which means you can rely on them doing their job but also feeling soft and comfortable as you use them too.
The size of the pack makes it perfect for trips away on holiday, concerts, festivals or even to sit in a play bag where they are to hand when needed.
I like them, and they are not too expensive to which is a huge plus point. So if you are looking for some intimate wipes, then the Aneros Antibacterial Wipes deserve serious consideration. I am happy to recommend them to anyone with an anus.
I would give them 9 out of 10.
– Joanne's Reviews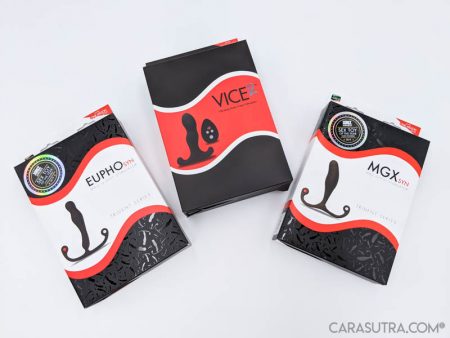 Buy Yours
Thanks so much to our reviewer above for this sex toy review.
You can buy your Aneros Antibacterial Wipes directly from aneros.com, or click through the buttons below to purchase from Lovehoney UK & Lovehoney USA:
Click to enjoy all our Aneros reviews.
Contains affiliate links