Satisfyer Pro G-Spot Rabbit Review
By Pleasure Panel reviewer Tiger Lily
The Satisfyer Pro 2 was already a revolutionary device capable of inducing knee-shaking bum-trembling mind-blowing orgasms, with terrifying efficiency. The Satisfyer Pro G-Spot Rabbit takes the same revolutionary airwave clitoral stimulation concept, and adds a vibrating insertable, turning the orgasm dial up to 11. I really didn't think they could make anything fundamentally better than the Satisfyer Pro 2, but they evidently could, and did. If you buy one rabbit vibrator, this should be it.
Packaging & The Unboxing Experience
There's nothing magical about the box the Satisfyer Pro G-Spot Rabbit comes in; just a thin cardboard box and plastic case, both of which can be recycled. Maybe don't recycle them though, because there's no fancy carry case included.
One thing we did particularly appreciate was the hygiene / tamper seals on both ends of the box. I don't recall seeing this on the Satisfyer we bought from Amazon last year, which is now slightly worrying. (I think I can hear your collective sigh of "don't buy sex toys on Amazon", and yes, point taken).
Inside you'll find a particularly thick manual (don't get excited, it covers every language option, the English bits are only a few pages), a magnetic USB charger (more on that later), and the white "rabbit" itself.
I use rabbit in the loosest sense of the term there because that's what the toy is called, but rabbit vibrators traditionally got their name from two protruding rabbit-like ears that provided the clitoral stimulation element. The Satisfyer replaces those rabbit ears with a sort of wide-mouthed tentacle sucker, which I suppose doesn't have quite the same ring to it. So "rabbit" it is, then.
Materials, Design & Feel
I'm not keen on the fact that the Satisfyer Pro G-Spot Rabbit is predominantly white, but it fits in with the brand. While it likely won't suffer any discolouration in the short term, it's always a worry with white toys. After a week or so of intensive use and washing, ours hasn't developed any nasty looking stains yet, but I can't shake the feeling that a nice sensual pink or black would have been better in the long term. As it is, it feels ever so slightly medical.
Small bronze accents are the only other colour you'll find on the Satisfyer Pro G-Spot Rabbit, around the rim of the clitoral stimulator head, and the vibration control pad. Again, this is going to be a matter of personal preference – it's consistent with the other toys in their range.
Apart from the bronze accents that are made of rigid ABS plastic, the entire toy is soft, sensual and 100% body-safe silicone that you just want to stroke. However, there is a solid interior, so most of the toy doesn't have a lot of give to it.
The angle of the clitoral stimulator is not adjustable, and some people will have trouble getting it positioned perfectly. Rabbit-style vibrators just aren't a one-size fits all, unfortunately, and the nature of the Satisfyer technology just exacerbates the problem. You just need to be a lot more precise with the placement of the Satisfyer than a regular vibrator, using the hood to create a seal around your clitoris for maximum impact. Getting that seal right also reduces the noise coming from the airwaves being generated. But whether the design is going to be right for you just isn't something you can read in a review.
Unlike other Satisfyer models, the hood isn't removable. Still, there's no real need to: a simple rinse of the inside should be sufficient.
The shaft of the Satisfyer Pro G-Spot Rabbit curves inwards so the bulbous head can hit the g-spot, but it's got a little flex, so it should go where it needs while providing a little pressure.
In terms of size, it felt just right, but perhaps a little larger than other rabbits we've used, particularly the bulbous head which has a wider circumference at around 4.5 inches. There's 5 inches of shaft length that's insertable, while the entire toy measures 9 inches total.
Water Use
Using the Satisfyer range in the bath is positively encouraged: they claim the airwaves of the clitoral stimulator actually work better in water. The Satisfyer Pro G-Spot Rabbit is therefore completely waterproof, so feel free to submerge in until the batteries run out.
Magnetic Charging & Battery Life
As I mentioned in my original Satisfyer Pro 2 review, the magnetic charger isn't something I'm a fan of. It's certainly easy to use, very convenient, and enables the Satisfyer Pro G-Spot Rabbit to be a perfectly watertight toy that can be submerged in the bath, but it also creates a unique problem. Specifically, ours nearly started a fire. The magnetic contacts will latch onto anything metal–even other USB plugs–and in doing so create a short circuit. Ensure this doesn't happen to you by keeping the cable in the box and only plugging it in when you need it. Don't make the same mistake of leaving it in the bedroom with a multi-port USB charger just because you can.
You really don't need to anyway: the battery seems to last an awfully long time. The manufacturer claims 30 minutes of action from 150 minutes of charging, but ours seems to have lasted far longer than that.
A single LED blinks whilst charging, then stays solid when fully charged. Your initial charge should be overnight. Just be careful that the contacts are secure and unlikely to be pulled away, as the magnetic force isn't all that strong.
Vibration & Suction
The Satisfyer Pro G-Spot Rabbit is unique in that it combines both the trademark clitoral suction with a more standard vibrator function.
The inner white button with a Wi-Fi like symbol controls the suction, while the outer wave button controls the shaft vibrator. Hold either for two seconds to turn that feature on or off, while a single short press will cycle through the modes.
With 11 different suction modes and 10 different vibrations, each feature can be independently controlled, leading to 110 unique combinations of pattern to try out, in theory at least. This may take a while…
In practice, the clitoral suction is simply a 10 point intensity scale, the same as other models in the range. We've never braved anything above a four.
The vibration controls on the other hand offer three basic intensities, plus a further 8 distinctly unique patterns. The motor produces strong, deep, rumbly vibrations, and to be honest even this alone would result in a stunningly good toy.
When the vibrations are combined with the the clitoral suction, there's no words to describe this other than simply incredible.
Treat Yourself
Not that it's a competition between vibrators, but I timed my partner: she lasted no more than a minute before screaming, convulsing, and squirting all over the bed. Then we kept going a few more times. While the squirting is normal for her, she's never experienced multiple orgasms before, so this was quite an eye-opener. We've played with a lot of different toys: even a mains powered Magic Wand hasn't been able to achieve that. The key difference really seems to be the dual stimulation of both the mind-bending clitoral suction and the rumbly g-spot vibrations internally. If you're the kind of person who finds it a little difficult to get off with clitoral stimulation alone, and would rather something be inserted at the same time, I think you're going to love the Satisfyer Pro G-Spot Rabbit.
However, I should note that it required quite a bit of pushing upwards to get the silicone hood to completely cover her clitoris. She wouldn't have been able to do this alone, while lying back. So I repeat: the rigid shape isn't going to be ideal for everyone, and I wish there was a little more flexibility on the rabbit end. But we were able to coax it into the perfect spot with a bit of effort.
So if you're going to buy just one vibrator, make it a Satisfyer Pro G-Spot Rabbit. The deep rumbly vibes are great, but the real magic of the Satisfyer line has always been the unique micro-suction airwaves of the clitoral stimulator, and this is no different.
Even if you already own a Satisfyer, the additional vibrator feature will take your experience to a whole new level. The only downside is that you may neglect your older model!
At this point, I wouldn't just call the Satisfyer Pro G-Spot Rabbit the best vibrator on the market, I'd call it possibly the best sex toy around (*but only if it fits your body).
11/10, would masturbate again. And again. And again.
Key Points:
Velvety smooth silicone all over, divine to touch.
Rigid shape may not suit everyone, with the clitoral stimulator more difficult to position optimally than other models in the range.
The shape of the suction stimulator arm is such that it can't be used elsewhere, like on your nipples.
Independent control over suction and vibration, with 8 different suction levels and 11 different vibration levels/patterns.
Battery powered and waterproof for bathtime fun (and even works better in the water).
Deep, rumbly vibes.
Unique stimulation, great if other toys have failed you.
The combination of internal g-spot vibrations and external clitoral stimulation is mind-blowing.
Very well made and durable, but only comes in white.
– Tiger Lily
---
Where To Buy
Thanks to Pleasure Panel reviewer Tiger Lily for this review of the Satisfyer Pro G-Spot Rabbit.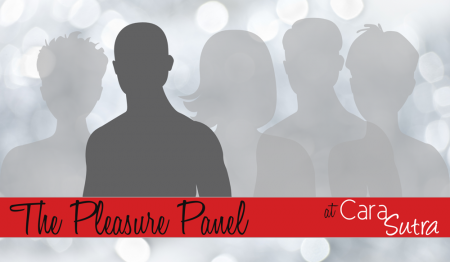 Contains affiliate links.