Aneros Trident Eupho Syn Prostate Massager Review
Hi, Joanne here with another review for Cara. This one is going to be all about the Aneros Trident Eupho Syn Prostate Massager. Now that is a bit of a mouthful, but believe me when I tell you that it is an even better ass-full.
Enjoy all our Aneros reviews
& check out the prostate massagers at Aneros.com
Not having a prostate myself, I conspired with Cara to accept this review as my partner does have one. Little did he know what was waiting for him on the dining room table when on that fateful day, he arrived home from work.
To say he gulped would be an understatement. He likes to boast that he has a "Back Door" and not a "Saloon Door", in other words, his anus is usually a one-way street.
But, following some fluttering of my eye-lids and maybe the promise of a blowjob or two, he agreed to help me review the Aneros Trident Eupho Syn Prostate Massager – result! So it was on with the review.
Before I go into details about whether or not my Stunt Cock enjoyed reviewing this product, let me tell you a little bit about it.
Aneros
Aneros have been making anal products aimed explicitly at prostate stimulation since 2004, and they have a loyal brand following. Recently they have brought out some g-spot toys too.
Their creations all started with the concept of the male g-spot and its stimulation. They now have a lovely line of prostate massagers in all shapes and sizes.
They utilise precise anatomically correct designs to help prostate owners enjoy their prostates in a hands-free manner.
Packaging and design
The Aneros Trident Eupho Syn Prostate Massager comes in a rather attractive retail display box with a black, white and red colour scheme. The back of the box carries lots of product information, and this product is recommended for experienced users for solo or partner play.
Inside the outer packaging, you will find a luxurious looking red box with a wave-shaped folding cover that is held in place with a magnet latch. This gives it a very pleasing high-end look, and it sets the tone nicely for what lays within.
When you open this red box, you will find the Eupho Syn nestled within a packaging former that holds it in place securely. You also get a small instruction booklet which is simple and easy to follow.
The Eupho Syn looks very nice indeed, and when you remove it, you can enjoy the silky-smooth feeling of the medical grade of silicone used to coat it. Silicone is the perfect material for anal sex toys as it is non-porous and both latex and phthalate-free.
Silicone makes it easy to clean, wash in warm soapy water before and after every use, and you can use an anti-bacterial sex toy cleaner on it if you want.
The design of the Aneros Trident Eupho Syn Prostate Massager is quite striking, it features a contoured centre body designed to press against and stimulate the prostate. The silicone is very firm with very little give, and that means you can feel every movement with it inserted.
It also has two curved arms, each having an ABS plastic insert. The two colours (red and white) allow you to remember which way round the Eupho Syn is inserted.
Once fitted the red end of these arms presses against the Perineum while the white one rest between your bum cheeks behind your anus. The white one is called the "Kundalini Tab" in reference to the names meaning in Hinduism as a form of divine energy (or shakti) believed to be located at the base of the spine.
In use, these two tabs act almost like little springs, returning the Aneros Trident Eupho Syn Prostate Massager to its resting position once inserted and moved when squeezing the sphincter muscles. The red one almost works like a pivot as you squeeze, causing more pressure to be formed against the prostate with enjoyable results.
The thin profile and silky smooth material make insertion an easy task. Just use some good quality water-based lube, lay on your side before lifting one leg and slowly inserting the lubed up Eupho Syn.
The girth wasn't too much of a problem for my Stunt Cock, he just took it slow and easy and of course used lots of lube. As he was the one using this product, it's over to him for the rest of the review.
Performance
Stunt Cock here, my first thoughts were "What has she dragged me into now when I saw the Eupho Syn on the dining room table". I must admit being a little nervous about using it as backdoor play is not usually my thing, but I was willing to "take one for the team" as it were.
I read up on the Aneros website and got some excellent tips on insertion. Lube is the key as well as being able to relax. That's easier said than done though when you are about to shove something up your bum. So do take your time.
When it came to doing the deed, I didn't struggle and was surprised at how easily I could insert it. I had made sure I was empty, and it just slid in with just a little wiggling it about. Quite painless really.
The sensation of it inside me was peculiar at first, not uncomfortable, but just feeling something there was new.
I soon got used to it and started to follow the instructions. The basic premise is that you squeeze your anal muscles, and this causes the Aneros Trident Eupho Syn Prostate Massager to move up and down, it also rocks slightly adding more pressure to the prostate.
I will be honest here, I was a little lost at first, but it soon started to feel nice, very nice in fact and I got an erection without even touching myself. This first session with it didn't give me a hands-free orgasm, but I did take care of that erection with the help of Joanne. It added an extra layer of kink to our play, and I came really hard with it inside.
Removal and cleaning were easy, make sure that you clean it thoroughly though for obvious reasons.
I have used it several times now, and while none of them resulted in hands-free orgasms, they did enhance my orgasms. I don't think I have ever produced so much cum in my life when I orgasm with it inside.
Using the Aneros Trident Eupho Syn Prostate Massager feels good, and I can understand the health benefits of tightening my muscles down. For me, it's a sex toy that can complement some fantastic orgasms and fucking with it in or receiving head feels incredible.
I hope one day to be able to get a hands-free orgasm with it, and that would be amazing. But, so far, no joy but that isn't a problem as it feels fantastic, especially during normal masturbation, oral or sex itself.
It is marketed for experienced prostate stimulators, but I would say anyone could benefit from using one. I certainly have enjoyed using it, and I am by no means experienced at this sort of thing.
So, if you fancy trying something new then definitely give it a shot, everyone is different, and so you may find some delightful hands-free orgasms straight out of the box.
If I had to give the Aneros Trident Eupho Syn Prostate Massager a score out of ten, it would be eight.
Thank you, Cara and Aneros for giving my anus a real treat.
– Joanne's Reviews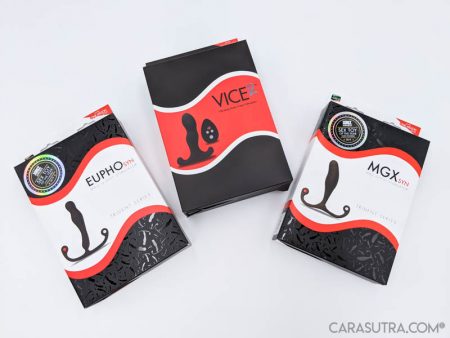 Buy Yours
Thanks so much to our reviewer above for this sex toy review.
You can buy your Aneros Trident Eupho Syn Prostate Massager directly from aneros.com, or click through the buttons below to purchase from Lovehoney UK & Lovehoney USA:
Click to enjoy all our Aneros reviews.
Contains affiliate links