Big Guide To Strap-On Sex Harnesses, & Our Strap On Set Reviews
What is strap-on sex? Strap-on sex is the penetration of a partner, vaginally or anally, using a dildo or vibrating sex toy which is secured into a compatible harness. The harness is worn around the waist and over the genital zone of one partner, with the dildo protruding from the front which is then used to penetrate the happy recipient. Strap-on sex (sometimes known as pegging) is enjoyed by many adults and within various types of relationship; for example, lesbian/bisexual sex, in BDSM as part of FemDom, or to help a penis-owner pleasure their partner in different ways. There are many types of harness available to help you achieve your sexual pleasure aims – welcome to my big guide to strap-on sex harnesses.
You may also enjoy my related post: My Big Guide To Strap-On Dildos
The main things that set strap-on sex harnesses apart are: the material they're made from, how they adjust to fit to wearer, and how the penetrating toy affixes to it. There are leather, faux leather, nylon, neoprene and fabric harnesses, and dildos may attach to the front by way of an O-ring with popper fastenings, or a vacuum suction plug, or the dildo may simply be an integral part of the harness. The traditional strap on sex harness was (unsurprisingly) a straps style set-up, with a front panel where the toy would be attached, but in recent years there have been a number of 'pant' styles. These are briefs with a specially designed area at the front where the dildo is placed and firmly secured into.
Although much of the pleasure focus in strap-on sex seems to be on the recipient, it would be a mistake to assume the 'giver' gets nothing out of the session at all. For one thing, many strap-on sex harnesses feature an internal pocket for a vibrating bullet to be housed, providing stimulation to the wearer. Some strap-on dildos have a vulva-stimulating base for the same reason. It's not all about physical stimulation, either; click to read a fantastic article about how a woman can get pleasure from pegging.
I'd love to bust the myth that strap-on sex is purely for one type of relationship. As mentioned at the outset, there's plenty of pleasure to be enjoyed by involving strap-ons into your couple's fun regardless of your particular type of relationship. It's not 'just for lesbians', 'just for submissive guys' or 'just for butt sex lovers'.
While we're on the subject: enjoying anal stimulation does not mean you're gay, guys.
Related: Beginner's Guide To Anal Sex Toys and Butt Plugs
If you have a butt (oh look, that's everyone) then you might enjoy anal stimulation. And you might not – but how will you ever know unless you try? Anal stim is simply another form of anatomical stimulation, with zero reflection or bearing on your gender or sexuality. Open up your mind –and elsewhere, but don't forget the lube. I hope you enjoy my big guide to strap-on sex harnesses, and don't forget, my big guide to strap-on sex dildos will follow next month.
Click to read all our strap on harness reviews
Strap-On Sex Harnesses Guide
Bondara
Bondara sell a wide and varied selection of their own strap-on harnesses, the majority of which either come with their own compatible dildo, or with a dildo attached. In this way you get a strap-on set-up you can  enjoy right away.
The Bondara strap-on sex harnesses start at just £9.99, however the cheaper selection unfortunately come with lower quality material dildos, made from jelly and TPR. You could always supplement a silicone dildo from your own collection, in the case of Bondara harnesses which feature an O-ring style attachment method.
For those with a slightly higher budget, Bondara offer strap-on harnesses with a silicone dildo, which is the flexible sex toy material of choice. It's non-porous and non-toxic, making it body-safe for internal use. These harnesses are usually priced at around £30, but are on sale at the time of writing. Good news for latex fans: Bondara have just added some latex wearable strap-on sex briefs with integral protruding dildo to their collection.
Click to read all our Bondara reviews.


Doc Johnson & Vac-U-Lock
Vac-U-Lock by Doc Johnson has been around for decades – I started my own strap-on harness collection with one of their Lucid Dreams harnesses. The Vac-U-Lock strap-on accessories are slightly different to most other harness styles, in that the dildos attach via suction to a plug.
Top Tip: Talc or lube the plug first to make the dildo much easier to remove after use.
Vac-U-Lock silicone dildos are manufactured by Doc Johnson, but can sadly be hard to find through adult retailers –especially in the UK. Doc Johnson make the lower end budget styles of their Vac-U-Lock compatible dildos from their own blended material, which you may see described as UR3 or UltraSKYN. These are simply marketing names for blends of TPE, which is a porous material.
I like the Doc Johnson Vac-U-Lock strap-on harness styles and the vacuum dildo suction method, I just wish the silicone compatible dildos were easier to source.
Click to read all our Doc Johnson reviews.


Kinx
Kinx is a budget-friendly bondage toys brand from ABS Holdings. As such, it offers a selection of low-priced strap-on harnesses starting at just £14.
The Kinx harnesses come with an integral or compatible strap-on dildo, and are great for beginners to experiment with.
Click to read all our Kinx sex toy reviews.
Lovehoney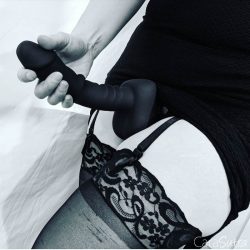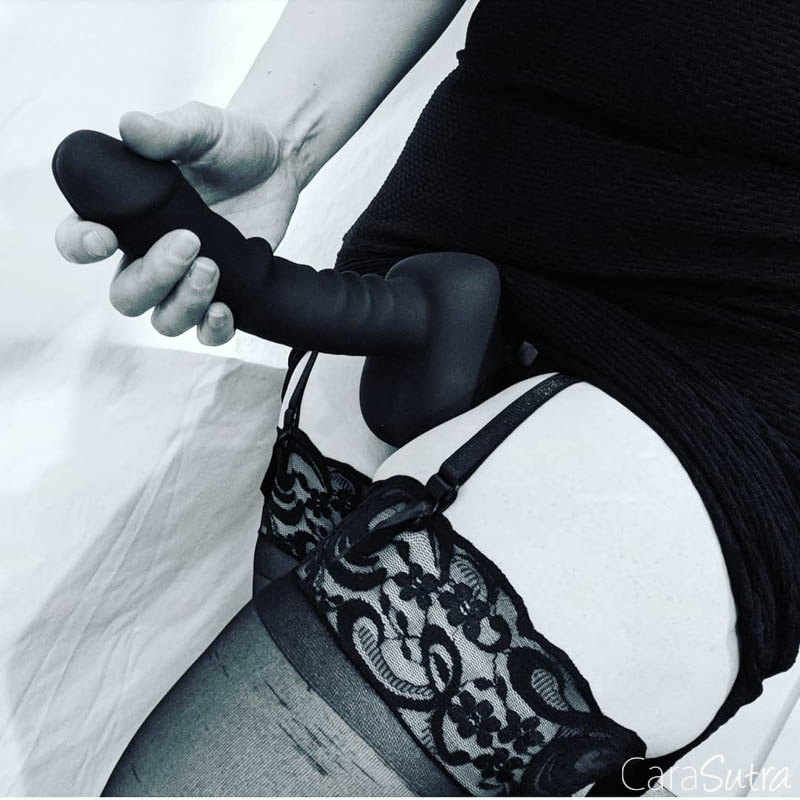 Lovehoney are constantly growing their own ranges in every type of sex toy, bondage and lingerie area. It's no surprise, then, that Lovehoney offer a selection of various strap-on harnesses with evocative features.
DOMINIX is a traditional-look bondage range, and offers a couple of strap-on harness styles for pegging fans.
I was lucky enough to be amongst the first testers of the innovative and unique UPRIZE toys, where the main attraction is the fact you can erect the UPRIZE dildos at the push of a button. Even watching the UPRIZE dildo erect itself after pressing the remote control is enticing. The collection offers a strap-on sex harness which can be used with these self-erecting dildos.
There's also a generous selection of traditional strap-on harnesses by Lovehoney to choose from, priced from just £20. There are also sets which include silicone dildos, as well compatible dildos available separately. Other sets, such as the Lifelike Lover Set, can offer fantastic value too.
Click to read all our Lovehoney reviews.


Loving Joy
Loving Joy are a growing brand with an impressive catalogue of well-made sex toys and sexy accessories. They make and sell one of my favourite bullets, the Loving Joy Power Bullet Vibrator.
They also offer a strap-on harness, the Loving Joy Universal Black Harness, which is usually priced at just £14.99.
This item is compatible with strap-on dildos which fit an O-ring style harness.
Click to read all our Loving Joy reviews.


Pipedream & Fetish Fantasy
Pipedream Toys are an enormous brand in the adult products sphere, with many sub-ranges of toys. One of their sub-ranges, Fetish Fantasy, focuses on BDSM and bondage toys. Although not only used as part of BDSM, this is where you can find most of Pipedream's strap-on sex harnesses.
There are Fetish Fantasy harnesses which use the O-ring affix method, as well as harnesses with an integral dildo. There's even an 'elite' wearable pantie style design, as well as strapless strap-ons for those seeking something a little different.
Click to read our Pipedream Toys reviews.


SpareParts
SpareParts pride themselves on crafting and providing top quality bedroom accessories, including some thoughtfully designed and extremely comfortable strap-on sex enablers made from breathable materials. The Joque styles are unisex and have a built-in stretchy O-ring, while the wearable brief styles come in both 'Tomboi' and pretty-with-bows 'Sasha' designs.
The SpareParts harnesses are a little more expensive, but the durable, breathable and comfortable materials used which provide a 'second skin' experience makes them worth the price. These items are an investment for those serious about their strap-on sex pleasure sessions.
Enjoy my SpareParts HardWear Bella Strap On Harness review.


Sportsheets
Sportsheets is another big name in the world of bondage toys and accessories, and as such they offer a varied selection of harnesses.
Sportsheets also offer some plus size options, one which fits UK sizes 10-30 and up to a 72" waist, and this one which fits UK sizes 10-36 and up to an 82" waist.
Click to read all our Sportsheets reviews.


Tantus
Tantus are known for creating beautifully sculpted silicone dildos, amongst which are various strap-on compatible designs.
The Tantus collection also includes some strap-on harness kits, and a few strapless strap-ins which we'll discuss in more detail later on.
Enjoy all our Tantus reviews.


Tracey Cox
As part of her ever-growing collection of sex toys sold through Lovehoney, Tracey Cox has helped design two styles of strap-on sex toy. There's a traditional harness style as part of a 4-piece pegging kit, which comes with two dildos and a bullet vibrator for extra-stimulating fun. The dildos are both made from silicone, so at just £40, this pegging kit is exceptionally good value.
There's also a strapless style by Tracey Cox, which leads us nicely into the strapless strap-ons section below.
Click to find all our Tracey Cox sex toy reviews.


Strapless Strap-Ons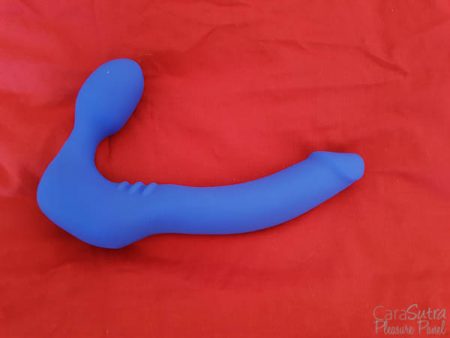 Strapless strap-ons may like a contradiction in terms. These sex toys are designed to fulfil the desire to peg your partner, without the need for straps or a traditional harness. They usually feature either a bulb or probe which is worn vaginally, held in place not only due to the flared designs but also with the help of toned pelvic floor muscles. The dildo to penetrate your partner with protrudes from this area, out at the front. Strapless strap-ons are an adventurous and exciting way to enjoy the intimate delights of strap-on sex.
Lovehoney
As mentioned above, Tracey Cox offers a strapless strap-on in her collection of sex toys and accessories sold at Lovehoney. Lovehoney also offer their own strapless strap-ons, some of which are vibrating.


Tantus Feeldoe
Tantus are arguably the best known of the strapless strap-ons, with the Tantus Feeldoe leading the way in this area for years before other brands followed suit.
Feeldoe was the very first strapless strap-on I enjoyed. Since those early days when there was simply a choice of 'standard' or 'girthy', Tantus have expanded this part of their range to offer both realistic penis and vibrating options.


Fun Factory Share & ShareVibe
Fun Factory were a new, up and coming, relatively unknown brand when I started in the sex toy biz – but since those early days, they've blossomed into multi award winners and international favourites. This Germany-based brand offers vivid, colourful, silicone creations with fantastic engineering to deliver powerful pleasure.
The strapless strap-ons created by Fun Factory come in both vibrating (ShareVibe) and non-vibrating (Share) options. They are cleverly contoured to not only provide a seamless, sexy experience but enhance the pleasure for both the wearer and recipient.
Click to discover all our Fun Factory reviews.


I hope you've enjoyed my big guide to strap-on sex harnesses, and that it's helpful while you're shopping for your perfect pegging tool. However you wish to enjoy strap-on sex –as part of your adventurous sex life regardless of its nature, during lesbian sex, or to satisfy your BDSM strap-on fetish fantasies, or other- you can be sure there's a style of strap-on designed to meet your needs.
And don't forget: lube is your best friend, especially for anal adventures!

Contains affiliate links