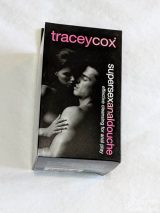 Mrs. Sexy and I recently talked about our curiosity to explore more with anal play, so when we were selected by Cara Sutra to review the Tracey Cox Supersex Anal Douche for this month's Pleasure Panel, it could not have come at a better time.

Pushed against one side of my clit and slid easily back and forth as I desire, the powerful vibrations thrilling my nub of nerve endings, it's not long before I reach that familiar, satisfying orgasm.  

The Tracey Cox Supersex Infinite Function G-Spot Vibrator from Lovehoney was sent to me for free with a large purchase I made. I own other Tracey Cox toys so I'm familiar with the quality of her toys and her reasonable prices, and I was pretty pleased with the freebie!

I had never owned a wand before, until recently. Everyone raves about them, but I tried an extremely powerful one and it was too much for me so I was a bit put off. Then I saw this mini wand...

By Just Starting Out: We purchased the Tracey Cox Supersex Twin Silicone Vibrating Love Ring For Couples from Lovehoney following a game of Monogamy as one of the cards suggested the purchase of a cock ring to heighten our sexual pleasures - so we did!

By Puspus So to my review of the Tracey Cox Supersex Glass Dildo Set... I love glass dildos. They are body-safe, beautiful, artful sculptures, durable, easy to use, affordable, lube friendly... What more could you ark for? Glass is a whole category of sex toys I think everyone should explore.