Best Small Butt Plugs For Tiny Bums
I've written plenty of beginner's guides to anal toys and butt plugs in the past, and you can find plenty of sex toy advice throughout the Cara Sutra sex blog. Today, however, I wanted to present what I feel are the true top picks when it comes to easily insertable (yet still body safe) small butt plugs for tiny bums.
After all, it's not only anal play beginners who may require or prefer smaller sized anal toys. I've used butt plugs for years but often find it sexier to be able to slip a toy in quickly and easily -rather than having to break out the stirrups, heavy-duty lube and brace myself for entry.
As an aside: Small butt plugs are not made solely for beginners. Labelling small butt plugs 'beginner' makes it seem like an increase in size is expected or inevitable with time and experience. This can put pressure on anal sex toy users. If someone doesn't ever feel comfortable using any anal sex toy than something labelled 'small', it doesn't mean that they're inexperienced, haven't been trying hard enough or are missing out. There's no shame in wanting or needing to use a small butt plug. Each person's body and desires are different -and deserving of respect.
Material Matters
My first tip is to look for a silicone anal toy in your sex toy shop's small butt plugs department. Why silicone? Well, unlike lower quality options such as jelly, TPE/TPR and PVC, silicone is body-safe and hygienic because it's non-porous. That means bacteria won't enter the material of the toy and remain there, no matter how thoroughly you think you've scrubbed it clean. Lower quality materials are not just often porous, they get tears and damage through use which further reduce the hygienic state of the sex toy.
Buy silicone butt plugs:
Silicone is also rather flexible, which is a good plan not only for insertion but also for removal afterwards. It warms quickly to your body temperature and works well with a layer of suitable lubricant. Make sure the lubricant you choose is compatible with your silicone butt plug – silicone lubes might be fine but test on a small area at the base first. I opt for water-based lubes usually, or hybrid, as I don't like the feel of silicone lube. It's harder to wash away afterwards and some  types make me itch.
You don't have to worry that higher quality, body-safe & hygienic small butt plugs made of silicone will be ridiculously expensive, either. You can find silicone small butt plugs at a great price for you no matter your budget.
Another tip: Use a condom over your silicone butt plug to help stop horrid scents attaching to and remaining on the surface of your anal toy. If you use the silicone butt plug without it being covered then be prepared that it may then forever smell ever so slightly of butt.
(#justsaying)
Small butt plugs in other safe materials are available, you don't have to opt for silicone. For those who like complete rigidity, there are hard materials such as glass and metal. And yep, you can find body-safe options in those materials too. Discover my top glass and metal picks in a little while.
Silicone Options
Ready to discover some Cara Sutra favourites when it comes to silicone small butt plugs?
My most recent favourite is a small butt plug I took some time searching for then bought for myself. It's the Lovehoney Classic Silicone Slimline Medium Butt Plug and at first glance, it might not seem that tiny.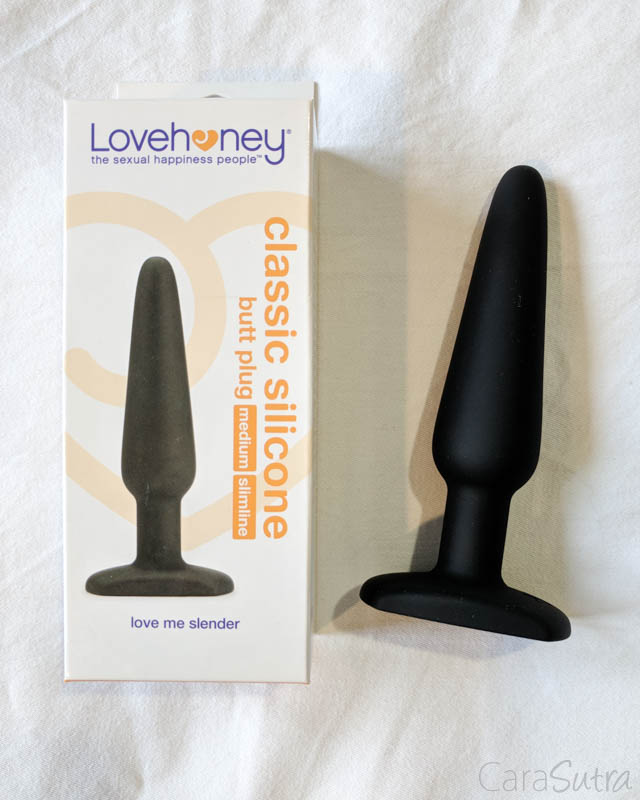 My Lovehoney Classic Silicone Slimline Medium Butt Plug review
I chose this plug because I was frustrated that all the narrow butt plugs (that I've tried) seem to be lacking in length as well. The length wasn't ever a problem, and was in fact frustratingly missed when I chose a narrower width plug for easier, more comfortable use.
The solution? This butt plug. It has 4 inches insertable length with a circumference of 4.4 inches at the widest part of the plug. It's black, easy to slip a condom over and a fantastic addition to masturbation or sex… and the flat base means it's comfortable to sit in a chair during use, too. Oh, and it's less than £15. Bargain!
If that still seems like too long, or too wide for your tiny bum – take a look at the Fifty Shades of Grey Driven By Desire Silicone Butt Plug. 50 Shades lovers will perk up immediately, but even if you're not a fan you should still check it out – it's not like you have to keep the packaging or that the logo will be visible to you during use (unless you're exceptionally flexible).
Fifty Shades of Grey Driven By Desire Silicone Butt Plug review
This super-small butt plug was tested and reviewed by the Pleasure Panel, and our reviewer confirms that it indeed falls easily under the small butt plugs label. The insertable length is 3.25 inches, while the maximum circumference is only a titchy 2.9 inches. It also has an angled tip for additional stimulation during wear, and/or prostate stim.
Bondara also offer strokably soft, silicone small butt plugs to keep tiny butted pleasure seekers happy. The Bondara Purple Velvet Silicone Butt Plug was given a 9/10 and 10/10 by two separate Pleasure Panel reviewers.

It offers 3 inches insertable length, with a maximum circumference of 3 inches also. The plug is now available in either blue or black from Bondara, in a range of sizes. The small is priced at just £5.99.
For small-bottomed thrill seekers, the Bondara Small Black Silicone Heart Vibrating Butt Plug might fit your needs perfectly.

Bondara Small Black Silicone Heart Vibrating Butt Plug review
Not only does it have an unusual, attractive design – heart shaped with a central hollow area – it also benefits from 10 speeds of vibration delivered through the silicone material thanks to the integral bullet vibrator.
A new mini range which caught my eye on behalf of small bummed anal fans everywhere is the Rocks Off Petite Sensations sex toys. The couple of small butt plugs reviewed at the Cara Sutra sex blog from the range received a 7 and an 8 out of 10 points from independent Pleasure Panel reviewers.
The Rocks Off Petite Sensations 7 Speed Butt Plug is squatter and wider, with an insertable length of 3 inches and a matching circumference of 3 inches.

Rocks Off Petite Sensations 7 Speed Butt Plug review
Meanwhile the Rocks Off Petite Sensations Teazer offers more length, at 4 inches insertable. It has a maximum circumference of only 2.5 inches.

Rocks Off Petite Sensations Teazer review
Both of these small butt plugs are made with body-safe, flexible silicone, and vibrate thanks to the removable (and renowned) Rocks Off RO-80 Bullet Vibrator. Therefore, buying one of these butt plugs is like getting an extra sex toy for free.
Note: Do not use the bullet vibrator by itself anally – you need a flared base on your anal sex toys in order to stay safe.
I am a big fan of the vibrations from the Ann Summers Moregasm sex toys – absolutely still in love with the Ann Summers Moregasm G-Spot Vibrator, even if I do use it for clitoral stim rather than G-spotting. The Pleasure Panel have largely agreed with me in their own honest reviews of various products from the ever-expanding Moregasm range.
The Ann Summers Moregasm Contour Butt Plug delighted our reviewer, who scored it 8/10 in their review. It's not simply made from silicone, waterproof, vibrating and rechargeable, it's also powerful, great for general anal stimulation or specifically prostate stimulation – oh, and it's one of those small butt plugs, too.

Ann Summers Moregasm Contour Butt Plug review
Its insertable length is 3 inches while it has a maximum circumference of just 3.1 inches. This plug is also on offer at the time of writing, so get your hands on one quick – just £36.
Last but certainly not least are the superb and stunning silicone creations from GODEMICHE. I'm lucky enough to own several of the range, including two small butt plugs – well, toys for anal use.
One is the GODEMICHE Yellow Glow In The Dark Butt Plug, which measures just 2.2 inches in insertable length with a max circumference of 3.5 inches.
My GODEMICHE Yellow Glow In The Dark Butt Plug review
It's so small that it's even a little small for me even in my most "ugh I don't wanna struggle a butt plug inside but I still want anal stim" moments. However, it would be perfect for those who can only just about tolerate anything anally, such as a small fingertip.
The GODEMICHE Peg Silicone Anal Dildo gives fantastic length, at 5 inches insertable, while it has a circumference of only 2.5 inches.
My GODEMICHE Peg Silicone Anal Dildo review
I found the straight line, cylindrical design doesn't stay in very well by itself once I'm lubed up and if I want to wear it for self-pleasure, but it's great for experimenting – oh, and pegging, obviously.
Hardcore Tiny Bum Toys
If you'd like to try out a different toy material than silicone, but you're still looking for small butt plugs which are body-safe and hygienic, you might like to try a glass or metal style.
Worried about using glass sex toys? Read my related article, Are Glass Dildos Safe To Use?
My favourite small glass anal toys have to be the Crystal Delights Butt Plugs. Not only is the standard style small enough to be easily insertable (for me), there's a whole world of base designs to choose from. Sparkly gems, magnetic additions, tails in every shade of the rainbow – even rainbow tails, if you like!
Read Crystal Delights Butt Plug reviews
The Crystal Delights small butt plugs I've owned and enjoyed have been 3 inches insertable length, with a maximum circumference of 4 inches. This is a little wider than some of the plugs I've already mentioned above, but glass becomes incredibly slippery with the addition of lubricant – and you can use any type of lubricant you like with glass sex toys.
One of the smallest metal butt plugs I own is the Njoy Pure Plug Small, which is made from stainless steel.
My Njoy Pure Plug Small review
The design of the Njoy Pure Plugs means they're not great for wear while walking about or sitting on a chair – there's a finger loop rather than a flat base. However, during masturbation they really intensify the sensations for me – in fact, this one was a little small for me personally.
The Njoy Pure Plug Small measures 2 inches in insertable length, with a max circumference of 3 inches.
For sheer decadence from the world of small butt plugs, try the Crowned Jewels Upminster Blue Titanium Metal Butt Plug. The Crowned Jewels sex toys are made with titanium rather than steel, and the Upminster (like many of their designs) is available in a range of colours.

My Crowned Jewels Upminster Blue Titanium Metal Butt Plug review
The Crowned Jewels Upminster measures 2.25 inches in insertable length, while the maximum circumference is 3.5 inches.
Budget-Friendly Options
The Crystal Delights, Njoy and Crowned Jewels small butt plugs aren't cheap; I realise that. If you're budget conscious and/or want to buy a selection of rigid small butt plugs to enjoy, you might like the look of the Loving Joy sex toys.
You can find many Loving Joy sex toy reviews at CaraSutra. I think you'll be pleasantly surprised by both the collection of toys offered and the superb value prices. There are small butt plugs in the Loving Joy range made from flexible silicone as well as metal.
Do you own a small-sized butt plug which is body safe, pleasurable but not included here? Feel free to add a comment below.
Unsponsored; contains affiliate links