Lovehoney Classic Silicone Slimline Medium Butt Plug Review
It has been quite a few years since I actively sought then bought a sex toy to fill a particular… need, as it were, but upon spying this one I knew I had to have it. At first glance the Lovehoney Classic Silicone Slimline Medium Butt Plug might surprise you there; it admittedly looks like a pretty basic, no added frills, sex toy.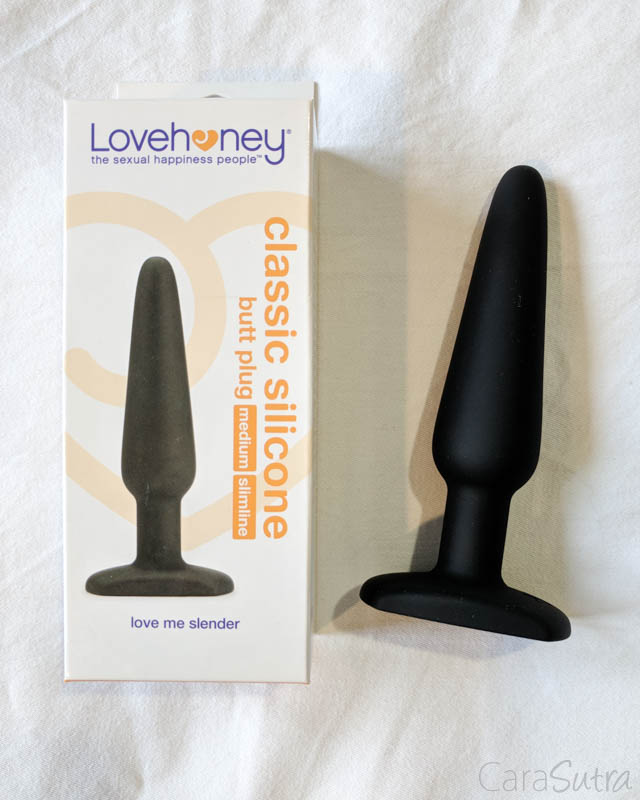 Anal About Anal
Do you know how difficult is it to find an anal toy which meets the following criteria?
Not huge, but not tiny.
Not only has a flared base, but has a base of an adequate size.
The base must also be flat so I can sit up comfortably in it; no 'lying down or standing room only' type plugs, thanks.
Made with a body-safe, non-porous material.
Easy to clean.
Comfortable enough for all-day (and possibly all-night) wear…
…but shaped to provide intensely stimulating pleasure.
Oh, and all of the above at a low, low price, please.
No? Well, it's very difficult, let me tell you…
Common Issues
The Tantus dildos and anal plugs are renowned for being excellent quality, but they're not only rather costly – here in the UK we have to pay high shipping fees if we want to buy from Tantus directly, then there's customs fees to worry about.
Butt plugs from the likes of We Vibe and other high-end brands are not only expensive but have a lot of added features that I don't want or need.
Plenty of butt plugs are designed with either the newbie in mind (teeny sized beginner butt plugs) or anal reaming fetishists (enormous, wide, fisting-style, doorstop things).
Or, they're vibrating. I do like anal vibrations, don't get me wrong – but you then encounter plenty of additional issues such as:
How is it powered? Batteries – which ones? Rechargeable? Will I lose the lead? Or forget to charge it up?
How is it controlled? Are there fiddly buttons on it that I'll never reach? Or does it have a remote control that I'll lose? Or, even worse, an app that is too complex, may not connect properly and that will just end up being off-putting?
Is it fully washable? And what's the base like, thanks to the vibrating element? Is there now a sticky-out bit that means I can't sit up with the butt plug in place?
While I have enjoyed plenty of butt plugs in the past, I've often found that they suffer from at least one if not several of the issues I've mentioned. They might not all be issues for you, but for me they are. In addition, the length of a butt plug shaft seems to be swayed by the width. Beginner butt plugs are often short as well as narrow, whereas if you're looking for a longer penetrative depth then the circumference jumps up rather alarmingly.
Perfect Fit
I was looking for a medium size, silicone butt plug with a flat base, easy to clean, no extra fuss or details, with a long enough shaft to satisfy anal-fuckery cravings.
And happily, I've found it.
The plug measures 5.5 inches in overall length, with 4 inches insertable and a maximum circumference of 4 inches.
Whether I use this plug by itself to spice up a boring afternoon, or wear during foreplay and then sex with him, or add another layer of stimulation while masturbating with a wand vibrator or rabbit, this butt plug offers a lot of extra pleasure for a really amazing price.
Top tip: I slip a condom over mine first so it's much easier to clean afterwards.
Buy Yours
If you want to own a butt plug offering medium width with impressive penetrative depth, a flat flared base for a comfy yet pleasurable afternoon-in-the-office secret, a body-safe, non-porous material for worry-free playtimes and hassle-free cleaning, then you need the Lovehoney Classic Silicone Slimline Medium Butt Plug.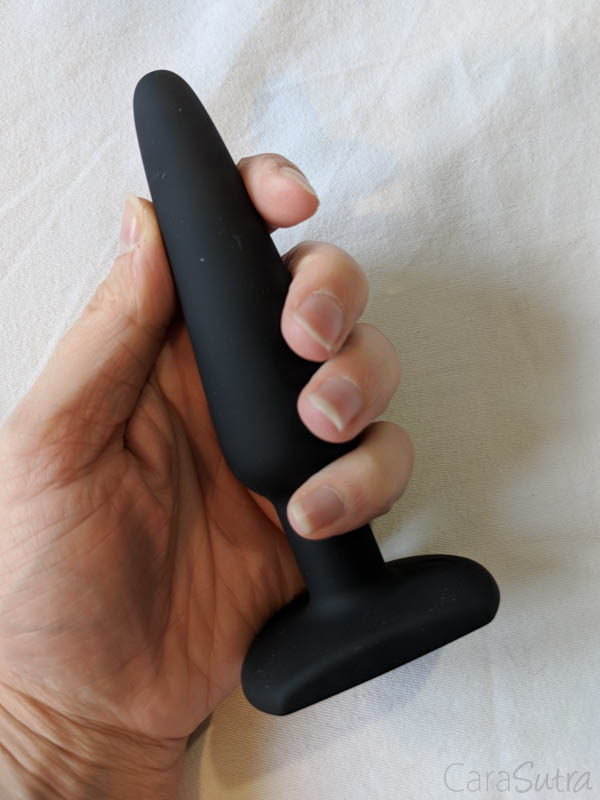 A touch of water-based lubricant ensures a pain-free entry and exit; and the price won't make you wince either. It's only £14.99 from Lovehoney UK, or US$17.99 from Lovehoney USA. Bargain!


---
Contains affiliate links