As you can read about in my Crowned Jewels Shaftesbury Dildo review, I've been trying out a couple of their gorgeous sex toys lately. I was sent a couple of products of my choice from the Crowned Jewels web shop, free of charge, in exchange for a fair and honest review of each. This review is for the Crowned Jewels Upminster Butt Plug, which you can opt for in a variety of colours and I chose blue. Something a little different!
The packaging was much the same as for the Shaftesbury dildo, albeit in an appropriately smaller cylindrical box. Same gorgeous red wax seal showing the Crowned Jewels logo, sealing a black ribbon around the package. My Crowned Jewels sex toys were sent to me promptly and in a very discreet and carefully wrapped outer package.
Inside the smaller cylindrical box there's black tissue paper securely holding the plug and preventing knocks during transit. The plug itself is housed in a drawstring storage bag which is another luxurious touch.
If I'd thought I was maxed out with being impressed by the Shaftesbury dildo, I was wrong. Tipping the Upminster (*snigger* that name!) butt plug out of the bag into my hands I actually gasped, aloud and said to no-one in particular, "Oh my god. It's the most beautiful butt plug ever!"
While taking my photographs I was then bitterly disappointed that the pics don't seem to adequately express every facet of beauty in this butt plug. It might be slightly odd to describe anything about a butt plug as being beautiful, but the Upminster really does remind me of body jewellery, or some other luxurious adornment. I know you can't use your butt plug and look at it but 1) you won't be wearing it ALL the time (hopefully) and 2) your partner can at least benefit from the aesthetic aspect when you are wearing it.
The Crowned Jewels Upminster Butt Plug seems the standard small butt plug size, making it suitable for even an anal beginner in my opinion. It measures 2.9 inches in overall length, which an insertable length of 2.25 inches. The maximum circumference of the insertable bulb area is 3.5 inches. I weighed it and it's 124.7g.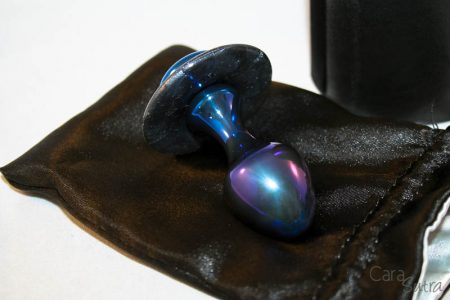 The blue titanium is absolutely gorgeous. There's an almost iridescent sheen to the smooth, polished, sculpted metal and light bounces from the surface very attractively indeed. The colour of the metal is highlighted by the sparkling mosaic patterned silicone disc around the base. My only worry with the silicone disc is that it would make the butt plug more difficult to completely clean. Although it certainly adds a few moments to make sure I've thoroughly rinsed & cleaned, it's not a biggie. The flared base means that this butt plug is completely safe for anal use; it won't slip up inside the body like toys without flared bases could.
As the ring which forms the Upminster  butt plug's flared base is silicone, it makes it easier and more comfortable to wear the butt plug beneath clothes as you go about whatever activities you go about during the day, as well as just for use in a bedroom or masturbation environment. I think it was a good idea to have a silicone ring as the flared base in this way, because it is flexible enough to move with your body as you walk, sit or stand with the plug inside, while still giving you the safety aspects that an anal toy needs.
One downside of the silicone ring flared base is that you shouldn't then use silicone lubricant with the Upminster Butt Plug, as silicone lube may damage the silicone material on the ring. This isn't a problem for me personally as I prefer water based for most of my masturbation and sexual sessions. The titanium material of the tulip shaped butt plug responds well to water based lube, while the plug itself warms quickly to body temperature.
The Upminster butt plug is lighter than it looks (it's just under 125g), meaning that I felt safer using it than I have with stainless steel butt plugs of the same size. It doesn't feel like it's about to 'pull out' at any time, even if I'm using it under clothes or if I wanted to be out of the house for a 'sexy shared secret' trip out with my partner.
For the most part though, I use the Upminster butt plug during masturbation or foreplay/couples' sex, rather than any prolonged use under clothes. This is just down to personal preference and the design of this sex toy means that it's versatile enough to offer you plenty of pleasure potential. It feels good during solo masturbation, perhaps teamed with a vaginal vibrator or a clitoral stimulator, and can be worn to spice up sex while he penetrates me vaginally without any worry about having to hold it in place or stop it from slipping out.
The only negative aspect of the Upminster during use for me is that it's a bit small for me personally, as I have butt plugs in the more standard medium and large sizes. However it's a good one to have on standby for me during sex as it doesn't take a lot of effort or lube to insert it (or for him to insert it for me) – and it's also easier to use for quickie added anal pleasure in masturbation without feeling like it's a lot of bother for a quick O. If you're a bit anally shy (do not say retentive, do not say retentive) then this will likely appeal to you, or for beginners who want to start with something supremely gorgeous, luxurious, body safe but unintimidating in size.
If you're the sort of couple who gifts each other butt plugs (hey, some people might – I would find it hilarious, if I didn't already own so many) then the Upminster butt plug would make a dazzlingly deluxe choice. My advice is not to wait for someone else to buy it, just save your pennies and treat yourself. You can choose from a variety of colours and it costs £138.
Buy your Upminster Butt Plug from Crowned Jewels here.
Photographs