Uber Clamps Tyrannical Nipple Clamps Review
I was recently in the market for some new nipple clamps. I enjoy the sensation of pinched nipples during solo masturbation sessions or sexy fun with my partner. Despite having various forms of nipple clamps in the past, I've been unable to find any small, separate types in my collection lately. Probably lost in a house move at some point. I didn't want any that were connected by a chain, or with a clit connector, or with weights, or which vibrated, or which had suction or fastened via magnets. I just wanted a pair of small, pinchy nipple clamps to pop on whenever I felt the need. And that's how I came to purchase the Uber Clamps Tyrannical Nipple Clamps.


Related: Click to read all our UberKinky reviews
& nipple clamp reviews
Uber Clamps Collection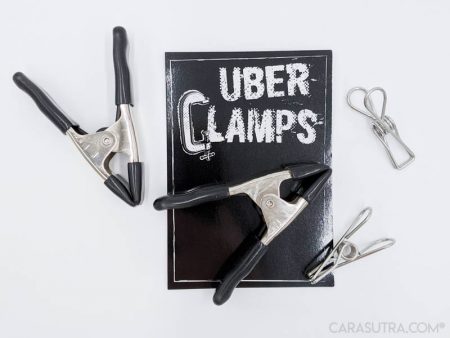 UberKinky's Uber Clamps collection is comprised of three styles of clamps which I guess could be used for all sorts of clamping fun – not just for use on nipples. There's the Uber Herculean (click to read my Uber Herculean Nipple Clamps review), the Uber Hooked and these, the Uber Tyrannical. They cost £4.99 a pair which I think is extremely good value.
First Impressions
"Fucking hell they're massive!" was honestly my first impression of these clamps. Instead of the cute and weeny little nipple clamps I'd been expecting, possibly about 3cm in length max, I got these absolute WHOPPERS. I was a little scared but also quite excited. I just hadn't expected to receive such a sizeable (but clearly well-made and long-lasting) item for less than a fiver!
In truth, if I'd known how big these nipple clamps were, I probably wouldn't have gone for them. I had been looking for little, not-quite-as-hardcore ones after all. That will teach me to impulse buy on the strength of photos alone, without reading the description properly.
How Big Are They?
The clamps measure just under 11cm (4.2 inches) from the tip down to the bottom edge of a 'handle' or one side of the clamp. Each 'handle' is 2cm across (diameter). Hopefully my images, including my hand as perspective, gives you a good idea of the size of them.
How Do They Feel?
Safety Check
These clamps are so big, I felt daunted. I decided to try them elsewhere than my sensitive nipples to begin with –and it's a good job I did!
Sidenote: If you're not sure how any item of BDSM gear will feel, either on a more sensitive part of yourself, or on your intended play partner, it's always a good idea to stay safe and try it on a low sensitivity part of yourself first, in my opinion.
I have to use a fair whack of effort to even squeeze the handles of one of the clamps enough to open it up, which showed me just how intense the pinch is on these beasts. I popped one around the knuckle of my index finger –somewhere easily accessible, with bone and not overly sensitive – and I couldn't keep it on for longer than 5 seconds max.
When I say these are hardcore, I mean they are fucking hardcore. Do not under-estimate the pinch on these!
Intended Use
The clamps are obviously intended for more intimate regions than the knuckle of an index finger, but I just don't have the pain tolerance to take them on my nipples. I kinda tried – through a padded bra and clothing – but the nip of those metal tips sheathed in black rubber was still far too vicious for me.
Obviously I didn't yank them off (I didn't want to risk losing my nipples entirely, even if this was through clothing) but I immediately pressed the handles to release the pressure. Even then the one nipple I'd tried it on went into a throbbing sulk, and to make it worse I couldn't even rub it better.
If you can take these clamps on your nipples, or anywhere else, consider me in speechless awe of your pain threshold.
Summary
These were obviously a bit of a fail for me personally, as they weren't what I expected – totally my own fault for not checking the measurements on the UberKinky website. Even if I had known the size of them before purchase, I wouldn't have expected nipple clamps to be able to deliver such a brutal bite.
Seriously, these are for hard-core pain enthusiasts only. If you're a BDSM sadist or masochist and you haven't been able to satisfy your clamping needs thus far in your kinky adventures – try these out. I can imagine the screams for mercy already…
I can't really down-rate them for being too brutal for me personally when they're well-made and certainly fit the bill as far as ferociously savage body clamps go.
However, these are going in my photo accessories box rather than my kinky play box – I think they'll have a new purpose in life as photographic backdrop clips or similar.
Buy Yours
Check out the Uber Clamps collection over at UberKinky through the button below. They have loads more exciting BDSM gear to discover too!




Contains affiliate links