Uber Clamps Herculean Nipple Clamps Review
You may have read my recent adventures with another pair of nipple clamps from the Uber Clamps collection. In my Uber Clamps Tyrannical Nipple Clamps review I explained that I was in the market for a new, non-connected pair of nipple clamps and therefore I bought some from this well-priced range at UberKinky. Welcome to my Uber Clamps Herculean Nipple Clamps review.


Related: Click to read all our UberKinky reviews
& nipple clamp reviews
Uber Clamps Collection
UberKinky's Uber Clamps collection is comprised of three styles of clamps which I guess could be used for all sorts of clamping fun – not just for use on nipples. There's the Uber Herculean (which I'm reviewing here), the Uber Hooked and the Uber Tyrannical I already reviewed separately. They cost £4.99 a pair which in my opinion is exceptionally good value.
First Impressions
"Thank fuck they're not as big as the other ones!" was my honest first impression of these. They're more the size I was expecting when I bought the Tyrannical clamps – still not teeny weeny, but not like something you'd attach car jump leads with.
The Uber Clamps Herculean Nipple Clamps are entirely stainless steel rather than metal with any rubber sheathed areas, like the Tyrannicals. They're pretty peg-like (clothespin) in design, which is another reason I was attracted to them. In the absence of any 'proper' nipple clamps in the heat of the moment, I've used pegs (clothespins) quite often.
I was looking forward to giving these a try.
Size
The Uber Clamps Herculean Nipple Clamps measure 6cm (about 2.2 inches) in length from the tip to the end of a 'handle'. Max diameter of both the pinch-end and handle loop (measurement across, when laid on side) is about 1.5cm (0.6inches).
How Do They Feel?
Safety Check
As with the Uber Clamps Tyrannical Nipple Clamps, I wanted to see how these Uber Clamps Herculean Nipple Clamps felt elsewhere than nipples on their first outing. It's a brave person who pops new nipple clamps straight on their nipples, much braver than I. In all seriousness, I do strongly recommend you try out any new BDSM gear on less sensitive areas of your body before popping them on your (or someone else's) tingle zones.
Although these Herculean Clamps held on to the knuckle of my index finger tightly, it was nowhere near the almost immediate excruciating pain of the Tyrannicals. Hope soared; I might have bought a pair of nipple clamps I can actually use on my nipples after all.
Intended Use
Still, I was wary. The first time I used one of these Uber Clamps Herculean Nipple Clamps on a nipple (yes, singular) I did it through clothes again. Not a padded bra this time, I wasn't quite as terrified as when trying out the Tyrannicals; just my usual everyday wear.
Success!
I could definitely feel the firm pinch of these Herculean clamps through clothing, and it was beautiful. In a still rather quite painful, but in a consensual and 'ok I'm gonna need some clit stim and pussy fucking soon to handle this' painful kinda way.
In further uses I've warmed myself up well, first, with other sex toys –then I'm ready for the painful pinch of the Uber Clamps Herculean Nipple Clamps. I still can't bear them for very long, and I have to be extremely careful removing them mainly because I don't want the neighbours bursting in to see who's being murdered.
Summary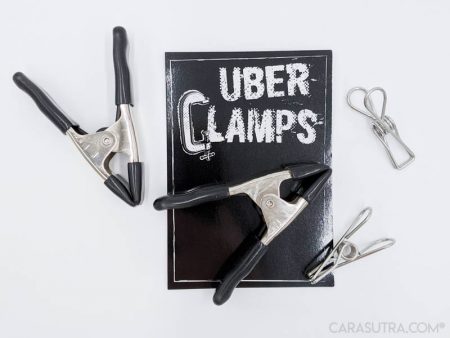 The design of these clamps means that your skin is caught between two small, cylindrical areas of flush smooth metal only, rather than between two wider surface areas as with other styles of clamp. It makes them an altogether more hardcore and callous style of nipple clamp – and certainly not for newbies or those with a low pain threshold. You have been warned!
That said, for £4.99 a pair it's definitely worth chucking them in your basket during your next visit to the UberKinky website. They're cheap enough to try out without feeling like you've lost anything – and who knows? They might be absolutely perfect for you (or them). Just take it slowly – and make sure you try them elsewhere than nipples first time round!
Buy Yours
Check out the Uber Clamps collection over at UberKinky through the button below. They have loads more exciting BDSM gear to discover too!




Contains affiliate links