Rocks Off Fuzion Xchange Prostate Massager Review
By sum sub
I've never seen a toy like the Rocks Off Fuzion Xchange Prostate Massager before.  Offering both a vibrating butt plug and a prostate massager from the same motor seems sensible – 2 for the price of 1 – a fuzion I suppose.  And, when you're done plugging your butt, you can Xchange and massage your prostate.
Enjoy all our Rocks Off sex toy reviews
It's a good idea, but it's not really 2-for-1.  At the time of writing, the price is £160, and that's a serious wodge of cash, so I am setting the bar high for the Rocks Off Fuzion Xchange Prostate Massager.
Packaging
Things are off to a promising start, with the superfluously over-engineered amount of packaging that seems standard with high-end toys these days.  I suppose it's nice to have a nice thing presented nicely.
In the box
The Rocks Off Fuzion Xchange Prostate Massager consists of 5 parts; a USB cable, a battery unit, a butt plug attachment, a prostate attachment, and the handheld controller.
They're all of the style I like – black and understated, and silicone.
Charging
Charging is a simple & discreet affair – the jack-end of the USB cable fits into the battery unit, hidden in the connector part, so that when the toy is assembled, you can't see the charging port – genius.
Clearly some thought has been given by Rocks Off to the little things.
Control Unit
The Rocks Off Fuzion Xchange Prostate Massager control unit is unusual.  I'm slightly baffled by the design, for what is essentially a man toy, the control unit seems… undecided.  It's kinda lipstick-ish with a rather lengthy silicone tail.  That aside, it's pretty easy to use; there's a button, you press it, it works.  There are 7 patterns, and 3 constant speeds of low – medium – high power.  The tail makes it easier to find among the plethora of junk I keep in my manbag.
Battery Unit
My first impressions of the battery unit is that it's a bit big.  This is the part that is going to sit between your legs and massage your perineum.  You know what?  I can forgive bigness if what I get in return is awesomeness.  The unit is covered in a nice tactile silicone, with added texture for that special perineum tickle.  Personally, I've never seen the point in that added texture that seems to be so common on this type of toy – it adds nothing for me other than a few extra ridges to have to scrub after use.  But, hey I'm just a user, not a designer, and they're so commonplace that there must be a benefit, right?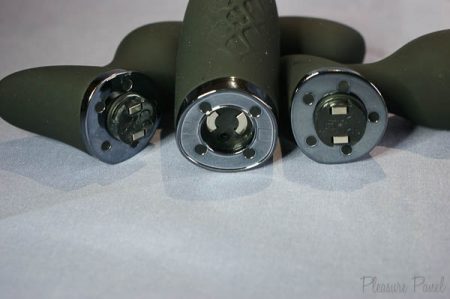 The fit of the battery unit is marked by a metallic ring, and the process of attaching to either of the insertable ends is also a simple affair – it's just a quarter turn and you're ready to Rock…
Oval
OK, so now the bit you've been waiting for.
Rocks Off have named the butt plug attachment "oval".  I'll call it the plug.
The plug is made from the same black silicone as the other parts, and the attaching end features a matching metallic ring.  I must commend Rocks Off on their manufacturing here, the whole kit feels extremely solid, durable and reliable.
The plug is a nice shape, an oval(ish) shape, featuring a tapered end, and rising to a not excessive girth which I would place on the higher end of beginner, but definitely not yet medium.  It holds on quite nicely to the thick water based lube I use.  Insertion of the plug is easy, up to a point.
How It Feels
I'm going to give you fair warning of what might be too much information, but you really need to know this if you're considering laying your hard-earned cash on the Rocks Off Fuzion Xchange Prostate Massager.  In order for a plug to sit comfortably in situ without undue movement, it must pass through both your outer and inner sphincter muscle.  Most plugs are designed so that the stem – the bit between the bulbous plug and the external base – sits between your sphincters and effectively allows the plug to stay in place.
In my experience, and I've tried a few times, the Fuzion Xchange Oval just doesn't stay put, and it is because of the stem.  It just isn't long enough for my anatomy.
This means that my butt just constantly ejects the plug.  Sad face.  Still all is not lost, because we have the prostate massager.
Curve
The prostate attachment has that shape ubiquitous with toys of its type.  No surprise really that Rocks Off have named it the curve.
On brand with the rest of the Rocks Off Fuzion Xchange Prostate Massager – sexy sleek black silicone.
I'm not going to beat around the bush here – same problem as the plug.  I'm so frustrated, I really wanted to love the Fuzion Xchange, but it's let down by a design flaw.
It's taken me a while to realise what the problem is; I've tried many times in the 4 weeks I've had this toy. I've tried warming up with many different other anal toys, bigger ones, harder ones, textured ones, smooth ones; even a finger.  I've tried a few different lubricants, and I've tried different postures, but whatever I try my butt keeps rejecting the Rocks Off Fuzion Xchange Prostate Massager in its entirety.  Then it dawned on me that about the base.
It's also a big disappointment, because otherwise I think Rocks Off are really on to something here – the power feels good, the manufacturing is excellent, and if I could only get the buggering thing to stay in, I'm sure I'd be writing an entirely different review.
In Conclusion
Cara Sutra sex toy reviewers are asked to score the toy out of 10, and I'll be honest with you that I'm having a torrid time deciding.  For me personally, it's not a high score, but, but…
Everybody's body is unique, and I guess I have a large gap betwixt my inner and outer butt muscles – it's not a bad toy by any means, it just doesn't suit me.  You'll know your body and whether you're likely to have the same issue; and if you don't the score will be considerably higher, I'm sure.  So my chosen mark out of ten is trying to be objective.
6/10
– sum sub
---
Thanks to sum sub for this review of the Rocks Off Fuzion Xchange Prostate Massager.
This product was sent free of charge in exchange for a fair and honest review by the Cara Sutra team. This review contains affiliate links.