The Rocks Off Fuzion Xchange Prostate Massager consists of 5 parts; a USB cable, a battery unit, a butt plug attachment, a prostate attachment, and the handheld controller.

You know how sometimes something seems like a good idea, but then turns out to be a bit of a disappointment? Well let me introduce you to the Zeus Electrosex Nocturna Electro G Spot Vibrator. When Cara Sutra was looking for someone to test this product, I of course said yes, being the Electrically Loving individual that I am.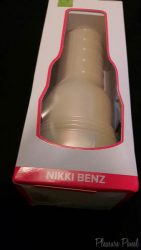 I just can't help but have great orgasms with a Fleshlight. They just seem to unlock something that other masturbatory aids can't. The Fleshlight Nikki Benz Lotus Pussy is no different.

The System JO H2O Water Based Lube is the second lubricant by System JO that I've reviewed as part of Cara Sutra's Pleasure Panel. The first was the Coconut Oil Hybrid Lube, which I was a big fan of. So, is this one similarly wondrous?

So, once it's been stretched round your head, buckled and locked, what's the Wet & Naughty Silicone Bit Gag like?  In a word, bloody awesome.  Ok, that's 2 words, but I love it!  The biteable part of the gag itself is approximately 3 inches long, which is plenty big enough for my mouth.  There is a large ring at either end of the bit, and I was a smidgeon concerned that they might dig in a bit, especially when the gag is pulled tight.  But I needn't have worried...

By sum sub: here's a lot to like about the Rimba Wooden Ball Gag with Adjustable Leather Strap. Firstly is the simplicity in design; a lovely matt black leather strap with a no nonsense wooden ball gag and simple what I assume are stainless steel fastenings and rivets.

Kiotos isn't a name I'm familiar with, so had no real prior expectations of the Kiotos Love Me Tender Spanking Paddle. This paddle was provided for review via Cara Sutra's Pleasure Panel.

By Sum Sub Nexus, I have long coveted one of your toys, and although the Nexus Ridge Rider Vibrating Prostate Massager wouldn't have been my first choice, I was really pleased to get the opportunity to test it for Cara's Pleasure Panel.

The System JO Coconut Oil lube is a thing of wonder, for so many reasons. Firstly, I wonder what the instructions and warning say on the side of the bottle; the font is so incredibly tiny I am completely unable to read it, and am now waiting for an appointment with my optometrist.

By sum sub: So, my review of the Bondara Wrist To Thigh Bondage Restraints. The use of Velcro in a bondage kit always has me caught in 2 minds.

The We Vibe By Pjur Water-Based Lubricant is housed in a clean white bottle, with fairly minimalist branding, and mostly pastel colours, in my opinion trying to look clinical; it almost achieves it, but not quite. Although the bottle is fairly discreet in appearance, the word that stands out the most on the label is "Lube", in big bold letters; so perhaps not for you if discretion is required.

Review of the We Vibe By Pjur Sex Toy Cleaner Spray: We-Vibe make what is quite possibly our most used sex toy, the We Vibe Tango, and Pjur, well, I've never experienced their products, so although I had hopes for this toy cleaner from the We-Vibe side, the Pjur side is an unknown quantity for me.

Sex toys are like an addiction, we are all searching for one that gives us a better orgasm than the one before. Like we all aspire to own a bigger, better, faster car than the one we currently drive, so we want stronger, quieter, quicker sex toys. Driving a luxury car, you want only the finest for it, the finest fuel, the finest tyres, the finest oil, and so it should be with sex toys; a decent lube can be the difference between "oh yes" and "OHHH YESSSS!"