MEO Puppy Play Leather Paw Gauntlet Review (Blue, Small)
By Joanne's Reviews
Puppy play can be a lot of fun, and there are some excellent products available for the kink from places like MEO who carry a massive range of puppy play products. I was delighted when I was given the opportunity to review the MEO Puppy Play Leather Paw Gauntlet in blue, and this one is the small size so it will fit wrists up to 6.5″/16.5cm in circumference and the gauntlet is 3.5″/9cm wide. It is also available in red and yellow as well as the blue one that I am reviewing.


Enjoy all our BDSM gear reviews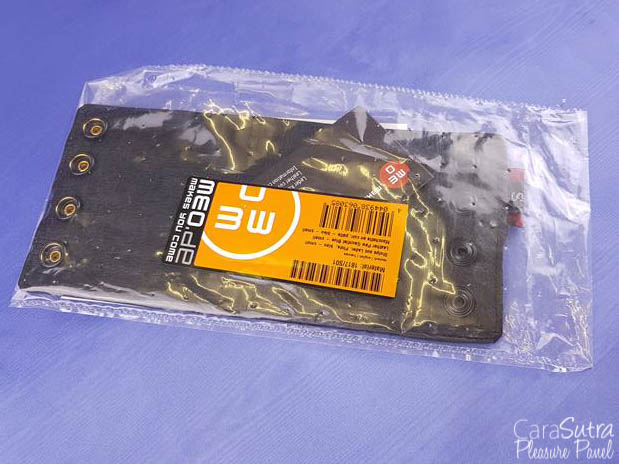 Puppy play can be a lot of fun with lots of accessories to wear to help you get into the pup mindset. That is one where you let go of all of your daily troubles and just regress into the mentality of a puppy. The only things that matter to pups are playing and pleasing their Master/Mistress.
As part of the MEO Bad Puppy range of products, the MEO Puppy Play Leather Paw Gauntlet is designed for you to wear it to advertise to others your enjoyment of pup play
The MEO Puppy Play Leather Paw Gauntlet arrives in very minimalistic packaging, just a sealed plastic pouch containing the gauntlet together with a convenient puppy posture and communication guide. This guide is going to be very helpful to anyone new to puppy play.
I like the minimalistic packaging used by MEO.de as it is both good for the environment and also helps to keep costs down.
The MEO Puppy Play Leather Paw Gauntlet is made out of the finest materials, and the leather both smells and feels fantastic. The stitching is also elegant and functional. The main feature of the wrist gauntlet is the recessed blue puppy paw print, and this is very well done with the blue leather sandwiched between the two outer layers of black leather.
The gauntlet features four black branded strong riveted press studs and these secure the gauntlet to your wrist very effectively, there is no chance of them accidentally coming undone in use. There is also a red label showing the MEO logo stitched into one side of the gauntlet.
This gauntlet is available in three sizes:
Small: 6.5″/16.5 cm
Medium: 7.3″/18.5 cm
Large: 8″/20.5 cm
Fixing it around my wrist, I immediately got a thrill, as well one-word, leather. I just love the stuff, and this looks very nice on your wrist. It compliments my other puppy play products, my collar, knee pads and mittens.
Playing with the MEO Puppy Play Leather Paw Gauntlet was no problem at all, it is very comfortable to wear even for extended periods of time and when removed you are left with some excellent marks on your wrist where it has been, just another thing that I like about tight leather products. Romping around on the floor is fun, trust me on this one, and it is nice to build up a collection of puppy play products to increase the enjoyment.
This one is tight on me but that is understandable as it is the small, with three other sizes to choose from there will be one for everyone to enjoy. There is something delightful about having leather tightly wrapped around you, and it is a feeling I just adore.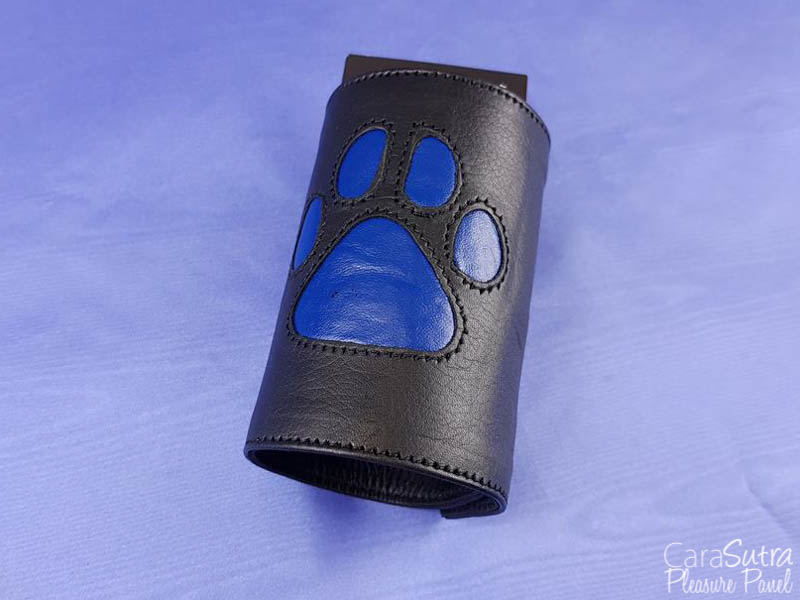 If you have never tried pup play, it is one of those BDSM activities that at first glance looks a little weird, but it is actually a lot of fun. It is ideal for forgetting your troubles and just relaxing and letting off some steam.
Check out this gauntlet on the MEO.de website and also be sure to check out the rest of the Bad Puppy products available there. You can buy one of these leather gauntlets for 49,00 € which equates to about £44.
I'd like to thank Cara and MEO.de for giving me the chance to review the MEO Puppy Play Leather Paw Gauntlet for them.
Rating: 8/10
– Joanne's Reviews
---
Where To Buy
Thanks to our reviewer Joanne's Reviews for this review of the Puppy Play Leather Paw Gauntlet.


This product was sent free of charge, in exchange for a fair and honest review here at the Cara Sutra sex blog. This review contains affiliate links.