MEO Lockable Leather Bondage Collar With Time Lock Review
MEO Lockable Leather Bondage Collar With Time Lock review by Tigerlily
MEO is renowned for their hardcore bondage equipment, and this is no exception. With stunning workmanship that can suffer through even the roughest of punishment, this is a collar your sub will wear with pride. The MEO Lockable Leather Bondage Collar With Time Lock is available now for €59, and thanks to the Cara Sutra sex toy fairies this month, we were given the opportunity to bring this into our bondage sessions.


Enjoy all our BDSM collar reviews
It's worth noting that this is a bundle of the MEO classic leather lockable bondage collar, and the MEOBOND time lock device. Purchasing as a bundle for €59 saves you €10 off the items when bought separately. The items arrive in two separate packets, and the collar even includes the standard MEO-branded mini padlock. You can of course use the MEOBOND time lock elsewhere in your bondage play–it's not specifically tied to use only on the collar through some obscure proprietary mechanism. It can be anywhere a normal sized padlock would be.
The collar comes packaged with a lovely faux-suede storage bag and short leather care instruction guide. I'd advise you pop the little packet of silica gel in the storage bag in order to avoid moisture build-up, and remember that mold will form on leather if left in a damp environment!
Size and Shape
The bondage collar is 60mm wide, and 48cm long–but it definitely runs on the small size. For an idea of fit, my neck measures 40cm; on the 2nd notch from the end it was just too tight for me to safely play, so I had to use it on the loosest possible setting.
My partner's neck is 32cm, and it fit her fine on the fourth notch from the end.
On the tightest possible setting, it actually seems like it could fit a cat!
Material
Made from vegetable-tanned real pig leather, the MEO Lockable Leather Bondage collar is beautiful, yet also highly durable. A thin layer of padding–it feels like no more than 5mm or so–sits between the inner and outer leather strips.
A demure MEO branded red tag sits on one side. MEO are understandably proud of their workmanship.
You'll also find exquisite detailing in the rivets along the length of the collar. It's these little details that really make a product stand out.
Moving on to the MEOBOND time lock, it's made of hard ABS black plastic, while the lock mechanism is nylon-coated twisted steel wire. If this sounds easy to break, I can assure you: it isn't. MEO claims it can withstand a vertical pulling force of up to 130KG, however **you should never use it for suspension**.
How Does it Feel?
The padding and beautifully supple leather combine to create an incredible collar. The leather maintains its shape beautifully even when tugged on aggressively. Speaking of which, three solid D-rings offer plenty of suitable attachment points.
The nickel-plated steel locking buckle features a small ring, into which either the supplied small padlock or the MEOBOND time lock steel wire can be inserted. This prevents any unauthorised removal of the collar.
It's comfortable, warm to the touch, and feels exactly like a quality bit of bondage kit should. Feel free to play as rough as you like–the collar can take it.
How Does the Time Lock Work?
A steel wire pushes into the body of the device, where a spring mechanism keeps it in place. When the lock isn't activated, the large white button on the side can be pushed to release the steel wire.
Press the electronic buttons to wake the device up. The small left and right buttons set the hours and minutes, displayed on the simple LCD screen.
After setting the desired lock time (it goes up to 99 hours and 59 minutes), you press the central start button. You're then given a 5-second countdown to change your mind. Press the big central button again to cancel, which resets everything to zero.
If the 5-second countdown expires, it locks. There's no off button. Once it locks, it can't be unlocked by accident, or on purpose. There is no secondary escape key–that's it. I hope you're sitting comfortably (or not, whatever you're into).
Since it's an electronic lock, there's one exception to this: an electromagnetic pulse bomb, which is somewhat unlikely to occur, or if the battery runs out. Despite the stated long battery life, you should fully charge the device before any long play sessions.
By default, it also produces some noisy beeps: when the buttons are pressed, during the countdown, after when the timer has finished. You can silence these by holding down the central button for a second or two. Ironically, yet another beep will indicate the mode has been switched to silent.
In terms of battery life, MEO claims 4 hours a day for 30 days after a full charge. However, these types of lithium batteries degrade quickly when not in regular use (so make sure you're tying someone up on a regular basis!)
A USB cable is supplied to charge it, which inserts through a small hole in the side.
Is It Worth It?
You might be thinking that €59 is a lot to pay for a collar, and the MEO Lockable Leather Bondage Collar With Time Lock is certainly premium priced. However, if you like to play rough, real leather durability is absolutely necessary. I've broken the clasps off a number of cheap faux-pleather collars after some heavy struggling, and always regret buying inferior products that seemed like a bargain. Just keep in mind that it runs small, and if your neck is more than a smidgen over 40cm circumference, it may not fit at all.
Otherwise, everything about the MEO Lockable Leather Collar is exquisite. Your sub will positively squeal with delight if presented with this.
As for the MEOBOND time lock: if you don't already have one, it's a bargain when bought in this bundle. Particular for self-bondage, a time lock makes everything easy. However, since there's no backup escape, I'd suggest using it in conjunction with a traditional keyed lock and emergency escape system (such as putting the key in a bucket of paint or urine). The MEOBOND time lock can be used nearly anywhere a regular padlock would be, with one notable exception. The locking clasp on the steel wire is slightly wider than a very small padlock, so it sadly can't be used with most chastity devices.
Even if playing with a partner, the ability to lock your sub for a specific length of time is a joy, opening up a number of punishment opportunities.
We scored the MEO Lockable Leather Bondage Collar With Time Lock bundle 9/10: great value, superb quality, but let down only by small sizing.
– Tigerlily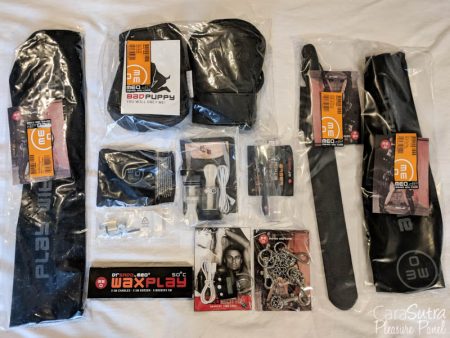 ---
Where To Buy
Thanks to our reviewer Tigerlily for this review of the MEO Lockable Leather Bondage Collar With Time Lock.


This product was sent free of charge, in exchange for a fair and honest review here at the Cara Sutra sex blog. This review contains affiliate links.