MEO HURTME Bootcamp Strap Extreme Paddle Review
By kikka jennie
I was extremely looking forward to reviewing the MEO HURTME Bootcamp Strap Extreme Paddle labelled 'For True Masochists' from MEO for Cara Sutra's blog, as I have heard many good things about MEO.


Enjoy all our spanking paddle reviews
The MEO HURTME Bootcamp Strap Extreme Paddle looks amazing on the site and I had heard the quality was really good, I was a bit underwhelmed when the item arrived as it was in a clear thick plastic sealed bag with the website information on it in a interesting mustard orange. The strap felt light and was discreet enough, if not floppy in its plastic packaging.
Upon opening the strong plastic I pulled out the strap and the card within the packaging which was showing other items they have for sell, nothing about the item you have brought, but the item is self explanatory. The small label attached is what the item is and where bought from.
The MEO website states the MEO HURTME Bootcamp Strap Extreme Paddle width is approx. 52 mm = 2 inches, the thickness of the leather strap approx. 4 to 5 mm (0.15 to 0.20"), total length approx. 50 cm = 20 inches, these all are correct give or take a small amount, it easily fits in most hold-all bags, toy bags, hung in wardrobes and toy rolls. I really like the little leather thong in the handle so I could hang it up on my toy rail.
The handle is a good size to hold, I have very small hands, extra small in gloves, and my partner also found it a comfortable size, he is a medium in gloves. Its not very heavy at all so can be used quite often and quickly without the arm or wrist getting tired. I did find the handle quite bitty at first, it feels like it wasn't smoothed down before painting after sanding, but after a few uses this subsided to an almost silky finish.
On the handle of the item I was sent, you can see glue marks and areas the paint didn't fully get to around the screws or came off when the screw plates were added to hold the leather in place between the grove.
The leather bootstrap is a nice thickness and bends beautifully, although on the MEO website it says it's very stiff and hard. There is no leather smell, for those that adore that smell it maybe a bit of a disappointment. The leather at first feels almost oily but I believe that is the treatment they have used on it for longevity, I especially felt the oil where the leather bent from being in use. The edge of the leather felt hard and rough again I believe this is a protective element of the leather and may soften more in time.
Since the MEO HURTME Bootcamp Strap Extreme Paddle is labeled 'For True Masochists', I used it on my submissive whom adores this type of play. I used it in a slapping motion from side to side, a spanking motion from above and from a standing hold onto the bottom to try the bend and move-ability of the toy.
The strap makes wonderful sounds upon hitting the body and is easy to move into areas you desire, easy to wield for beginners and the more advanced. It wrapped well on the inner thighs but length was an issue on more intimate areas, it was fun to experiment on different areas on how it feels. Her over all opinion was it was quite a light toy for short play but over time it builds into a bit more. We even used the handle side which was sturdy enough to be of use and the screws created more of a reaction. I have since used it in lighter sessions as a warm up which it also works perfectly for.
Pros- versatile and can be used lightly as well as harder
Cons- I was unhappy with the finish on the handle
I do enjoy this MEO HURTME Bootcamp Strap Extreme Paddle and enjoyed exploring its uses in play. I wouldn't have paid €99,00/£87 (plus shipping costs) for the quality and the slight misleading of it being stiff on Meo website, I am only slightly disappointed.
6/10
– kikka jennie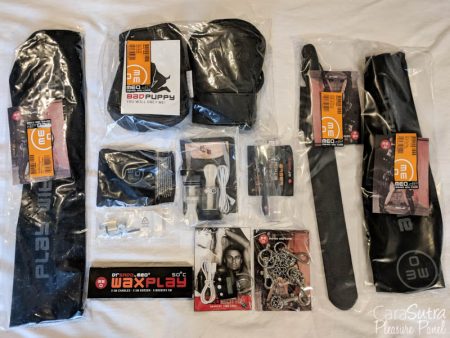 ---
Where To Buy
Thanks to our reviewer kikka jennie for this review of the MEO HURTME Bootcamp Strap Extreme Paddle.


This product was sent free of charge, in exchange for a fair and honest review here at the Cara Sutra sex blog. This review contains affiliate links.