Perfect Fit Armour Tug Lock Plug Transparent Review
By Pleasure Panel reviewer Kurosakikun
It's always nice to try out a new toy that has a lot of promise. The Perfect Fit Armour Tug Lock Plug Transparent is an amalgamation of two/three toys, merging them together to offer something a little bit different from your ordinary toy.  Mixed up in this see through beauty is a hands free prostate pleasing plug, a cock ring and a ball stretcher.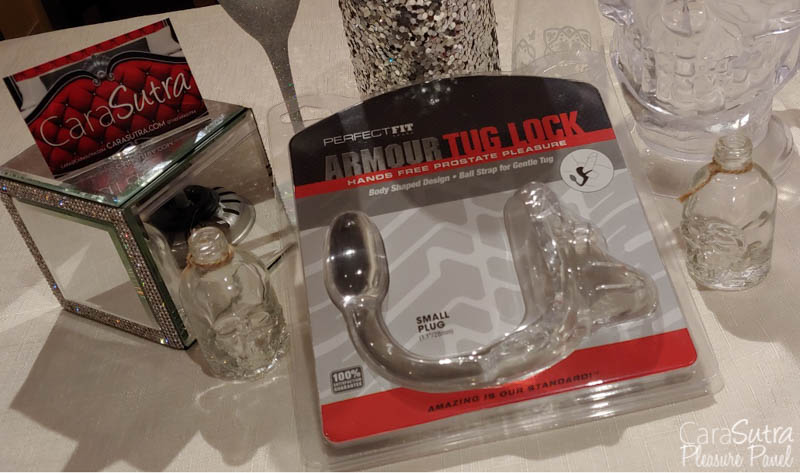 Made from silicone and TPR, the super stretchy Perfect Fit Armour Tug Lock Plug Transparent comes in a hinged package which shows off the entire product and gives you a few pointers on how to use and a handy link to a YouTube guide if you need a bit of a hand working out how to shoe horn yourself into the kit!  Luckily, this solid plastic packaging doesn't require a tin opener to get into, and is really simple to open up and retrieve the toy.  There's nothing more frustrating than not being able to open the bomb proof packaging some toys are wrapped up in.
Once I had the toy out of the packaging, I realised how flexible and stretchy it is, I had imagined from just looking at the Perfect Fit Armour Tug Lock Plug Transparent that it would be quite firm and not have a lot of give, but it's the complete opposite.  One great note I can make from opening the toy up is that it has a completely neutral smell (I'm obsessed with toy smells), which is fantastic as I won't have to worry about using a wire brush to clean my skin after using!
Onto use, the Perfect Fit Armour Tug Lock Plug Transparent does require knowing how to put it on before throwing yourself into it; first off, you need to leave the plug insertion till last!  There's a handy graphic on the front of the packaging that shows you how it should look when its correctly on, there is also instructions on the rear that tell you how to put it on, and the video on YouTube shows you step by step how to put on.  There are plenty of resources to refer to if you get stuck!
Once you know how to do it, it's pretty simple.  Simply put you need to push everything through with the ball strap held down, then once in place, pull the ball strap up and over the balls and position between the base of the shaft and the balls.  I've found this much easier to do without an erection.
Now, as I mentioned earlier, can you reach the bulb around and insert it into your anus.  A good dollop of water based lube (as advised to use with silicone) on the plug and yourself will help matters tenfold.  This plug is the small size available with only 1.1 inch of girth and around 2.25 inch of length (with the attached tail there is a certain amount of extra insertable length, depending on your anatomy of course.  Perfect fit also offer a larger version with a 5.5 inch circumference on the plug.
I really enjoyed wearing the Perfect Fit Armour Tug Lock Plug Transparent, the material used is very comfortable and the small plug is really easy to insert.  The whole toy has been designed to follow the curves of the body and nothing is bulky where it rubs or chafes in any way and the silicone/TPR mix feels nice and soft to the touch.  On first impressions it oozes build quality and seems like it could withstand quite a lot of use and rough stuff.  Performance of the Perfect Fit Armour Tug Lock Plug Transparent was a bit of a funny one for me, I absolutely love the hands free prostate pleasure you can achieve, but the cock and ball rings didn't really do it for me.
First off, the cock ring and ball stretcher.  The space to put your shaft and balls through to get the toy on is rather large to compensate everything, which in turn doesn't give the kind of compression around the shaft to maximise constriction on blood flow, it's just a bit loose where it should be really tight.  It works, don't get me wrong, but it could be more fitted.  The ball stretcher works, it pushes the scrotum out to the front and gives a nice tug, but again, the strap is slightly loose so doesn't give maximum stretch!  The hands free prostate pleasure, though, is where the toy gets top marks.
Once you have the toy on correctly and everything is inserted and sitting where it should be, then any sort of thrust, be it by yourself or with a partner, pulls the anal plug towards the base of the penis and back again on the reverse thrust.  This is heavenly, you find yourself so in sync with the slight prostate massage that is happening while thrusting that it feels amazing.  In conjunction with the cock ring and ball stretcher which helpfully prolonged my orgasms, the faster you thrust, the better it feels and the orgasms have been explosive.
I have been really impressed with the intensity and the amount of ejaculate produced by the prostate being massaged. I would be curious to see how the larger plug on the bigger model would affect this; I imagine it would be even better!
Clean up is super easy as well, the whole toy is one lovely flowing mould of silicone with no seams that seems to clean up really nicely.  As always, I tend to wash with warm soapy water, use some antibacterial sex toy cleaner, then leave to drip dry (the ball stretcher loop makes for a hand hanger!).  Once dried off, the packaging is strong enough to home the Perfect Fit Armour Tug Lock Plug Transparent safely and securely.
As far as scores go, I give the Perfect Fit Armour Tug Lock Plug Transparent a solid 8 out of 10, a bit more constriction on the cock ring would have been ideal, but that could be down to my anatomy!
8/10
– Kurosakikun
---
Where To Buy
Thanks to Pleasure Panel reviewer Kurosakikun for this review of the Perfect Fit Armour Tug Lock Plug Transparent.
The Perfect Fit Armour Tug Lock Plug Transparent was sent free of charge, in exchange for a fair and honest review by the Pleasure Panel.
Contains affiliate links