Lovehoney Fierce Leather-Look Longline Bra Review
When the Lovehoney Fierce clothing collection launched last year, I was delighted. For me to pretty much instantly fall in love with some lingerie or sexy clothing at a sex toy shop is incredibly rare – and it happened with the Fierce range. This leather-look clothing range is attractively priced, sexy as hell and has grown to offer a wide variety of styles over the past year. I already reviewed and loved the Fierce Wet Look Long Sleeve Zip-Around Body and the Fierce Leather-Look Bodycon Dress; today I'm happy to present my Lovehoney Fierce Leather-Look Longline Bra review.
Enjoy all our sexy lingerie reviews, and our Lovehoney reviews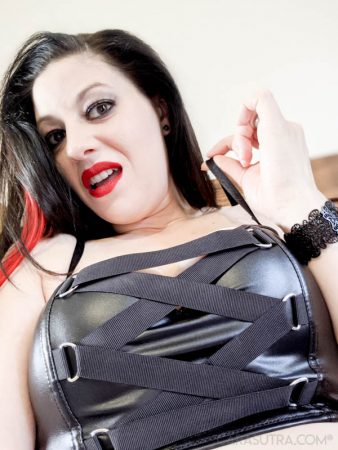 Packaging & What's In The Box
The Lovehoney Fierce Leather-Look Longline Bra comes in Lovehoney's usual extremely discreet outer packaging for the post. The bra is wrapped in transparent plastic, keeping costs and waste to a minimum.
Removing the bra from the packet I noticed the little info tag attached, which has the item branding and title, as well as fabric and care details. There's also the usual garment tag inside the bra itself.
Tip: Click on any image in this review to pop out full-size, and use arrow keys to scroll through every image as a gallery
First Impressions
My new Fierce bra looked glorious and felt like despite the glossy black leather-effect material and criss-cross front, it would be easy to put on and comfortable to wear. The bra is underwired, the cups are slightly padded, and the criss-cross effect at the front is with the wide black elastic also see on the reverse of the Fierce Bodycon Dress. It's simply decorative, you don't have to lace it or do it up each time –which is great, simply effective and such a time saver.
The back of the bra does up with several hook and eye fastenings, reminiscent of typical bra fastenings. There are slim black adjustable shoulder straps which hook into small loops on the inside of the bra; again, reminiscent of a traditional bra with removable straps. You can decide whether you want to wear this Lovehoney Fierce Leather-Look Longline Bra with the straps attached or without.
Getting Ready…
Measurements
I have the Medium size of the Lovehoney Fierce Leather-Look Longline Bra which is stated to fit UK dress size 10-12. Other sizes available are Small (6-8), Large (14-16) – and as the 'Plus' option, 1X/2X (18-20) and 3X/4X (22-24).
My bra size is 32DD/32E, and this bra is a good fit although it's not sized by standard bra cup measurements, which is a shame. I know it must be a hassle for manufacturers with so many cup and band measurements to try and accommodate, but attempting to fit boobs by someone's dress size is pretty optimistic. That said, I'm lucky because the Lovehoney Fierce Leather-Look Longline Bra fits my breasts nicely, supporting and raising them in an attractive way.
Feeling Hot…
Wear, Fit & Feel
I prefer wearing the Lovehoney Fierce Leather-Look Longline Bra with the straps attached, it's more comfortable for me that way. The bra is fantastically easy to put on; I hook it up under my boobs then twizzle it round and put my arms through the straps and adjust my boobs in the cups. Once in the right position, the Fierce bra is extremely comfortable with nothing digging in or chafing.
Looking Fierce…
With a stretchy leather-look material and comfortable fabric reverse, the bra feels like an ordinary piece of clothing during wear. I think it looks fantastic, though – anything but ordinary! The glossy leather-effect material catches the light beautifully, while the criss-cross straps at the front have corset and dominant connotations which fire the imagination and help to stoke my confidence. I feel strident and sexy while wearing this bra.
Rear View…
I love the versatility of the Lovehoney Fierce Leather-Look Longline Bra, too. As well as a top in its own right, with certain other leather-effect clothes such as my skirt shown in the photos, or trousers, I can wear it under a low-cut or sheer top for a teasing Fierce glimpse on a night out.  With shiny black attire and boots it is strikingly kinky, but can be toned down for simple confident sex appeal peeking out from a half-unbuttoned shirt teamed with jeans and heels.
Tease…
Domme…
Fiercely Fun…
Buy Yours
If you'd like to buy the Lovehoney Fierce Leather-Look Longline Bra, and I certainly hope you do, it's available right now at Lovehoney for £24.99 (or your currency equivalent). There are loads of fiercely sexy options in the range to choose from, so click through the buttons below to enjoy browsing the entire Lovehoney Fierce Collection!


Contains affiliate links