Lovehoney Desire Luxury Remote Control Prostate Massager Review
Lovehoney Desire Luxury Remote Control Prostate Massager review by The Big Gay Review
I've had my fair share of differing experiences with prostate massagers, so I tend to know what is going to work, and what doesn't. I've tried some super-duper expensive ones (like the L'Amourose Rosa and the LELO Hugo) and some slightly more… affordable ones (like the Tantus Prostate Play) and one thing has become very obvious. I am a person who likes, no, DEMANDS power. I am definitely a power queen.
I've only tried one other product from the DESIRE range, and that was the now discontinued mini wand massager. And I have to admit, I was pleasantly surprised at the strength and rumble of the vibrations. As the range expanded, I have longed to try others in the range, and thanks to Cara and the Pleasure Panel, I have now been able to try the thing I was most interested in trying: The Lovehoney Desire Luxury Remote Control Prostate Massager. Would it live up to my expectations? Well let's find out…
First Impressions
Buy from Lovehoney UK or Lovehoney USA
The packaging for the DESIRE line is actually pretty sweet. The cardboard cartons are tastefully designed, and inside the box, the toy is packaged in a discreet sturdy storage case, which allows you to discreetly charge the toy whilst it's inside! Genius! There's also space to store perhaps a little bit of lube, maybe a cock ring as well, if you wanted? Or perhaps even a little bullet vibe… such choices!
The Lovehoney Desire Luxury Remote Control Prostate Massager itself is your standard prostate toy shape; featuring a curved shaft with a bulbous tip for internal stimulation, and an extended base to massage the perineum. It does look very similar in design to a couple of existing toys on the market, but I suppose there really isn't so much you can do with a prostate toy that hasn't been done already?
The main shaft has an insertable length of 4 inches, and a circumference at it's widest point of 4 inches, making this a fairly standard size that most users who are still fairly new to prostate/anal play would be comfortable with (just remember lots of lube). It's USB rechargeable, and a 150 minute charge should give 150 minutes worth of play time. There are 8 modes of vibrations, with 6 patterns that vary between the 2 motors – a selection constant vibrations, pulses and waves. It's remote control requires a CR2032 battery (which I believe DID come included, but I honestly can't remember).
In Use
For me personally, the size was quite manageable, so I decided I would go in without much of a warm up; just a good liberal coating of lube and I was ready to go. The shaft of the Lovehoney Desire Luxury Remote Control Prostate Massager inserted comfortably, and with little to no resistance. The tip of the toy came to rest just below the prostate, and the external arm was nestled comfortably against the perineum, just under my testicles.
You can operate the Lovehoney Desire Luxury Remote Control Prostate Massager without the remote; simply press and hold the button at the base of the toy for a couple of seconds, and then pressing the button to cycle through the different modes. However, on this setting, you will only get the highest intensity of each setting. With the remote, you can scroll through the patterns and control the intensity (of which there are about 8 different levels). For me, I generally tend to find I prefer the higher intensity anyway, but having the remote control on a toy like this is always going to be a plus, as it makes it so much more comfortable and fun to use.
So the big question; how are the vibrations? Well, in all honesty, they are… OK. They aren't horrible, but there are not as rumbly as I was expecting them to be, considering the rumble of the Desire Wand I had tried. Here, the vibrations tend to feel a little more on the buzzy side, although they do have a moderate strength to them. I've definitely tried things that are a lot stronger and rumblier, but I have also tried things that are significantly weaker and buzzier. In terms of vibrations, the Lovehoney Desire Luxury Remote Control Prostate Massager sort of sits in the middle of the road.
The Lovehoney Desire Luxury Remote Control Prostate Massager was comfortable to use, and I was able to sit and rock on the toy without any issue. Using it this way, meant I was forcing the tip onto my prostate, where it could deliver maximum stimulation. Unfortunately for me, I do think my prostate is a bit of a princess, and it really does prefer much stronger vibrations. We did get an orgasm out of it, but it took a significantly longer time, and required additional stimulation elsewhere. But is it all at a loss? No, I don't think so, not yet anyway.
The Lovehoney Desire Luxury Remote Control Prostate Massager is indeed a luxury product that does have some mildly strong vibrations, made from body safe materials, is rechargeable and has a cute little storage case. If you are someone who is quite new to prostate play, and unsure if you like vibrations etc, but want something that's going to offer a bit more than bullet-powered massager, the Lovehoney Desire Luxury Remote Control Prostate Massager might be what you are looking for. If you've tried the LELO or the L'Amourose, then this will definitely be a step down for you.
Summary
It's entirely possible that I'm being picky at this point. The Lovehoney Desire Luxury Remote Control Prostate Massager is well made, is well thought out and has a good selection of patterns available. The remote control allows for easy play, and can free up your hands to do other things. For me, personally, the vibrations are just not at a level that I can really appreciate.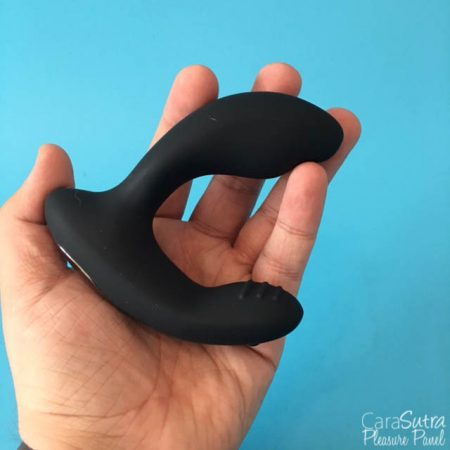 I do really like the little storage case though, and even if I never use this vibrator again, I will certainly be reusing that case. For the price you pay for the whole product, it certainly makes it seem like a much better value deal. As for the vibrator, it felt pleasant enough, and it does make an afternoon wank session a bit of a treat; it just didn't knock my socks off. But I do think there are plenty of people out there who will enjoy, and get a kick out of a toy like this.
Final Score: 6 out of 10
It's not bad, it's just not for me.
– The Big Gay Review
---
Where To Buy
Thanks to Pleasure Panel reviewer The Big Gay Review for this review of the Lovehoney Desire Luxury Remote Control Prostate Massager.
Buy yours from Lovehoney UK or here at Lovehoney USA.

The Lovehoney Desire Luxury Remote Control Prostate Massager was sent free of charge, in exchange for a fair and honest review by the Pleasure Panel, by Lovehoney. Thank you! 🙂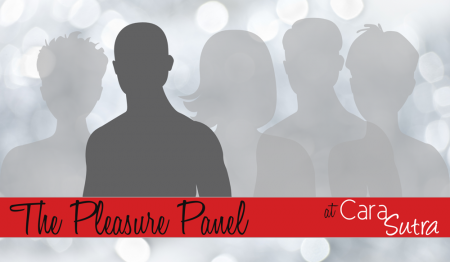 This review contains affiliate links.