Liberator Fascinator Throe Review
By Echo Reviews
My first thought when Cara offered me the Liberator Fascinator Throe for review was HELL FREAKING YES. I've wanted the Liberator Fascinator Throe since my first ever squirt, and I'm pretty sure my mattress was also longing for a bit of protection from the forces that gush.


Related: Click to read all our Liberator reviews
My second though however was – oh gawd, how will I find enough words to write a review about a waterproof blanket? I could sum the Liberator Fascinator Throe up in just one word; AWESOME. Recommended it in three; YOU NEED IT. Declare my undying love for it in in six; THE OBJECT OF MY SQUIRTASTIC DREAMS. But could I really write a detailed review about it? I wasn't sure.
Swaddled in my new Liberator Throe, content and satisfied, I'll do my best to describe exactly why I think it's awesome, and (surprisingly – since I'm such a penniless scrooge) why I consider it worth every bit of the price tag.
The Liberator Fascinator Throe comes in a solid-ish clear box, decorated with three 'typically' attractive models in skimpy lingerie, one on the front, two on the back. It's not exactly the most inclusive packaging, but it does at least give off a very luxurious, high-quality feel with the photography and the black and red theme.
The Liberator Throe is machine washable (YAY FOR US LAZIES!) and measures 72" in length and 54" in width. It just covers my entire double bed. One side of the Liberator Fascinator Throe is a super soft microfiber fabric which makes me want to get naked and roll about on it in the way my dog rolls about in cool grass on a hot day. The other side is a silky satin fabric that feels highly erotic to me, especially when my nipples brush past it during a wax play session or oily massage.
The Liberator Throe is slightly thicker than average, and whilst it doesn't rustle per say, it does make a bit of noise when moved around. It's not as bad as a wet look mattress cover I tried that sounded like we were moving around on a bit of tarpaulin and reminded me of the awful tent-sex I used to have as a teen.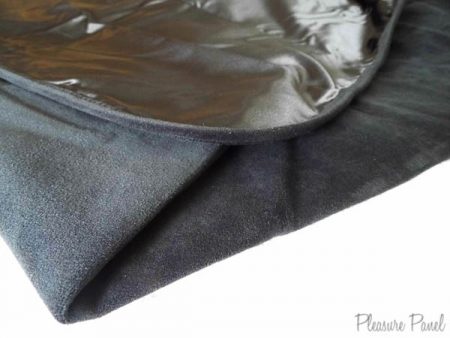 So let's get down to the nitty gritty – or the wet and slippy. Does the Liberator Fascinator Throe protect my poor bed from my random squirting? Have I finally ridden myself of the curse of having to find three large towels to bundle up underneath me before I play with anything mildly G-spotty? Can I say goodbye to flipping the mattress over to avoid an argument over who has to sleep on the wet patch?
THE ANSWER IS,
DRUM ROLL PLEASE…
Yes…
Mostly. I thought the microfiber side of the Liberator Throe would absorb water and the other side would stop it seeping through. So the water would all get soaked up but the bed would be all clean. Well the Liberator Throe is actually so fantastically waterproof that water pools on it. Honestly it's crazy to watch. To dry it up you probably will need a small towel after all, or to bundle it up and drain it off over the tub. On the plus side the Liberator Throe itself stays pretty dry so you can continue what you're doing on top of it.
Granted you could get yourself a cheaper Mattress protector or a PVC sheet. I've had both in the past but prefer the versatility of the Liberator Fascinator Throe over something mattress specific and prefer the innocent look of it over something PVC (and clearly a bit kinky). It's also still better than my towel method, I've soaked through three layers of towels but not a single drop has made it through my Liberator Throe yet.
Liberator Throe Video
The Liberator Fascinator Throe would be great for anyone who likes to get a bit messy in bed – weather you're a champion squirter, like playing with massage oils or even spattering yourself/each other with hot wax, the liberator is a better and more efficient alternative to laying some towels down. I for one find it hard to get in the mood when I'm constantly trying to steer activities back into the 'safety zone' of a towel, only to have to leap up and grab more when the liquid in question soaks through.
I love that I can keep the Liberator Throe on my bed at all times with no raised eyebrows, I just wish my cat didn't love it too, since it's more of a fur magnet than a matte silicone dildo. You can also get the Liberator Fascinator Throe in purple or red, so yeah… GET ONE! 😀
9/10
– Echo Reviews
---
Thanks to our reviewer Echo Reviews for this review of the Liberator Fascinator Throe.



This product was sent free of charge, in exchange for a fair and honest review by the Cara Sutra team. 
Contains affiliate links