LELO Sensua Suede Whip Review
The LELO Sensua Suede Whip was sent to me free of charge in exchange for a fair and honest review.
Related: Read all our LELO reviews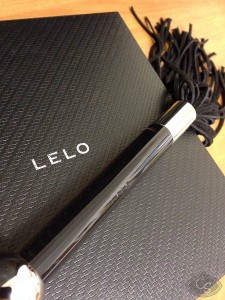 As the LELO Sensua Suede Whip was part of the LELO Dare Me Pleasure Set, I have the black one although it's also available in a choice of red or purple too.
The LELO Sensua Suede Whip has a 14 inch overall length, made up of 5.5 inches of metal and acrylic handle (branded with the LELO logo) and 8.5 inches of several fronds or tails. There are 36 tails in total.
The tails are, of course, made from suede. As to be expected with suede items, when you first shake it out (and for a few times afterwards) you get some suede 'dust' coming off the tails. This doesn't really bother me, but you should be aware – especially if you're wearing white dress or trousers! Get the lint roller ready.
I have a penchant for BDSM floggers (multi tailed whips like this one) as they are so versatile. They can be used to lightly tease the skin of your partner, trailing it over their back and arms and bottom, or their front and sexual areas, or you can deliver a stinging punishment with it. I do prefer a longer tailed flogger with a heavier weight if I want to get really kinked up, but the LELO Sensua Suede Whip is quite obviously made more with a light touch of kink and romance in mind. As an alternative form of foreplay, using a 'handbag flogger' like this one is thoroughly relaxing and also arousing at the same time. The light sensations over the skin give me the same afterglow as an erotic massage.
As a light little whip this is a luxurious item which has an exquisitely stylish look and feel. It's easy to hold and wield, not too heavy and the handle feels cool and smooth in the palm.
If you'd like to own your own LELO Sensua Suede Whip, buy yours through the following links!


Contains affiliate links.
Photos