John Thomas Toys Thingy Bob Multi Cock Head Dildo Review
Review of the soft, medium size John Thomas Toys Thingy Bob Multi Cock Head Dildo by Tigerlily
What's the best part of a dick? I think we can all agree it's the head. So what could possibly be more satisfying than a dildo with a big dick head on it? That's not a rhetorical question: a dildo with FOUR nice big dick heads on it would obviously be better.
The John Thomas Toys Thingy Bob Multi Cock Head Dildo is what you might get if you let the new intern play with the 3D dick modelling software. Which is, I suspect, precisely how this was designed. Regardless, it's fantastic. Because it's four lovely dick heads piled on top of each other. Which is just, well, lovely.


Enjoy all our John Thomas Toys reviews
As with all John Thomas Toys, your purchase includes a faux velvet drawstring storage pouch (in exactly the right size), and a Vac-U-Lock suction cup adaptor.
Design and Material
The John Thomas Toys Thingy Bob Multi Cock Head Dildo comes in plain black, which is a shame considering all the delightful new fusion pours that John Thomas Toys is doing lately. On the other hand, it's platinum silicone, so at least you can be assured that it's entirely body-safe and easily washable. Giving it a quick rinse with warm water and soap after every use should be sufficient.
For a more thorough wash, you can also use any kind of alcohol-based toy cleaner, throw it in the dishwasher, or even go all-out nuclear and boil it in a pan of water with a little bleach (just make sure it doesn't touch the bottom of the pan though).
In terms of the overall design, I think I covered the basics when I said it was four dickheads piled on top of each other. The one at the base is the largest, and they decrease in size toward the top.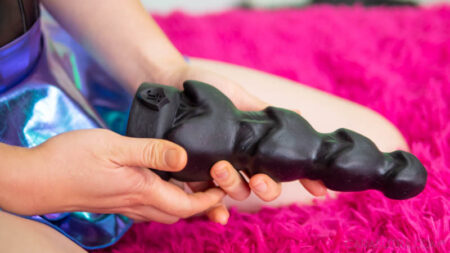 In Medium size, this means the top is 4.5 inches in circumference, while the bottom is 9.8 inches in circumference. If you opt for large this goes up to 6 and 13 inches, while XL ranges from 7.8 to 17 inches.
Using the Thingy Bob
We opted to test the John Thomas Toys Thingy Bob Multi Cock Head Dildo in Soft silicone firmness, Medium size. Unfortunately, the softest silicone option is just a bit too soft for a design like this, as the shaft is quite thin at the point where each bulbous dick head retracts and joins on to the next. So rather than a strong, upright dildo that you can jump on hands-free, it ends up being more like a string of anal balls that needs to be fed in. At least, the first head does. As long as you don't let that one fall out, you can amuse yourself on the other three.
Or just get the Thingy Bob in the firmer silicone option instead, which would probably be far easier.
Vac-U-Lock Suction Cup Adaptor
As mentioned, nearly all John Thomas Toys are equipped with a Vac-U-Lock hole on the bottom, for attaching to compatible accessories and adaptors.
This means it's trivial to connect to the HiSmith Premium Fucking Machine, for instance, or a harness. In fact, the John Thomas Toys Thingy Bob Multi Cock Head Dildo is ideal for use with a partner, as they can deal with guiding it in!
The included suction cup adaptor (which I now have a drawer full of), is generally very reliable, even on larger toys, in my experience. Since I only tested the Thingy Bob in Medium, the weight wasn't an issue.
Does Thingy Bob Belong in Your Toy Chest?
It's a challenge to fantasise over four increasingly large dick heads in a line. I mean, I can imagine four yummy dicks lined up beside one another. That's easy. But one behind the other… I just don't know how that sort of genetic anomaly would have arisen, but it doesn't matter. Not everything needs an elaborate backstory and fantasy to go with it. The John Thomas Toys Thingy Bob Multi Cock Head Dildo is simply marvellous for what it is. It's ridiculous, it's funny, and every one of those heads feels delightful pushing me open then sucking itself in.
If you want something a little out of the ordinary and aren't quite ready to tackle anything truly fantastical, you might enjoy the Thingy Bob Dildo. It's not visually stunning, but it definitely offers a unique experience. However, I would recommend getting it in the Firm silicone option, not Soft. It's just too squishy to be ridden hands-free without flopping around all over the place.
We score the John Thomas Toys Thingy Bob Multi Cock Head Dildo an odd 7/10.
– Tigerlily
Buy Yours Today
Thanks so much to Tigerlily for this fantastic & thorough sex toy review! Find more fab dildo & sex machine reviews by Tigerlily here at CaraSutra -as well as at their own website, sextoydb.com.
Buy your John Thomas Toys Thingy Bob Multi Cock Head Dildo directly from JohnThomasToys by clicking through the big green button below: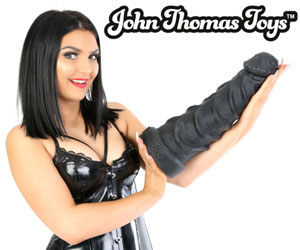 John Thomas Toys is a sponsor of carasutra.com