John Thomas Toys Platinum Silicone Buffalo Dildo Review
Jet black silicone, a wide central girth, and vac-u-lock compatible: if you're looking for something exhilarating, thick, and filling, but still in the realms of functional and lifelike, the John Thomas Toys Platinum Silicone Buffalo Dildo should be first on your list. Thanks to John Thomas and Cara for sending this thick boi over for review.

Packaging & Goodies
The John Thomas Toys Platinum Silicone Buffalo Dildo arrives shrink-wrapped with a gold sticker of authenticity, along with a faux-velvet bag for storage, though it's worth noting that silicone is an inert substance. That means it will not react with silicone lube and can be stored alongside other silicone toys. So while the inclusion of a storage pouch is nice, don't feel like you're going to ruin the toy if it isn't used.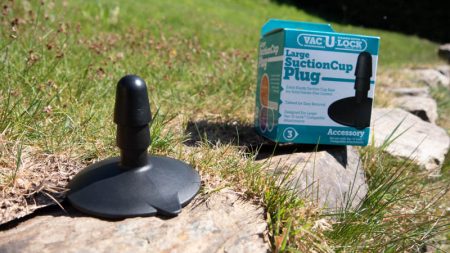 Our package also included an official Doc Johnson Vac-U-Lock suction cup adaptor, which is a great freebie as it can be used to either suction the Buffalo onto a non-porous flat surface for solo play, or fix it into a standard O-ring harness for pegging. The suction cup is made of stiff PVC, so while it was fine on a perfectly flat horizontal surface like shower tiles, it tends to slide around when mounted vertically, and couldn't stay attached for long periods of time.
After unwrapping, you'll find a beautifully embossed "JT" shield and more John Thomas branding on the base of the toy, which gives a great premium feel.
Size & Materials
The John Thomas Toys Platinum Silicone Buffalo Dildo comes in four sizes, and two densities. The insertable length of the Buffalo varies from 6.2 to 16 inches, while the circumference at the middle of the shaft ranges from 5.5 to a terrifying 12.8 inches. Whatever your preference, I think they have you covered.
We were sent the "Medium" size (hah!) in Supersoft Firm. As pictured throughout this review, it has a total insertable length of 8 inches, and measures 7 inches circumference at the thickest part. It weighs just under half a kilo and is made of platinum silicone.
The Supersoft Firm has a good bit of squish at the thicker parts of the toy, while maintaining overall firmness throughout. Supersoft (not firm) is also available, and might be more comfortable for you if this is to be used for pegging.
Shape & Texture
The overall shape of the Buffalo reminds me of a cartoon rocket, with a tapered tip that thickens at the halfway point, then very lightly tapers a little in again.
The Buffalo is very plain as far as textures go, with only the slightest of softly protruding veins. It's as if someone loaded the standard dick model into Photoshop and hit the blur button a bit over-enthusiastically.
That's not necessarily a bad thing of course: the texture-less surface allows for easy and painless thrusting–great for pegging. But if you do enjoy the feeling of different textures, then this isn't for you.
If you look closely enough, you may notice a series of concentric rings, or layer lines. These are slight imperfections that indicate the mould was made from a 3D printed model. It doesn't particularly detract from the product, but could have been smoothed out a little more before the production mould was cast.
Mounting the Buffalo
The rocket-like shape not only means it's easier to start off with than other large toys, it also offers an entirely different kind sensation as you tackle the beast. To be clear, this will stretch you (at least, the medium size stretched me), but in a way that isn't at all daunting.
As you start off with the John Thomas Toys Platinum Silicone Buffalo Dildo, you can feel the usual tease as just the tip slips in. You can slowly start to thrust, but you'll encounter resistance that you're not used to. How thick does it get?! You'll feel yourself stretching slowly as you slide ever further down the shaft. You'll feel his growing presence as he aches to push further in, but not yet… Enjoy these early moments. You won't be feeling full yet, but the tantalising promise of more to come will be ever-present.
Before long you'll realise you've reached his widest point, and the game changes. You'll be feeling quite full now, as you gasp for breath and marvel at the sheer girth you've managed to fit in. But you'll keep going to satisfy his need to be fully in you. He pushes in further and you're fully impaled by this brute now, unable to move an inch of your own accord, with a belly full of cock and nowhere to escape.
Should You Buy the John Thomas Buffalo?
As far as large dildos go, I found the John Thomas Toys Platinum Silicone Buffalo Dildo to be relatively easy and fun to tackle, despite the larger than life size. It's perfect for feeling stretched and full, while enjoying the thrusting that's only possible due to the smooth surface.
For that reason, it's perfect for both solo play or pegging. This dildo is currently on sale; you'd be mad to miss this bargain.
I'd rate the Buffalo a thoroughly full-feeling 9/10.
– Tigerlily
Buy Yours
Thanks so much to Tigerlily for this sex toy review.
Buy your John Thomas Toys Platinum Silicone Buffalo Dildo by clicking through the big green button below!
Thanks so much to John Thomas Toys for sending one of their dildos over free of charge, in exchange for this fair and honest review at the Cara Sutra sex blog.
Unaffiliated