Cloud 9 Health And Wellness Triple Massager Kit Review
By Tigerlily
Why buy four different shaped vibrators if one can do the job? That's the unique value proposition offered by the Cloud 9 Health and Wellness Triple Massager Kit. But is it worth the $69.95 asking price, or is the idea of changeable heads on a vibrator just a gimmick?


Enjoy all our Cloud 9 reviews
What's in The Box and What's It Made Of?
The clear packaging lays bare the main parts of the toy, but gives the impression that there are only three ways to use it, when in fact there's four. It probably would've been more sensible to display all of the attachments separate to the main body of the Cloud 9 Massager.
The Cloud 9 Health And Wellness Triple Massager Kit packaging also proudly proclaims the toy is made of body-safe silicone, and I believe this to be accurate. The colour of the massager is a dead giveaway: mass-manufactured silicone toys are almost all made in black, luminous pink, or dark purple! If it's flesh-coloured, it's almost certainly not silicone.
Real silicone is chemically inert and therefore fine to use with all types of lubricant, and can be safely stored alongside other silicone toys. Nor should it cause any irritation. Silicone allergies are extremely rare, so if you find you have an adverse reaction to your supposedly silicone toy, it's probably because it was mis-sold.
Hidden underneath the label is a charging cable (USB port on one end and long 2.5mm DC tip on the other), and a lightweight fabric bag to keep all the bits in. You'll also find a coupon entitling you to one free video download, which involves filling out a short questionnaire and handing over your email. We downloaded the Masturbation Secrets video, and it was surprisingly interesting, with techniques we'd never tried before.
Cloud 9 Health And Wellness Triple Massager Kit Contents
The Cloud 9 Massager itself consists of:
– The vibrator body, with small bulbous tip about 14mm diameter.
– Long anal bead attachment with safety block.
– Four-pronged "tentacle" attachment, designed to encircle the nipples.
– Clitoral attachment that looks like it has three small tongues.
The various attachments are easy to push onto the main body of the massager and can be removed with a satisfying pop.
There are four ways to use it then: either "naked", with nothing attached; or with one of the other three heads attached.
Operation is simple, with a single button on the base of the toy. Hold it down for three seconds to turn on or off. Once on, a single press cycles through 10 different settings. Three are 3 basic speed settings, with another 7 being dynamic patterns.
The Anal Beads
Featuring six beads measuring from 10mm to 30mm diameter, the anal attachment also includes a neck guard for safety, preventing it from accidentally going in the way in and potentially getting lost. The insertable portion is 12cm long.
It's a great size for beginners, and the vibrations help to relax the muscles and ease it in. The great thing about anal beads that start small and get large is that you can tackle them one at a time as you get more relaxed and used to the feeling.
Once fully inserted the vibrations didn't do much for us, though. Any subsequent pleasure was from the natural muscle contractions that occur when inserting and removing anal beads.
The Four Tentacles
This is probably our favourite attachment from the Cloud 9 Health And Wellness Triple Massager Kit, though not for the intended purpose. It's obvious this is designed to envelop a nipple, but we found it just as fun to use on the head of a penis. Unlike single-point vibrators, the spread out nature of the tentacles mean they can disperse the vibrations throughout the head.
On nipples, it's fun, but very much one of those sensations that you may be on a spectrum of feelings for. Some will find it dull, some will love it. That's the great thing about having a range of attachments to explore and find what you like best.
The Three Tongues
For want of a better name, the "three tongued" clitoral attachment feels like the odd one out. It's designed for use on the clitoris, perhaps to give a sort of lapping sensation like oral sex; but it doesn't do that particularly well.
It's probably best to describe this attachment as a way of muting the overall sensations, then. It's more spread out, more relaxed, less intense. It did nothing for us, but if the pinpoint stimulation from the bare vibrator is too much for you, this might be better. My wife was unable to orgasm from this attachment but still enjoyed the sensations.
The Pinpoint Head
When used without any attachments, you'll find a pinpoint accurate clitoral vibrator. It's not clear if the manufacturers intended it to be used this way, but there's nothing stopping you. It's intense, very buzzy, brought her to orgasm, but otherwise left her feeling unsatisfied.
We tried it bare like this on a penis, too, and it was somewhat anticlimactic. The tentacled nipple attachment in the Cloud 9 Health And Wellness Triple Massager Kit is definitely the way to go for penises!
How Are Those Vibes?
As expected in a toy this small, the vibrator is underwhelming. It's about as buzzy as can be(e). It's a good beginner toy, but if you already have something stronger or more rumbly, you'll probably be disappointed by the power in this.
The vibrations do transfer well to the attachments through; the fit is secure and no power in the lost in the process, as can sometimes be the case on toys with a loose fitting attachment system. But there's just not all that much there to transfer in the first place.
Should You Buy The Cloud 9 Massager Kit?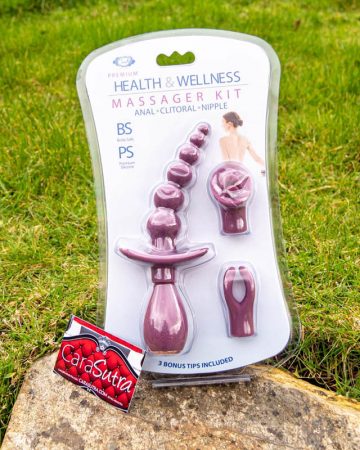 The Cloud 9 Health And Wellness Triple Massager Kit (on a side note, I do wish we could collectively grow up and stop calling sex toys "massagers"), is a competent if somewhat underpowered vibrator with multiple attachments.
It's a great option for those new to sex toys who'd like a taster of different sensations before they move onto more powerful toys or something designed with a single purpose for specific body parts. They may find they really enjoy the anal beads, with or without the vibration, and decide to explore that further with something larger or longer. Or perhaps really enjoy the directed, pinpoint clitoral stimulation–there are better, more powerful toys for that too.
At $70 though, I'd say it's a little overpriced, and would advise waiting for a sale. I'd expect something a little more powerful at that price point. Of course, it's cheaper than wasting money on four separate toys you don't know if you'll like or not, but some different shaped silicone attachments don't quite justify the cost.
If you can get the Cloud 9 Health And Wellness Triple Massager Kit a bit cheaper and you're new to sex toys but would like to experiment with a range of different sensations, I'd certainly recommend it as a first-time taster toy before moving onto bigger and better toys.
We score the Cloud 9 Massager Kit 6/10.
– Tigerlily
Buy Yours
Thanks so much to our reviewer Tigerlily for this sex toy review.
You can buy your Cloud 9 Health And Wellness Triple Massager Kit directly from Cloud 9 Novelties:


This product was sent free of charge, in exchange for a fair and honest review at the Cara Sutra sex blog. This review contains affiliate links.