Clone A Pussy Hot Pink Kit Review
By Joanne's Reviews
Thank you to Cara for giving me the opportunity to review this kinky and interesting kit, the Clone A Pussy Hot Pink Kit. Not many people can say that they have had a close and intricate look at their own pussy without the aid of a camera or mirror but I now can.
Enjoy all our Clone-a-Willy reviews
In my youth I struggled with how my vulva looked as it was different from those I had seen in magazines and porn (remember this was the pre-internet age) and so for a long time I thought that there was something wrong with mine. Obviously I was wrong as everyone's vulva is unique and that is to be celebrated.
The Clone A Pussy Hot Pink kit has given me the opportunity to examine my own vulva in all its beauty and it was a heck of a lot of fun to create my own little treasure of a foof in hot pink silicone.
Firstly let me describe the Clone A Pussy Hot Pink kit to you, it comes with pretty much everything you will need in terms of materials to clone your own pussy, you get the mould, alginate powder for creating the impression of your vulva, two tubs containing the silicone parts and a mixing stick. You will also need a thermometer, a measuring jug , a pair of scissors and a disposable mixing bowl for mixing the ingredients in.
The Clone A Pussy Hot Pink kit comes in a plain white box surrounded by a cardboard sleeve featuring the brand name and a description of the contents. You slide the box out of this sleeve and then open the sleeve up as the instructions are written on the inside of it in English, German, French and Spanish. Read them thoroughly as once you start the cloning process you are on a strict and very harsh timescale for the first part of it so you can't afford to hang around reading the instructions.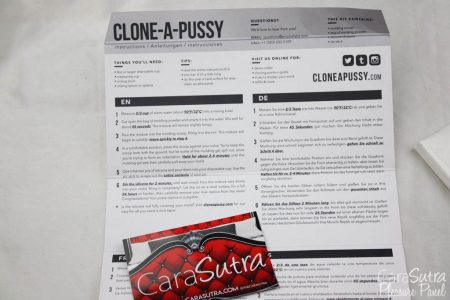 The first thing I have to comment about is the measurements, this is an American kit and so you will need to convert the size (2/3rds of a cup of water) into its European equivalent and it turns out that there is two US sizes for a cup, I settled on 160ml of water as it's the happy middle ground and that as it turns out worked well for the kit.
The only tricky part is the making of the mould and that is because as soon as the medical grade alginate comes into contact with water it starts to set and it goes hard in under four minutes so you need to get your skates on.
I recommend rehearsing how and where you will hold the mould against your vulva, it needs to be done over a smooth surface like tiles or another hard surface as some of the alginate will come out of the mould and drop on the floor (leave it until it goes off to easily clean it up). Lay all of the equipment out and walk through the mixing, pouring and application process. You only have 45 seconds to mix the alginate and to pour it into the mould.
I have rather full outer labia and so I wanted to be sure that the position I used had them apart so that I could see the rest of my bits. The instructions state that hair isn't a problem but that it should be trimmed. My pussy is shaved so that isn't an issue for me but as the alginate is very soft and easy to remove I can see short hair being no issue at all.
The water needs to be at 32 degrees Centigrade or 90 degrees Fahrenheit. Add the alginate powder and mix thoroughly and quickly, it will still have some lumps in it but try to mix it as smoothly as you can. Then you pour this mix into the black mould until it is full, you will probably have some left over and just leave that to set in the mixing bowl, you can use it as a good indicator for when to remove the mould.
Press the mould against your vulva. Try to keep it as level as you can by bending forward.  I sat with my bum on the edge of the bath with my legs open and held it tightly against my vulva, it's a bit messy as some of the alginate will be extruded and end up on the floor, ignore it as it peels off once set. I have weak wrists and struggled with holding it tightly against my vulva but I did manage to do so for the four minutes.
This is the only part that feels a bit icky as the alginate oozes out of the sides of the mould all over your fingers and it drips on the floor.
The alginate will set in about four minutes and it feels funny as you can actually feel once it has set. I checked the remainder of the alginate in the bowl to confirm when it had set. Once it had I then slowly and gently peeled the mould from my vulva. I then had a negative mould of my vulva and I have to admit it does looks a bit weird at this stage. I had some air bubbles in the mould which ended up as little bumps on the casting but I guess I can live with that.
The set alginate is easy to clean off a tiled floor and you will probably have some little bits left attached to your thighs and skin after you remove the mould, again they come off really easily.
That is the only tricky bit of the process as it has to be done quickly. The rest is easy.
You then take the two tubs of silicone, one is the silicone and the pink colour pigment and the second in the catalyst. Pour both into a disposable mixing container, scooping all of the material out of the tubs using the mixing stick and then thoroughly mix the two together for at least two minutes. Try to mix slowly to avoid trapping air bubbles in the mix.
Once it is mixed thoroughly then slowly pour it into the mould in a thin stream and once the mould is full tap it a couple of times to encourage any trapped air bubbles to rise. If you don't have enough silicone to fill your mould you can wrap it in duct tape and sit something in the middle to cause the silicone to rise at the edges. My mould filled completely with the provided silicone.
You then just wait for 24 hours before you can gently remove your cloned pussy from its mould. I loosened the silicone from the mould sides as you would do with a cake in a baking tin and then it easily lifted out revealing my cloned pussy in all its glory.
I had a huge grin on my face when I lifted my cloned pussy from its mould and it was an amazing experience creating a clone of my own intimate parts, one that I thoroughly enjoyed. Personally, I think it looks amazing and the detail imparted by the mould onto the silicone is outstanding.
This Clone A Pussy kit is also available in a neutral tan colour and also with chocolate instead of silicone so that you can make an edible treat out of your pussy and that would make a very kinky Valentines present to someone.
The mould isn't destroyed when you remove the cloned pussy so if you had something else (such as some nice chocolate) you could create an edible pussy and I think I will do just that.
I can highly recommend this Clone A Pussy Hot Pink kit. For me it was a very liberating and enlightening process and I love the fact that I can hold and look at my own pussy and see how it looks from my partners' perspective.
Rating: 10/10!
– Joanne's Reviews
---
Where To Buy
Thanks to Pleasure Panel reviewer Joanne's Reviews for this review of the Clone A Pussy Hot Pink Kit.
This product was sent free of charge, in exchange for a fair and honest review by the Cara Sutra team.
This review contains affiliate links