California Exotics XXXL Butt Plug Review
Is this the biggest butt plug in the world?
The California Exotics XXXL Butt Plug is stupendously humongous. It demands respect. It demands attention. It demands lube and lots of it.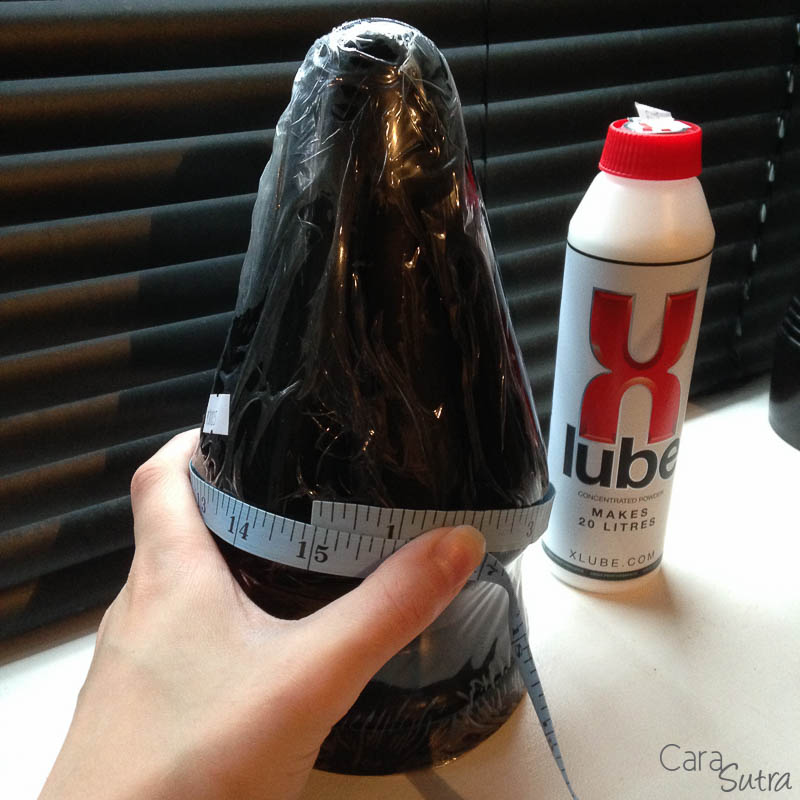 As part of UberKinky's sex toys review scheme I was offered my choice of products free of charge to test and review a couple of months back. I originally chose a smaller butt plug, thinking slave minnie could give it a try – but then Mistress Vikki from the UberKinky team got me cackling away with evil plans to lay a huge butt plug on him. Through the laughter I was wary that if the butt plug was too big he'd just give up at first glance (he's a wuss) but was assured that insertion of this plug is indeed possible. The plug was promptly dispatched to me, along with this powdered lube – well, it does make 20 litres, that should be enough – and both products arrived in great time and packed safely and discreetly.
Upon removing the California Exotics XXXL Butt Plug from the box I first sat down in shock and then laughed. It started as a giggle of disbelief and gradually evolved into a roaring laugh of amusement. This would give minnie a shock. Ok so for some people it's an insertable butt plug. Not minnie. There's a lot of things he can't do and sticking this plug inside is just one of many on the list. I did tell him to test it anyway, just for the general hilarity at his facial expressions, but after his simpering whines and begging I agreed to pass the unused butt plug to someone who could put it to its intended use. Not his suggestion, which was to use it as a doorstop for the rest of time.
There's only one person that springs to mind when I think about ramming huge objects into peoples bottoms. Dom Strap On, obviously. Along with her entourage she attended the opening of The Boiler Room in November, which was the perfect opportunity to put this butt plug into expert hands. The lovely DSO agreed to test out the California Exotics XXXL Butt Plug on one of her victims – sorry, submissives – and report back as soon as possible. She assured me she knew just the person who could take it. After seeing her strap on dildos and previous Femdom/strap on session photos, I didn't doubt her.
The California Exotics XXXL Butt Plug had arrived shrink wrapped in transparent plastic covering so it's easy to see whether it's been opened or used. It's a heavy butt plug, in black, with the typical plug shape of domed insertable area flaring to the widest point then tapering to a slimmer neck. There's a flared base so it doesn't get sucked up inside you when fully inserted, in case you have a Dyson arse which is capable of hoovering up objects the size of footballs. You really don't want to get this thing lodged in your innards (or any other sex toy, for that matter).
Eventually the session pics came back from Dom Strap On and they're fascinating and amusing in equal measure. As you can see the majority of the California Exotics XXXL Butt Plug was taken by the sub, without his anal entrance slipping over the widest part to close around the neck as would usually be the case with anal plugs. He's almost there though. I have the feeling that this plug would be as scary to remove as it would be to insert.
Buy the California Exotics XXXL Butt Plug
The California Exotics XXXL Butt Plug costs £37.99 which is a bargain considering just how much butt plug you get – and it's made from California Exotic's antibacterial Poly-Melt PVC material. It's stated to have no phthalates or latex in the material. The base also acts as a suction cup in case you're using it on your own, and it measures 8 inches in overall height and has a maximum diameter of 15 inches by my measurements. Yowsers.
You can find more huge butt plugs at UberKinky here.
There's nothing to dislike about the California Exotics XXXL Butt Plug as long as you can get it in. It works well with lube, it's easy to clean, it's smooth and it's the right shape for anal use. The size will be down to personal preference and experience so I can't take points away for it being massive – clue is in the XXXL part of the name. There's no wasteful packaging as it's shrink wrapped and it's a latex and phthalates-free material. Also doubles as a doorstop until your arse is ready for it. Top marks all round!


This review contains affiliate links
California Exotics XXXL Butt Plug Photographs
Anyway here we are – the photographs. First of all there are my photos of the toy itself, then Dom Strap On's photos of the butt plug in use. Enjoy!
California Exotics XXXL Butt Plug Explicit Photographs
You have been warned!

NSFW (Not Safe For Work): Show