Wicked Aqua Pink Lemonade Lube Review
By Pleasure Panel reviewer NatandTom
I received the Wicked Aqua Pink Lemonade Lube to test as part of August's Pleasure Panel Round. Thank you!
I had actually seen this product announced on Twitter a few weeks before the round and I loved the sound of it so was rather excited to see it up for testing. My partner loves the taste of pink lemonade so this was a lubricant that very much appealed to him. I'm quite fond of the taste too so we were both looking forward to giving the Wicked Aqua Pink Lemonade Lube a test run. Flavoured lubricants are great for enhancing oral activities and as we use them so often we think that trying new flavours whenever possible keeps things interesting.
Presentation & Ingredients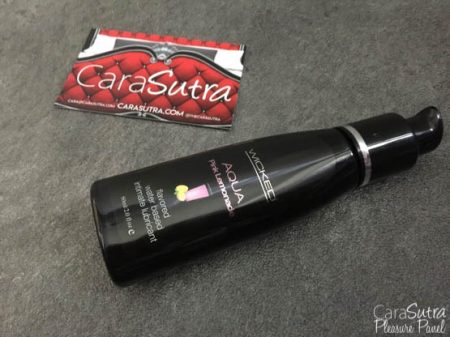 The presentation for Wicked Aqua's products is great. It's minimalistic and not immediately obvious to prying eyes. The Wicked Aqua Pink Lemonade Lube bottle is a glossy black with white writing and features a small image of a glass of pink lemonade on the front which we liked. On the back it reads a description, some key features and a full ingredients list. I was pleased to see that this contains absolutely no parabens or propylene glycol, but it does contain glycerin. If you are sensitive to this ingredient or prone to UTI's then I would recommend only using this on penis-owning partners.
Dispensation
The Wicked Aqua Pink Lemonade Lube dispenses via a pump which has a locking mechanism to prevent leaks, mess and spills. Twist the nozzle to the side to unlock it and push down gently to release the product. A pump allows you to get the right amount of product needed and reduces the risk of waste. One or two pumps is more than enough to get us through a session of oral sex. It comes out of the bottle quite thin but it's not runny at all which is what I had actually expected based on its consistency.
Pre-Intimacy Test
We are both cautious about using new lubricants as sensitive skin is something we both have and previous reactions to lubricants have made us wary. We make sure to do a patch test on the inside of our elbows now before using anything new on our intimate areas. I'm pleased that neither of us seemed to have any sort of reaction to the Wicked Aqua Pink Lemonade Lube, which was good news for me as I was half expecting to be irritated by the glycerin and subsequently not able to use this on myself. As I was irritation free I did allow my partner to use the product on me but I tried to keep the product around the clitoral area rather than near the entrance.
Taste
I'll start with his experience using it on me by reporting that this is one of his personal favourites. He finds many flavoured lubricants artificial and tacky in taste, but he said that this one was more subtle, less chemical and pretty spot on with what it was supposed to taste like. His taste buds recognised the familiar pink lemonade flavour straight away and he said that it tastes great. He thought that the Wicked Aqua Pink Lemonade Lube tasted somewhat like one of those liquid candy roll-ons he had as a kid too although this doesn't have any sort of negative aftertaste.
I found myself agreeing with all of his comments regarding the taste. It is one of the better tasting lubricants that we've tried and is up there with the Sliquid Swirl range. It smells exactly how it tastes. Like sweet pink lemonade. It is noticeable but not overpowering, which is exactly what we look for in a product like this. After having such a good experience with this particular flavour my partner and I will definitely be browsing online to find some other flavours from this brand to try.
Texture
The only thing that might be a downside for some people is the texture. The Wicked Aqua Pink Lemonade Lube bottle states that it is never sticky but we did think it became somewhat sticky if left untouched for a moment or two. If there's constant contact with the lubricant during oral or a handjob then it was fine. It absorbed well, left no residue on the skin and didn't feel sticky. If left alone whilst focusing elsewhere, it didn't feel that great upon returning. As a result of this, we wouldn't use the Wicked Aqua Pink Lemonade Lube for a massage or penetration but anything involving the mouth or hands has the green light to go ahead.
In Conclusion
Overall, the Wicked Aqua Pink Lemonade Lube did not disappoint. It has a great odour, a lovely taste and a good consistency for the type of play that it's designed for. I like the no-nonsense, fuss-free presentation and the fact that it's free from most of the ingredients I like to avoid.
A couple of final things that are worth mentioning before I conclude this review are the key facts that are pointed out on the back of the bottle. The Wicked Aqua Pink Lemonade Lube is both gluten-free and vegan-friendly. It contains no animal ingredients and has not been tested on them either. If you love fur babies like I do then this will great news for you. All around, I would recommend the Wicked Aqua Pink Lemonade Lube if you're looking for something different from the average strawberry, cherry and passion fruit flavours.
8/10
– NatandTom
---
Where To Buy
Thanks to Pleasure Panel reviewer NatandTom for this review of the Wicked Aqua Pink Lemonade Lube. Find more info on the range at wickedsensualcare.com. 
You can also buy the Wicked Lubes Collection from Shevibe.com.
The Wicked Aqua Pink Lemonade Lube was sent free of charge, in exchange for a fair and honest review by the Pleasure Panel, by Wicked Lubes. Thank you! 🙂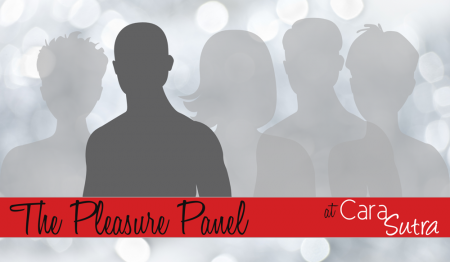 This review contains affiliate links.