The Fifty Shades of Grey Ready for Anything Aqua Lubricant is yet another product from the Fifty Shades of Grey Sensual Care Collection (these names are getting longer, aren't they) that Simply Pleasure kindly provided for me, in exchange for a fair and honest review.
The Sensual Care Collection was created as an extension to the Fifty Shades of Grey official sex toys collection, which of course kick-started the adult industry merchandise after the resounding success of the mainstream to kink bridging trilogy by award winning author, EL James.
Along with this water based lubricant from the range I also received
Ready for Anything Aqua water based sex lubricant (reviewing here)
Sweet Sensation Sensual Bath Oil
Cleansing Sex Toy Cleaner
Sensual Touch Massage Oil
Soothe Me After Spanking Cream
Similar to the other products in the Sensual Care range, the Aqua Lube comes in Fifty Shades themed packaging, which is of course very novel for a fan but also quite luxurious even if you're not. The Fifty Shades signature colours are a refreshing change from the pink and purples which are in my opinion too often seen on adult product packaging. There's not a nipple in sight either, and no 70s style, hirsute lady gardens.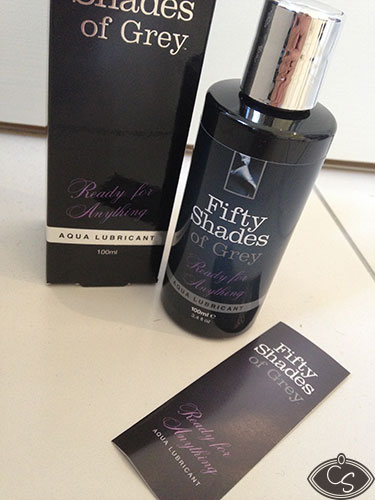 You could quite happily open the Sensual Care products in front of your nan and she wouldn't even faint or anything. Hurray.
Well presented, the bottle inside the glossy cardboard exterior echoes the packaging design and contains 100ml of water based sex lubricant.
The ingredients of this lube are: Aqua, Monopropylene Glycol, Hydroxyethyl Cellulose, Potassium Sorbate, Phenoxyethanol, Carbomer, Aloe Barbadensis Leaf Juice Extract, Siberian Ginseng, Citric Acid, EDTA.
There is no glycerine, no aspartame and no parabens.
The Aloe extract keeps the skin moisturised and looked after, while the ginseng keeps it feeling cool and fresh. During use the lubricant is slippery and lasts longer than cheaper and lesser known brands of water lubricant. Water based lubricant is never going to last as long as silcone lube in terms of frictionless flesh to flesh contact, but then water based lube is compatible with all your sex toys regardless of material type. Also I find some silicone lubes can make me itch! That might be just me, though.
This lubricant doesn't taste nice, so I wouldn't advise using it for oral sex (or eating it, for that matter). It's not that it tastes awful, it just has that slight tang from the Aloe and other ingredients, and is quite evidently not for tasting. There are plenty of flavoured lubes out there for that. During use, you will need more than a few drops to last you a whole sex session or a play with a sex toy. I did, in any case. I found a 10p/a quarter sized amount dispensed in my palm was enough to see me through.
There is no scent to speak of. A very faint screen cleaner smell, if I concentrate hard enough, which is probably the Aloe leaf and ginseng elements giving it a bit of pizzazz.
The lube is crystal clear, thick enough to make it a good, all round sexual lubricant regardless of your chosen activity and also looks good next to the other products in the range on your bedside table or bathroom shelf.
Would I buy it? Yes, at £6.99 I would buy this, if I ever ran out of lube. Not just for the fact that it's a good sex lube but it also looks quite swish with its themed packaging and silver coloured flip top dispenser and doesn't immediately have connotations of a sex product.
It's a great price for the product, it works and I can recommend this with a clear conscience and a slippery mind.  Get your Fifty Shades of Grey Ready for Anything Aqua Lubricant here at Simply Pleasure for £6.99.