Bondara Essentials Spunk Lubricant Review
By Pleasure Panel reviewer Miss Doll
I was too curious to try this Bondara Essentials Spunk Lubricant! Since my guy lives in another city because of his work, I have definitely experienced what "I crave a good old facial and I just cannot have it right now" means; also, having some (fake) jizz always ready for some torrid bukkake play on Skype seemed a fun and stimulating idea. In this kind of situations, after all, play and creativity are the only things that help you survive the relationship I'm afraid 🙂
It's a shame I don't have a squirting dildo to try the Bondara Essentials Spunk Lubricant with: I have had a model on my wishlist for such a long time!
Anyway, the first thing that catches my attention when opening Cara's plain and discreet envelope that contains the Bondara Essentials Spunk Lubricant, is how beautiful the packaging is: black and hot fuchsia like the famous UK shop's logo, with a cute sperm cell drawn in hot pink.
The Bondara Essentials Spunk Lubricant bottle is very small and portable: 100 ml is not so much of a product, (at least for couples who use it as often as we do), but unfortunately many companies put the same 100ml of product in a way bigger bottle to make you believe you get more inside! Basically I try to never buy a bottle too big as I like to change the kind of lubricant we use often: 100ml can last in my bedroom for one or two months (it depends on how thick the texture is) since I just use only a small dab a time.
I made the mistake of thinking that since this is a spunk like lube it would be more sort of a novelty product than something really slippery and useful in the bedroom. I was wrong: despite being clearly white instead of clear, the Bondara Essentials Spunk Lubricant is a water based lubricant exactly like many others.
The texture of the Bondara Essentials Spunk Lubricant is exactly the one you would expect from a water based lube, perhaps a little bit thicker in my opinion, but not too thick to be used for both sex and toy play. I also found it to be not sticky at all, not as sticky as most flavoured lubes are.
I found the Bondara Essentials Spunk Lubricant didn't have any particular smell or taste, phew! I was scared this might have a certain scent which mimics real sperm; not to my liking. Instead all went well 😉
At this point, I hear in my head all you readers asking me the final question: "so Miss Doll, does the Bondara Essentials Spunk Lubricant REALLY look like REAL semen?"
The answer is yes, it does.
I have only seen my guy's sperm all my life (and it has never changed much in texture\color) so I don't really have all this experience to compare this with real semen. It is definitely a little more thin than my partner's (but if it was thicker I wouldn't have enjoyed it as a lube during sex) and a little more white, but nothing that keeps it from being realistic for a little bukkake fantasy.
To make the Bondara Essentials Spunk Lubricant resemble real sperm more I found the best way is to just "spray" it and let it sit without spreading it too much: if you let it in small spots it looks more like the real thing at least in my opinion. After all, it's not like a cock gently spreads semen all over your face as if it was a moisturising cream. On the tip of my favourite dildo it looked very good, even in the camera for long distance play with my guy.
I found the Bondara Essentials Spunk Lubricant to be easily washable and it comes away just with water like other water based lubes: it's great to not have to worry about making a mess. Also, I find it clever to have made this water based so you can use it safely with all dildos, even silicone ones. I guess the more realistic the dildo is, the more this lube looks great on it and Bondara has thought to include even the best quality dildos in this bukkake game.
And once we finished playing our facial\pearl necklace fantasies, the Bondara Essentials Spunk Lubricant ended up on by bedside table and became just my new non-sticky, water based lubricant to use just like I would with others. I was worried to be able to use this only once in a while as a novelty, but it really is two products in one: I'll use it till the last drop!
7/10
– Miss Doll
---
Where To Buy
Thanks to Pleasure Panel reviewer Miss Doll for this review of the Bondara Essentials Spunk Lubricant.

The Bondara Essentials Spunk Lubricant was sent free of charge, in exchange for a fair and honest review by the Pleasure Panel, by Bondara. Thank you! 🙂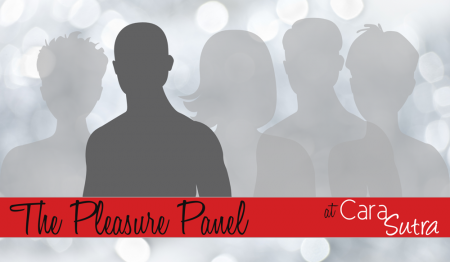 This review contains affiliate links.