X Lube Powdered Water Based Lube
Pleasure Panel review by minnie
I was sent a bottle of X Lube Powdered Water Based Lube in return for an unbiased review.
Unusually the X Lube Powdered Water Based Lube bottle contains powder which is then mixed with water. This is easily done, 2 cap-fills of powder are mixed with 500ml of water. The instructions recommend doing this in a bottle which is then shaken vigorously for 20 seconds to ensure a good mix before being left to stand for 10 minutes. A further shake and rest for 20 minutes and the lube is ready.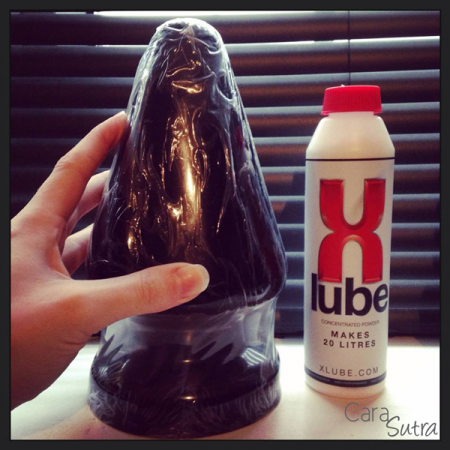 In practice I found that despite vigorous shaking there were a few small lumps of congealed powder in the mix.
This did not affect the lube, which is of a clear, very gloopy consistency.
In use the X Lube Powdered Water Based Lube was every bit as good as the best of the 'ready made' water-based lubes.
The instructions say that, once mixed, the lube should be used within 2 weeks. At the time of writing, after 5 days it is still as gloopy as ever.
I must say 500ml of lube would last me weeks, if not months! The 100g of X Lube Powdered Water Based Lube in the bottle will make 20 litres of lube!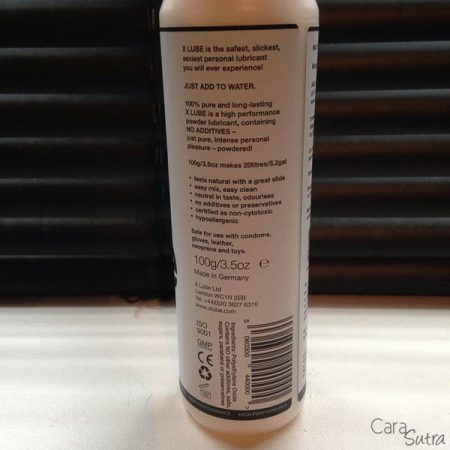 I would prefer the powder to be in a small tub, similar to a pot of cream or yogurt, with a small scoop to make it easier to make up smaller quantities. It would also make it easier to break up lumps of powder before mixing.
Apart from that the X Lube Powdered Water Based Lube is a perfectly good lube, perhaps more suited to those who use lots of the stuff. At a retail price of about £22.00 it really good value too.
I would give the X Lube Powdered Water Based Lube 7/10 and look forward to using the remaining 19.5 litres! Sploshing, anyone??
– minnie
---
Thanks to slave minnie for this Pleasure Panel review of the X Lube Powdered Water Based Lube (makes 20 litres). It was sent free of charge in exchange for a fair and honest review by the fab folk over at UberKinky.
You can find even more sexual lubricants in the shop too. There are fascinating types and brands you may not find elsewhere, plus helpful lube guides at the UberKinky blog.
You can read the California Exotics XXXL Butt Plug review here.


This review contains affiliate links