The Handy Smart WiFi Connected Penis Masturbator Review
The Handy Smart WiFi Connected Penis Masturbator is, hands-down, the best automated penis stroker available today. And I hold my hands up to say I've enjoyed testing this rather too much. Read on to get a grip of exactly what makes the Handy so unique.
Ok, enough hand puns. The Handy retails for less than $200, and we think it's worth every penny.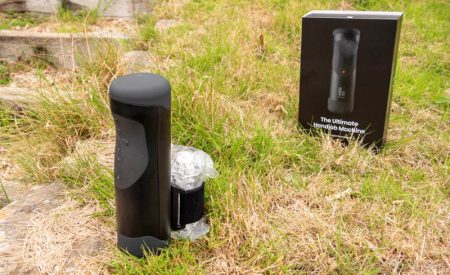 It's strong, powerful, works with a variety of sleeves, and allows for immersive video syncing in the most mind-blowing way possible. And it has Wi-Fi. That's right, we're going full-on teledildonics today.
What's In The Box?
Inside the box–which proudly claims it's the "ultimate hand job machine"–you'll find The Handy Smart WiFi Connected Penis Masturbator itself, measuring roughly the size of two Coke cans on top of each other, and made of both black ABS plastic and silicone. There's also a power supply, some sample packs of lube, and a custom Handy sleeve to get started.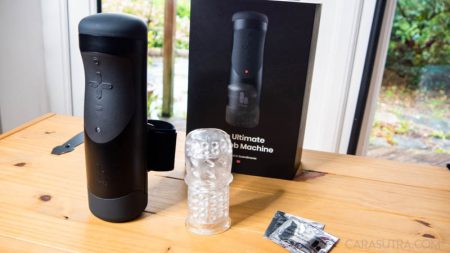 The sleeve is made of jelly polymer/TPR material, which will eventually need to be replaced. It appears to be uniquely designed for use with The Handy, as two protruding lines run around the centre and base, stopping the fabric strap from sliding up or down.
Replacement sleeves are readily available on TheHandy.com. However, a silicone sleeve would have been preferable for longevity, and I hope they'll eventually offer one as an option.
That said, there's nothing to stop you using your own sleeve instead. Unlike the leading competitor, you're not explicitly tied to only using Handy-branded sleeves. The sleeve attaches to the side of the Handy using a simple velcro strap.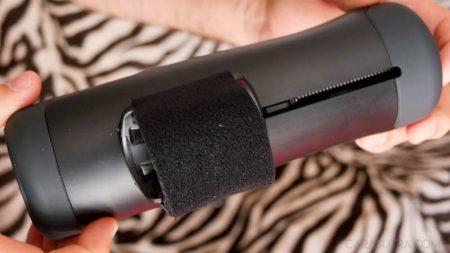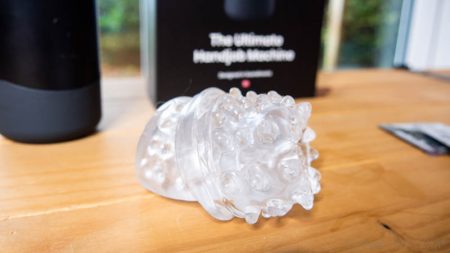 On one side of The Handy Smart WiFi Connected Penis Masturbator you'll find the Power button, four control buttons, and the Wi-Fi button.
On the other side is where you find the strap, and slightly worryingly, you can see inside the Handy, specifically the shaft mechanism that slides the fixing belt up and down. While I haven't heard of any mechanical accidents yet, and the gap is too small for fingers or other objects to fit it, mechanical parts should generally be hidden. If there's a version 2 of the Handy, I hope there's a silicone lip covering this part. Again though, I've not had actual issues with it nor learned of any. It's just a little unnerving to see.
Power On
The biggest perceived drawback to The Handy Smart WiFi Connected Penis Masturbator is that it doesn't have a battery: usage requires it to be plugged in at all times to the included AC adaptor.
I'd argue the lack of battery is actually a good thing. With any electronics, the battery is one of the first things to break. Batteries degrade over time when left alone, as well as every time they're used, and every time they're charged–until eventually, they stop holding a charge at all. At that point, some devices won't even work when plugged in, so they get disposed of. Most consumer electronics don't have a replaceable battery. The Handy will have a significantly longer lifespan because it doesn't have a battery, and in an age of disposable electronics, that's definitely a good thing.
Another benefit of the requiring AC power is that you won't need to worry about charging it. I can't tell you the number of times I've picked up aa toy and found the battery has run down while left in the drawer.
A reliable power source also means a more powerful motor can be used.
The Handy Sleeve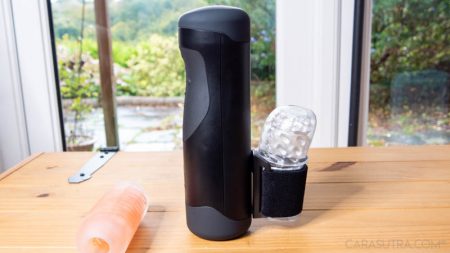 Made of a deliciously soft TPR material, the custom Handy sleeve does indeed feel incredible. A bumpy interior texture ensures constant stimulation, while the closed end means simple clean up. You can squeeze the air out as you slide in to get a nice bit of suction if you prefer.
If you're not a fan of the sensations and have your own stroker that you'd instead use, you almost certainly can. While the supplied strap can accommodate strokers up to 7cm diameter, you could feasibly purchase a longer one–it's really just a wide bit of velcro. The only real restriction is weight: it struggles with absurdly heavy, large silicone strokers, like those from Bad Dragon or John Thomas Toys. The Quickshot, Tenga cups, and other small or medium masturbators are suitable.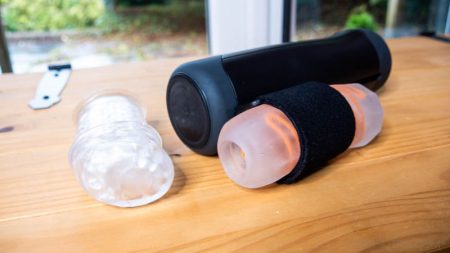 I found third party strokers, such as the TENGA Twist, could be strapped in securely. The lack of additional ribbing on the outside didn't seem to matter so much. But you might not want to–the supplied Handy sleeve feels really quite exquisite!
Manual Control
The simplest way to use the Handy is with the buttons on the device. To power on, simply plug it in. Start the action with the top button. Then the buttons in the middle control stroke length, up to 11cm max, and speed, up to 10 strokes a second. There are no built-in patterns, so in manual mode, you're limited to simple oscillating up and down until you adjust the stroke length or speed yourself.
Wi-Fi Setup
My first few attempts at connecting the The Handy Smart WiFi Connected Penis Masturbator to the internet were frustrating, but it appeared to be due to a required firmware upgrade. Once that was completed, things went smoothly every time. The only thing you need to note down is the connection password (not the same as a Wi-Fi password). Whoever knows the key will able to remote control your device, so keep it secret.
Unlike other toys that rely on Bluetooth, The Handy uses only Wi-Fi. In my experience, this its a lot smoother and more reliable than Bluetooth. It depends only on whether you have an internet connection, rather than your phone choice. But it does add in a point of failure: if TheHandy.com website ever goes down because the company has folded, you'll lose all connected functionality. Hopefully, were that to occur, they would release an update beforehand that allows a configuration change to use an open-source server or another such mechanism. And given how good the Handy is, I don't see them going under any time soon.
Video Syncing
Aside from remote control, having a web-connected toy means that it can be controlled by other software. This means the action can be scripted and re-played for a dynamic experience without you needing to directly control the movement. The best use case of this so far is synchronising the Handy to videos.
You'll find a surprisingly good selection of demo videos available on the Handy website, which you can try out in your browser. All you need to do is enter the connection key for your Handy. You can see examples of this syncing in the video review.
For really mind-blowing experiences, you'll want to pair this with a VR headset.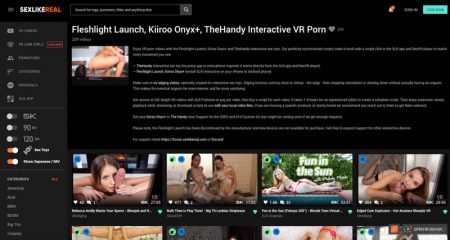 SexLikeReal is a third party VR porn marketplace (with original content too), which hosts both videos and "funscripts". The scripts sync to The Handy Smart WiFi Connected Penis Masturbator and recreate on-screen action. Most scripts need to be purchased separately, but some studios provide them along with a video purchase. Scripts and movies are then stored in your SLR account and can be streamed from anywhere. The SLR app can also act as a player for locally stored movies and scripts that you've downloaded from other sources. With apps available for both desktop and mobile, it's the best solution out there at the moment.
If you're using the Oculus Quest, you'll need to sideload the SexLikeReal app. This involves downloading a desktop app, connecting your Quest, and enabling a developer account on your Quest. It's a little more involved, but such is the price of a closed mobile system. But don't worry, there's plenty of guides out there to help you, and I assure you it's worth the effort.
It's worth noting, however, that it's still early days. With an open API just released, the Handy is likely to be integrated into upcoming games and other experiences for a wide variety of platforms. Integration with Holodexxx was just teased, for example.
The pairing process between supported apps and the Handy is far easier than you'd imagine: simply type in the secret connection code you were shown when setting up the Handy. That's it. Assuming your Handy is on, and you've pressed the little Wi-Fi button, it'll be automatically synced up with whatever you're playing back. If only everything worked this smoothly!
One Size Fits Most
Two features of the Handy really make it stand out from the (admittedly limited) competition.
The first is the adjustable strap that holds the sleeve. By simply tightening or loosening this, you can change the tightness, similar to if you were gripping the sleeve yourself. If you're larger than average or smaller than average, you'll appreciate this immensely.
Secondly, the stroke length can be dynamically scaled even while using pre-scripted content, matching the stroke scale to the size of your dick. For those of us who are perhaps shorter than the maximum stroke length the Handy is capable of, a full stroke can often result in the stroker coming right off at the top end. It's awkward, annoying, and pulls you out of the moment. With the Handy, all you need to do is press the down button until things match up. Now a stroke at the top of the video dick corresponds precisely to your own, just as it should be.
Noise Level
While not entirely silent as the Handy site claims, it is undoubtedly quiet enough to use it and not be worried about inquisitive housemates or nosy neighbours. I measured no more -70dB on maximum speed, with the microphone right next to it. This is low enough that any other noise source would easily mask it.
How Does It Compare to the Fleshlight Launch?
There's only one device out there that compares to The Handy Smart WiFi Connected Penis Masturbator; it's not even on sale anymore. But since I own one, I'll summarise the differences here. The Fleshlight Launch, which only works with Fleshlight-branded overpriced masturbators, is obscenely loud, bulky, and features an unreliable Bluetooth connection. It does have an internal battery, but as noted earlier, that will degrade over time, rendering the device useless.
Video
Short video review of The Handy penis masturbator (contains uncensored shots of porn videos on a tablet screen):
Should You The Buy The Handy?
If you can afford it, the Handy is the best masturbator you'll find. It shines when combined with a VR headset, but it's a powerful machine that any dick will love, even without the video sync features. The modular strap design means that you can easily swap out for something else if the included sleeve doesn't fit you. Or if you're smaller than average, you can tighten it up.
The Handy will turn you into the laziest wanker ever: 10/10.
Buy Yours
Thanks so much to Tigerlily for this fantastic and thorough review of The Handy Smart WiFi Connected Penis Masturbator.
You can buy The Handy penis masturbation device direct by clicking through the big green button below! >>


Contains affiliate links