System JO For Her Agapé Water Based Lube Review
By Pleasure Panel reviewer A Couple of Kinks
System JO For Her Agapé Lube is water-based and comes in three types: original, warming and cooling. We were lucky enough to try the original System JO For Her Agapé Water Based Lube (we aren't super fans of lubes that do things). We found that their website was lacking information, so we decided to send them an email with all of our questions. We received a very thorough response a day later (we were impressed).
Related: Read all our System JO reviews
One of the traits that System JO claims about their Agapé lube is that it is supposed to mimic woman's natural lubrication. When asked to explain this, their response was that they were referring to the balanced nature of the product that will work in sync with the body. They went on to say that self-lubrication is not an exact science as each person has a unique way that their body works and a unique description of what intimacy feels for them. They state that they used a general term in the description to encourage discussion on balanced products to better suit needs.
Company:
System JO is backed by an OTC drug license from the FDA, is ISO certified and USDA Certified Organic. It is made in the USA and all products are plant-based. Unfortunately, their website is seemingly incomplete and their social media is focused on cis-white-females. We were super impressed by their emails and interactions with us, but the image they give off on their site and social media leaves a lot to be desired.
Ingredients:
Water (Aqua), Propanediol (natural replacement for glycerin or propylene glycol), Gluconolactone (humectant/solvent), Hydroxyethylcellulose (thickener), Sodium Benzoate (preservative), Citric Acid (pH balancer).
The new formulation does not contain glycerin, glycol or parabens.
The Science:
The osmolality of Agapé is between 241 and 251 mOsm/kg, which is a great place to be. According to Smitten Kitten, vaginal mucus is 280 and rectal mucus is 290, making Agapé pretty damn close to the ideal osmolality. The pH is between 3.8 and 4.5. The pH of the vagina can range from 3.5 to 7, depending on your cycle, any infections, pre/post menopausal, etc. This means that the System JO For Her Agapé Water Based Lube is also in a good range for pH.
Compatible With:
System JO For Her Agapé Lube is water-based, which means it is compatible with everything, including all toy materials.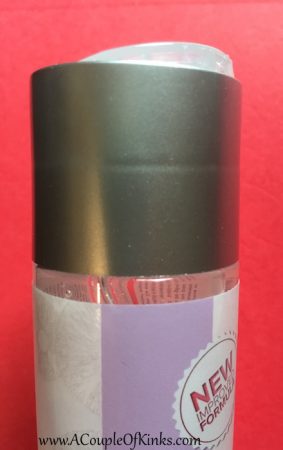 Container:
The container has a simple opening, which is easy to open and close with one hand (always an important feature). We wouldn't count on it for travelling purposes though as it might open on its own. The front of the packaging does specify "for her" but we do credit them with including "penile and/or vaginal application" in their 'indications for use' on the back of the container.
See:
The System JO For Her Agapé Water Based Lube is completely clear and has a thin texture.
Smell:
The lube itself is fragrant free, but it has an incredibly mild smell of something we can't quite pin our noses to. It smells clean – like a very mild chemical cleanness. That would be our best description.
Taste:
System JO For Her Agapé Water Based Lube tastes exactly as it smells. It isn't ideal for oral sex, although it is tolerable. It tastes a like the mild chemical cleanness described above.
Feel:
It feels very sleek upon pouring and doesn't seem to go gooey like some other lubricants. The thickener makes sure it doesn't run all over the place. It leaves a bit of a trace behind on the skin, which is a bit stickier than we would like. The packaging says it lubricates and moisturises, but we wouldn't count on it as a moisturiser.
Conclusion:
Overall, this lube is great. It is relatively odourless and tasteless, has a great sleek texture that doesn't leave your skin gooey. It has natural ingredients and has a close-to-natural osmolality and pH.
Our only real issues are with the site itself (lack of information available) and with the image portrayed on social media, but all of our interactions have been great!
We would definitely recommend the System JO For Her Agapé Water Based Lube for everything except oral sex!
– A Couple of Kinks
---
Thanks to Pleasure Panel reviewer A Couple of Kinks for this review of the System JO For Her Agapé Water Based Lube. This new formulation for 2016 is is paraben, glycerin and glycol free.
This product was sent free of charge, in exchange for a fair and honest review by the Cara Sutra team.
Contains affiliate links.