Pjur Superhero Performance Spray Review
By Nat and Tom
We received the Pjur Superhero Performance Spray from Cara as part of the Pleasure Panel. Thank you! It arrived quickly and was presented rather nicely. The packaging is simple and friendly, which my partner found comforting and non-intimidating as a first time user. The sides of the silver and yellow box feature some multilingual brief instructions for use and a quick description of the product.
Click to enjoy all our Pjur reviews and sex lube reviews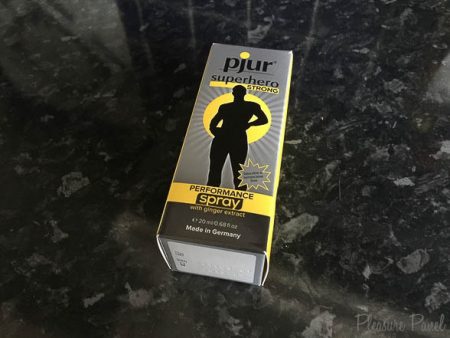 Always open to trying new things in the bedroom, I (the female half) have tried countless performance enhancers and prolongers in order to better our bedroom life, but we recently realised that we've never actually tried the male alternatives. We decided to put ourselves forward for this product, although we have nothing similar to compare it to, to see what we've been missing out on. Will we be sticking with it or will we be putting our capes back on and flying back to the female products?
Before we could get started, the bottle advised to do a patch test on the forearm, which we thought was important considering we both have sensitive skin. I'm pleased that neither of us seemed to have a reaction to the product, despite a couple of patch tests of varying amounts, so I'd be happy to recommend this to people who also have sensitive skin, but I would of course still advise the patch test.
So, how does the Pjur Superhero Performance Spray work? Simply apply two to four sprays of the product onto yourself/your partners erect penis and wait for a few minutes for the product to begin to absorb. After this, you can continue with the session and hope that it will last longer than usual. This particular product does not contain lidocaine or benzocaine which are typical numbing agents used in delay sprays, creams and gels so it doesn't cause a numbing sensation. It does however decrease his sensitivity somewhat, which makes his reactions slower than usual.
I would say that my partner has pretty good staying power most of the time, but this gives a bit of an extra boost on those occasions when we haven't seen each other for a while and he'd orgasm faster than usual. It doesn't do miracles and it's not going to make him last all night, but it did seem to add an extra ten to fifteen minutes of play on the four to five occasions that we have used this during penetrative sex. He has also tried it out during masturbation, so he can last a little longer during phone sex whilst we're apart, this has actually been very helpful for this purpose as he's been able to wait until I'm ready so we can orgasm together, rather than orgasming ten minutes before me.
Overall, I think we were both pleased with the outcome of the Pjur Superhero Performance Spray and although it's not a miracle worker, it managed to do the job we wanted it to do on the occasions we used it. It's not going to be a product we use all the time or come to rely on, but it will be getting some use for the scenarios mentioned above. It has a similar consistency to water, so it isn't tacky or sticky on the skin at all and it rinses off easily. It has no off-putting odours either, in fact we think it smells minty fresh, which is rather pleasant. I would say that this is definitely worth a try if delaying without too much desensitising is what you're looking for.
– Nat and Tom
---
Thanks to Pleasure Panel reviewer Nat and Tom for this review of the Pjur Superhero Performance Spray.
This product was sent free of charge, in exchange for a fair and honest review by the Cara Sutra team.
This review contains affiliate links