Tantus Prostate Play Silicone P-Spot Massager Review
By Giles English
I was sent the Tantus Prostate Play Silicone P-Spot Massager free of charge in exchange for my honest review.
I love the idea of a cock free, hands free orgasm, not least because I'm 'stuck' in chastity at the moment. It's been more than 100 days since I've had an orgasm, and I have at least 20 more to wait, so I was overjoyed that my wife gave me permission to try the prostate massager as long as my chastity device stayed on.
Packaging & Presentation
The Tantus Prostate Play Silicone P-Spot Massager arrived in a nice discreet envelope inside a bubble pack: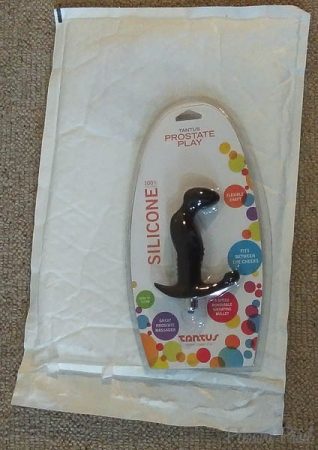 The plastic packaging wasn't sealed. This is possibly great if you want to use it for storage, but not so good if you are non-monogamous and want to assure a partner that the device has not been used before. (My advice would be to present it in its original envelope, unopened.)
First Impressions
The device itself is a silicone butt plug plus an insertable bullet vibrator.
The Tantus Prostate Play Silicone P-Spot Massager is really nice. Beautifully made with a velvet surface, it easily survived sterilizing with Miltons. It's a suitably intrusive shape that slides in easily and stays put, even when you move around. The four ribs near the base give a good sensation going in, and seem to both hold the lubricant and help anchor the thing. It also comes out pretty easily when you want it to.
Bullet Power
The removable bullet vibrator is waterproof – well didn't bust when I washed it – and has three settings: low, high and pulse. Two minor niggles: it takes a stubby little non-standard N-Type battery; and also seems a little reluctant to turn off unless you press it firmly for what feels like a long five seconds…. seconds that would BZZZZZ feel much BZZZZZZ longer if somebody had BZZZZ just walked BZZZZ into the room and you were trying to hide what you were doing.
However, the real problem is that though it's not weak as bullet vibrators go, it's still woefully underpowered for hammering away on your prostate via a rubber prodder.
If you hold the assembled Tantus Prostate Play Silicone P-Spot Massager in your hand and switch it on, the vibrations do pass to the tip. However, clench your fist around it to simulate an anus, and the vibrations are totally damped at the business end!
And that's what happened when I tried it.
During Use
It caused delicious sensations as it slid in. The vibrations made the whole area around my anus tingle… it was quite lovely. However, I felt nothing deeper.
After 100 days, I really really wanted any sort of release.
So, I tried both clenching and relaxing, tried pushing the device firmly – hardly hands free, but I was desperate – tried standing and bracing, sitting, kneeling, lying on my front, press-ups even…
NOTHING.
The best that could be said was that in some positions, a ghost of the vibrations reached my cock.
Possibly, I need a bigger massager that presses more firmly on my prostate. Even then, bullet design would still be a problem. The vibrations simply weren't reaching deep enough.
So no orgasm for me, even after an hour of trying.
However, it really is a massager.
Afterwards
On removing the Tantus Prostate Play Silicone P-Spot Massager, I found my ass wonderfully relaxed and the lube well spread internally. I had no trouble inserting a fairly large dildo. So if we get around to trying pegging, this P-spot toy by Tantus will be my warm-up toy of choice.
Summary
Rating is therefore a bit complex.
Materials, packaging etc: 10/10
Butt plug (ignoring the price): 10/10
Prostate massager: 2/10
Fluffer for more demanding anal play: 10/10
Lovely design but the bullet in the base is never going to get me off and I'd be surprised if that worked for you either. However, fantastic for warming up prior to more vigorous anal play.
Overall: 6/10
– Giles English
---
Thanks to Pleasure Panel reviewer Giles English for this review of the Tantus Prostate Play Silicone P-Spot Massager.
This product was sent free of charge, in exchange for a fair and honest review by the Cara Sutra team.
This review contains affiliate links