Oxballs Log Dildo AKA The Poo Dildo – Review
Trust UberKinky to send me a turd-ally shit sex toy! Yes, I really do own The Poo Dildo. Officially known as the Oxballs Log Dildo, this sex toy is perhaps the most faeces-ious item I've ever seen. It was sent to me free of charge in exchange for a fair and honest review by the lovely and hilarious folk over at UberKinky. No brown-nosing involved.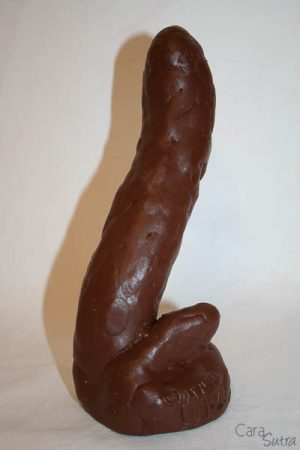 Apart from thinking 'crap!' when I first caught sight of the Oxballs Log Dildo, I hoped it wasn't as shit as it first appeared. Would this huge steamer be hugely steamy, or would my masturbation be totally down the toilet?
Ok, enough with the poo puns now.
If you're offended by poop jokes, visual representations of poo or have a weak tummy then you probably won't like this sex toy. It's not one that caught my eye for sensual reasons. I don't find it sexually arousing or attractive. I am not into scat and I don't fantasise about inserting or ingesting poo. I do find The Poo Dildo hilarious though. There are more ways to use a dildo than to shove it up yourself, after all.
Oxballs Log Dildo Delivery & Presentation
The delivery from UberKinky was fast, quick, professional and discreet as usual. The Oxballs Log Dildo comes in a clear front, silver backed plastic bag with the Oxballs logo on. Minimal packaging means minimal waste, which suits me. There's no storage pouch provided which is a shame on the one hand as this is a silicone product, but it would be a clash to the theme to provide a svelte, deluxe storage pouch with a dildo based on poo I suppose.
I noted that the packaging states 'Toys for Dirty Boys' which would be a nod towards their mainly gay oriented products, but I do feel that Oxballs could open this out to boys and girls; or just 'people', if that is too gender binary. After all I love the Oxballs sex toys I/we have tried so far and we're not entirely gay. Just mostly. 🙂
Oxballs Log Dildo Measurements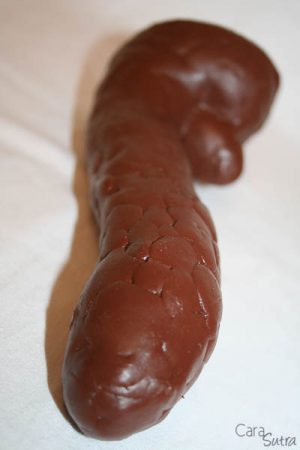 The overall length of the Oxballs Log Dildo is 9 inches, with an insertable length of 7 inches and a maximum circumference of 5.25 inches. Pretty damn sizeable. There's an extra area of poo-styled silicone near the base, which UberKinky so eloquently describe as a clitoral turdlet (or can be used for perineum stimulation). The actual base of The Poo Dildo has a flat bottom (not suction cup) and the Oxballs logo is seen on the side.
Oxballs Log Dildo During Use
The look didn't put me off too much from testing The Poo Dildo, although like I say it's not arousing or sensual for me in the slightest. That said, it's a silicone sex toy shaped for comfortable insertion, so I did try the Oxballs Log Dildo out in the expected manner. Vaginal penetration though, not anal. For everyone saying EW in their head at this point, let me repeat. This is not poo, it's a silicone dildo. Very soft silicone too. It's actually very pleasant to touch – even if I did so with my eyes closed.
If I didn't have to write this review I wouldn't have chosen to use the Oxballs Log Dildo internally myself. As it is the dildo actually feels very stimulating thanks to the textured shaft, and the clitoral turdlet is brilliant to rub against especially with the liberal application of water based lubricant. However my personal preference for using The Poo Dildo is to either leave it half sticking out of the duvet for my cleaner to find (cue hilarious screams from upstairs), or to strap into a harness and get a submissive to suck it. For the LOLs.
Of course there are plenty of scat lovers and fetishists out there who will adore this poop based sex toy for the more obvious reasons. It's undoubtedly safer to suck on that real poo, tastes better (no I have not done a comparison) and doesn't smear anywhere.
As an object of pure amusement (though not probably borne out of purity) the Oxballs Log Dildo is not the cheapest gag toy you could buy. At over £60 the price of The Poo Dildo reflects the size, the body safe (honest), non-porous material and the specific niche attraction of this dildo. If this does seem like your thing though, you're on to a winner here – all the pleasure, none of the strain.
The wide area at the base means you could use this 'dirty' dildo for bum fun – I mean anal penetration,  not just butt based jokes. Whether it will flush all the sensuality out of your sex life is totally down to your own preferences.
Full marks to this one, because if the Oxballs Log Dildo is your thing and doesn't turn your stomach then there's really no flaw I can see. It's all down to personal taste but as a dildo it works, The Poo Dildo is body safe and has plenty of room for versatile use. Made by a trusted brand and sold by a trusted sex shop.
Want to give it a go? Buy the Oxballs Log Dildo AKA The Poo Dildo from UberKinky for £63.99 with fast and discreet delivery.


This review contains affiliate links
Photos