Njoy Pure Plug Small Stainless Steel Butt Plug Review
I have been treated to the Njoy Pure Plug Small Stainless Steel Butt Plug by an online sex toy shop. I have loved the Njoy dildos and anal toys for many years. These stainless steel, gleaming beauties of the sex toy world are non porous, compatible with any and every lubricant and will last for years. I have a few other metal sex toys from the Njoy collection too.
Enjoy all our Njoy reviews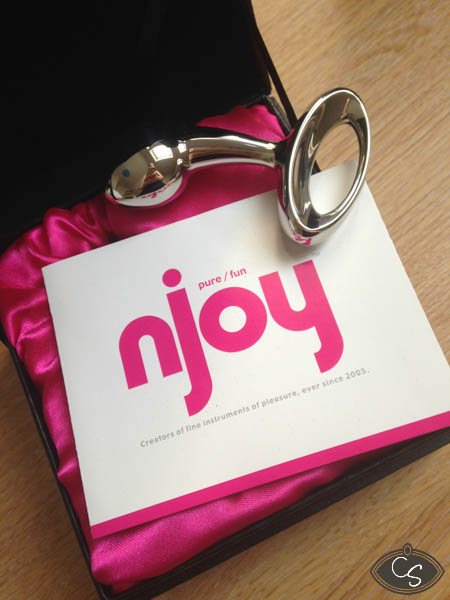 Packaging
I digress. The Njoy Pure Plug Small Stainless Steel Butt Plug arrived in professional packaging, completely discreet. Upon removing it from the packet I was greeted with the white glossy card outer displaying the Njoy logo, which slides off to reveal the black box with silver Njoy logo, perfect to be used as long term storage for your new Njoy sex toy.
I lifted the lid and there the small steel butt plug sat. Safely nestled within the Njoy pink satin covered cushioned inner, was my new butt plug. Taking it out of its delivery cradle I was surprised by two things. The weight and the size. The weight really shouldn't surprise me at all, after all I already have a steel sex toys and plenty of glass and stone ones besides. The size… well it is the smallest in the range out of three. My partner likes slender anal sex toys so this looked to be the perfect size for him; as the plug is steel it can of course be completely sterilised between uses making it safe to share with my lovers.
Instruction Manual
There is also a small booklet in the lid of the box which acts as both an instruction manual and a mini Njoy catalogue of products. It folds out quite some way, as you can see in the pictures below. The Njoy range looks gleamingly enticing, as usual.
Storage Box
The box itself make a great storage unit when you're not using the plug, ensuring it doesn't get tarnished or damaged by clinking against other sex toys or getting lost in some drawer or mixed toy box. This is a luxury toy, so it deserves its own box. It's also much better than a satin storage pouch or the like, I understand the costs involved but obviously a box is much better protection for a hard toy made of steel, glass or stone than a fabric bag.
Size
Total length: 3 inches
Handle width across: 1.8 inches
Plug max circumference: 3 inches
Insertable length: 2 inches
How It Feels
I took myself away for my first testing of the Njoy Pure Plug Small Stainless Steel Butt Plug. Let me admit right now… I have used this quite a few times between receiving it and reviewing it! I only received it in the last couple of weeks too. I'm very impressed.
Taking some great quality sex lube with me, I arranged my comfort and privacy and then began. Just a drop of lube was all that was required for this glorious stainless steel butt plug to slide into place, the finger loop stopping the plug from being lost inside the anal area. The opening of the finger loop could be wider but the reason it isn't soon becomes apparent.
Finger Loop
This Njoy Pure Plug Small Stainless Steel Butt Plug is so comfortable inside. You can tell  you have just inserted a lump of shiny, smooth metal as it's so decadently cold. After a while it warms to your body temperature. The main surprise was the design of the finger loop. Instead of a rounded flared area or a entirely circular finger loop, the Njoy Pure Plugs finger loop is merely an extension back from the T shape of the main plug base.
When the plug is inside, you can move around comfortably and the loop doesn't irritate or feel cumbersome in the slightest. It's so well designed I was marvelling at it for a good while – as well as being distracted by the internal sensations, of course!
It's not often that you find a butt plug with a finger loop that you could comfortably, easily and discreetly wear under clothing but with the Njoy Pure Plug Small Stainless Steel Butt Plug that's precisely what you get. The slender stem is enveloped by your body, securely and erotically holding the tulip shaped bulb inside you, while the loop feels like nothing more than an ordinary thong.
Point to note: the bottom rounded edge of the finger loop is etched with the Njoy logo too – genuine quality, no imitations!
Clever Design
With a curve to the tip of the plug, the tapered rounded end sits within the anal passage teasingly and makes an exquisite and exciting addition to masturbation or couples sex. It's a non-intrusive part of your sexual activity and is used with great ease.
The only thing I would say is that this is the small size – if you're used to anal sex or anal sex toys then you may need either the medium or large. This plug, while feeling sublime inside, could do with being a little larger for me, personally! Hence the point off. It's a matter of personal taste, though. It would be great for beginners to anal sex and butt plugs though, perhaps a luxurious and romantic gift to someone who has communicated an interest in rear pleasures to you?
After Use
Afterwards, the Njoy Pure Plug Small Stainless Steel Butt Plug is easy to clean. The steel is non porous so you can wash thoroughly in soapy water then spritz on your anti-bacterial sex toy cleaner to ensure it's completely and hygienically clean.
The Njoy Pure Plug Small Stainless Steel Butt Plug is a wonderful addition to my sex toys collection and I look forward to including it in my sex life for years to come.
Buy Yours
Check out the Njoy sex toys collection through the buttons below:


Contains affiliate links