Nexus Anal Starter Butt Plug Kit Review
By Pleasure Panel reviewer NatandTom
With so many different shapes, sizes and styles to choose from, it's easy to get overwhelmed when picking out sex toys for the first time or choosing from a new category that you haven't explored before. That's why I find products like the Nexus Anal Starter Butt Plug Kit really helpful to recommend to people who haven't encountered such toys before. This kit is made up of three different plug sizes and these come in small, medium and large. Each plug has been designed in the same way with the same shape but there are small differences between them (other than size) that become apparent during use.
Before we get into all of that though, let's get the basics covered. The Nexus Anal Starter Butt Plug Kit arrives in a sturdy black box that reads a few key features on the front and a description and rundown of each plug on the back.
Also on the front there is a 'touch me' area where you can get a feel for the silicone that has been used and I imagine that this would be a great feature for people who are buying this in a store rather than online. This sheet of plastic can be removed to touch the plugs or get a better look at them but it's easier to simply lift up the sides of the box and remove them from the casing inside. The back had read that there were instructions inside but none could be located within my box, this isn't an issue however as I don't think they are necessarily required as plugs are fairly straight forward to use and the packaging covers most of the basic information needed.
As briefly mentioned above, the plugs in the Nexus Anal Starter Butt Plug Kit are all made from silicone. It is listed as phthalates-free, highest-grade silicone and it's claimed that each plug is hand finished to achieve the velvety soft results. If body safe materials are an important factor to you when picking out new sex toys (which they should be) then you'll be pleased to know that this meets those guidelines and should not cause any problems. I think it's particularly important to pick something non-toxic, non-porous and hypoallergenic when the toys are being used anally or may be shared between partners as they can then be cleaned thoroughly after use, preventing harmful bacteria being swapped around. The only downside to silicone, which is the only body-safe soft material, is that it attracts a great deal of lint and this kit comes with no storage other than its bulky box. Be sure to rinse before each use to remove any pet fur, hair or other lint that may have attached itself to the soft surface whilst stored.
Silicone has no odour, a smooth finish that feels comfortable during insertion, removal and wear and a silky surface that seems to get through lubricant rather quickly. Silicone can be known for having drag or friction to it but this can be solved easily with an application of water based lubricant. I found that I needed to top up if I was to wear one of the plugs for longer periods of time as it then started to chafe a little bit and cause mild discomfort so I'd also recommend keeping the lube on hand just in case any more is needed. After use, clean the plugs with warm soapy water and rinse thoroughly. Alternatively, these can be placed in the top rack of the dishwasher, boiled for a few moments or wiped down with a 10% bleach solution.
The smallest plug in the Nexus Anal Starter Butt Plug Kit has been created with first time users and beginners in mind. It has an overall length of around three inches and two and a half inches of usable length. It is a slimline plug with a maximum circumference of 2.5 inches and I felt that this inserted easily even with minimal amounts of lubricant. I do have a fair bit of anal experience so I think this plug is too small for my personal needs and preferences now however I believe that this could be a good starting point for someone who has never inserted anything back there before.
The only thing that I'd note about this size is that it felt like it was slipping out constantly and I'm not sure if that's due to the small dimensions or whether the neck doesn't slim down quite enough to hold it into place. For me, I'd also like the base to be slightly wider as although it does have the required flare to prevent it from getting lost in the body  both the plug and the base have some flexibility to them which makes me wonder whether these plugs  could end up travelling unexpectedly if a partner was to push against them firmly.
Next is the medium plug, which is designed for those beginner to intermediate players that want to take exploration a little deeper. This one has an overall length of three and a half inches and a usable length of three inches. It doesn't have a massive jump in girth as the widest point is 3.25 inches and I honestly think that most beginners who've experimented with fingers in the past would have no problems inserting this one. For me this was a better fit than the small and the plug itself felt a little firmer which applies some pressure to the back wall of the vagina which makes penetration feel better for both me and my partner.
For people with prostates, I can't vouch for how successful this would be at stimulating the area as I don't have one myself but I do think this size plug could at least locate the p-spot due to its girth and shape. I didn't feel like this one was slipping out so much but I did again find myself wishing the base had been a little wider just so I could have complete peace of mind. I know logically that these are perfectly safe to use but in practice, the base is just a lot slimmer than the options I would typically go for.
Last but not least we have the large plug, which is one that should be worked up to gradually over a period of time as it's designed for the more experienced player. It's overall length is around 3.75 inches  and it has an insertable length of 3.25 inches. This doesn't sound like a big jump from the medium and it isn't but it should be long enough to find and hit most prostates. For people who prefer shallow penetration and a more filled feeling, this plug would be ideal. Its maximum circumference is four inches and whilst this isn't large in the grand scheme of anal toys, it will seem like it to someone who's only used the other two plugs in this set before.
This was my favourite plug of the Nexus Anal Starter Butt Plug Kit and I think that's due to it being the best fit for my experience level. It provides a filled sensation without stretching me uncomfortably, seems to have an increase in firmness yet again for that delightful pressure I was talking about above and this one makes the most difference in terms of how tight it makes the vaginal canal feel during penetration for both of us. I can see this being a great plug for someone who found their prostate with the medium size but needed more width or firmness to provide some stimulation to the area and I also think it was the best of the bunch for long-term wear. It doesn't feel like it's slipping out as much as the others due to the subtle increase in weight and I even felt more secure with the base on this one as although it's the same as the others it didn't have quite as much flex to it as they did.
Overall, I think the Nexus Anal Starter Butt Plug Kit is a great choice for people who are looking to explore anal play, either for the first time or with some previous but limited experiences, as the sizes build up slowly to ensure that the player doesn't rush into something too big too soon. The base style that was chosen makes these plugs extremely comfortable to wear and you can even sit down in these without experience any chafing, which is something that's typical with the rounder, princess plug styles. They may be simple in design but that keeps the focus on exploration and stimulation rather than aesthetics and allows for a safer, more comfortable experience for those who are new to anal sessions.
I would recommend the Nexus Anal Starter Butt Plug Kit to beginners of any gender who want something basic but brilliant.
8/10
– NatandTom
---
Where To Buy
Thanks to Pleasure Panel reviewer NatandTom for this review of the Nexus Anal Starter Butt Plug Kit.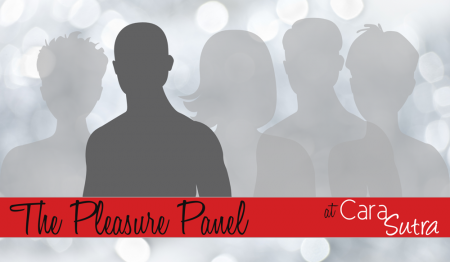 Unaffiliated