MEO Dr Sado Waxplay SM Candles Review
By Miss Anna
I adore and absolutely relish the sensations that can be achieved through wax play, when the opportunity came up to review these MEO Dr Sado Waxplay SM Candles from MEO, a company that is quickly becoming a firm favourite of mine, I couldn't wait to test them out.


Enjoy all our wax play candles reviews
Packaging & First Impressions
The MEO Dr Sado Waxplay SM Candles come neatly packaged in a slim cardboard box, the branding and design of the box they arrive in is sleek and simplistic. This review is for a pack of 3 candles.
All of the information that you need to use these candles safely is stated on the outside of the box, the MEO Dr Sado Waxplay SM Candles burn at 50 degrees C – hotter than many brands of massage candle however not as hot as a tea light. Full safety instructions are printed on the back of the box along with a warning in relation to reddening of the skin after use.
I was a little surprised to see there was no ingredient list on the packet, the type of wax these candles are made of is not stated either.
Inside The Box
Inside of the cardboard box there is 3 coloured candles, red blue and a white. It was satisfying to see that the candles had been individually wrapped, I find all to often that wax play candles are packed together with no separators resulting in a messy storage packet or leaving you with a soft naked candle to store at your own risk!
The MEO Dr Sado Waxplay SM Candles are long and slim, with what look to be cotton wicks.
Taking one of the candles from the wrapper it is apparent that these candles are subtly scented with a very light and pleasant fragrance.
The MEO Dr Sado Waxplay SM Candles During Use
Before lighting one of the candles I had already decided I would trim down the wick, this produces a smaller and more controllable flame.
After lighting it took only a few moments for the very top of the wax candle to start to melt, I think the slimness of these candles really helps with wax control; with many shorter, thicker candles there is a longer wait for the wax to melt and when it does, a large amount to splash… I have found with the MEO Dr Sado Waxplay SM Candles the length and slim girth allows for a steady stream of wax to be continually dripped onto your desired area.
The soft fragrance is slightly more noticeable once the wax is warm and the candle burning, not unpleasant at all and actually very nice.
The temperature of the wax seemed to be just about right when dripped from the recommended distance of 50cm, I often like to intensify the sensation by dripping closer to the skin but this should only be done after careful testing of your own limits.
When it came to blowing the candle out, the flame extinguished quickly with only a small amount of smoke produced afterwards, perfect for indoor use!
After use I was curious to see how easily the dripped wax could be cleaned up, I was incredibly surprised at the ease in which this could be done. Flicking the corner from a large patch of dripped wax, it just peels off… No crumbling, no need for wiping and no residue, by this point, I am seriously impressed!
Conclusion
Over all I am very impressed with the MEO Dr Sado Waxplay SM Candles; they are simple and incredibly effective to use, come in great colours, they smell wonderful and are an absolute dream to clean up afterwards.
10/10
– Miss Anna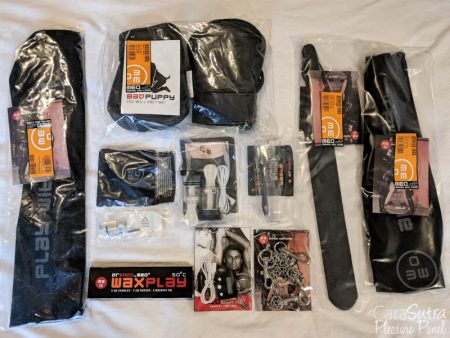 ---
Where To Buy
Thanks to Miss Anna for this review of the MEO Dr Sado Waxplay SM Candles.


This product was sent free of charge, in exchange for a fair and honest review here at the Cara Sutra sex blog. This review contains affiliate links.