Loving Joy Bound Nubuck Leather Wrist Restraints Review
By Pleasure Panel reviewer Livvy Libertine
I was super excited to get the chance to review these Loving Joy Bound Nubuck Leather Wrist Restraints from Loving Joy and waited very impatiently for them to arrive. As soon as they did I snapped a few pictures and promptly put them on.
First Impressions
The wrist restraints were heavy without being too heavy, not overly bulky, and smelled absolutely wonderful in the way that only leather can.
Specs & Fitting
These cuffs have an adjustable circumference of 6.1-12.3 inches and fit even my small wrists nicely. The brass hardware looks fantastic against the deep brown leather as well. The buckles themselves can be padlocked to keep the cuffs on. However, the chain that connects the cuffs is very finicky and difficult to attach to both 'D' rings. It seems as though it is just a little too small on either end to connect without really having to fight and fidget with it.
During Use
At the time of my first trial I wore the Loving Joy Bound Nubuck Leather Wrist Restraints for well over 12 hours because I chose to sleep in them. They were quite comfy to sleep in, didn't irritate my skin, and none of the hardware bothered me at all. I found all of these things to be fantastic as I have quite a fondness for sleeping with my hands bound or cuffed. In fact, I only took them off the next morning because it was suggested I do so to let my skin breath a bit as the cuffs did make my wrists somewhat sweaty, which was unsurprising.
Bondage Sensations
Wearing the wrist restraints during sex and was exciting and fun, even if they weren't clipped together to really limit my movements. I knew when my partner put my hands somewhere that they were intended to be kept where they were placed. And my partner was able to grasp them by the 'D' rings and move me around that way so that was quite nice as well. The slight weight of the cuffs reminded me of being submissive in that moment so if you're looking for a way to be grounded in that head space these might help.
Size Issue
The wrist restraints did have a definite downside being that they weren't quite the same size (likely a result of manufacturing) and therefore didn't fit both wrists exactly the same. It wasn't exactly a deal breaker as I'm sure I will wear these cuffs again and again, but it was something that I occasionally noticed that just made me feel a little uneven.
Conclusion
Other than that single thing I can't find anything about these Loving Joy Bound Nubuck Leather Wrist Restraints to complain about. They're lightweight, very adjustable, even fitting my small wrists and a great deal to boot coming in on the Loving Joy website at £36.95 or approximately US $48.
– Livvy Libertine
---
Where To Buy
Thanks to Pleasure Panel reviewer Livvy Libertine for this review of the Loving Joy Bound Nubuck Leather Wrist Restraints.


The Loving Joy Bound Nubuck Leather Wrist Restraints were sent free of charge, in exchange for a fair and honest review by the Pleasure Panel.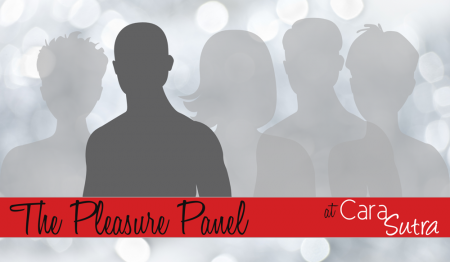 Contains affiliate links.