Lovehoney Oh! Chocolate Body Paint Review
By Pleasure Panel reviewer Tigerlily
Few of us have ever needed an excuse to lick our partner from head to toe, but no one ever turned down an offer of chocolate either. So I was helpless to resist reviewing the Lovehoney Oh! Chocolate Body Paint, available now from lovehoney.co.uk, priced £6.99 for a 120g tube.
I must admit, we've never tried any kind of painted penises before, nor have we indulged in whipped cream nipples, sushi on the stomach, or any other kind of bedroom-based culinary experience. But we are always interested in trying something new.
Texture & Taste
Out of the tube, our experience was a little disappointing. The Lovehoney Oh! Chocolate Body Paint seemed to be mostly made up of oil, and quite thin. It smelled of chocolate, definitely, but neither of us wanted to actually taste the off-putting oily substance.
After a good bit more shaking and massaging the tube, things got a lot better. It had a much smoother texture, no oily residues, and genuinely tasted like chocolate should. A little bit artificial, perhaps, but we were all too happy to keep licking it off each other, so clearly it was good. It's thick enough to write dirty messages, and will stay stuck to surfaces so you needn't worry about it sliding off as you move around or stand up.
The next time we used it–when the photo above was taken–the body paint had seemingly reverted to a more oily state, and no amount of squeezing and massaging the tube would get it back to the formerly non-oily state. This could have been an issue with temperature. It was still squeezable, but less appetising.
What's In It?
The ingredients, listed in order of highest to lowest content:
Sugar
Vegetable fats (rape seed oil and coconut oil)
Coca powder
Whole milk powder
Cocoa mass
Sunflower lecithin (emulsifier)
Natural vanilla flavouring
The only common allergen is milk, and traces of nuts. There are no obvious E-numbers or random chemicals in there that might be bad for you.
The product is made for Lovehoney by Spencer & Fleetwood, who are also responsible for a range of other naughty nibbles, sexy spreadables, and peppermint peckers.
Can You Use This On Genitals?
Obviously, you'd expect a chocolate body paint for sexy time to be usable on your sexy bits, and while that's true for breasts and the outside of the penis, you should carefully consider the risks before putting anything sugary in your vagina. You could be susceptible to yeast infections if you do that.
So if you do slather your penis in it, make sure it's both licked thoroughly clean (such a hardship, I know) and then given a quick wipe before sex. The instructions on the back state "not for use directly on genitals", but that's a bit strict.
Is The Chocolate Spread You're Looking For?
Personally, I really enjoyed voraciously licking the Lovehoney Oh! Chocolate Body Paint off my partners body and strap-on. It can certainly add a little encouragement to oral, especially if you're not too keen on the whole penis taste. Clean up thoroughly before anything sugary is inserted however.
You'll be stunned by the delicious chocolatey aroma, and won't be able to help yourself licking and sucking until the last bit is gone.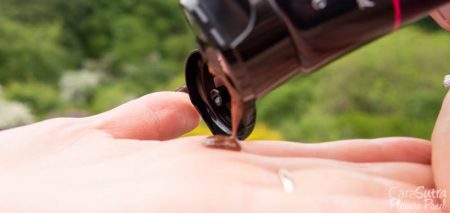 If you're the sort of couple that has trouble with prolonging foreplay, this is definitely going to give you more options for play time.
In that respect, it's an absolute winner.
But the thing is: it's basically a chocolate spread. At least – it taste, smells, and looks (sometimes) like the chocolate spread in our kitchen cupboard. You know, the kind you put on toast. Perhaps a bit thinner, but not by much. The two biggest ingredients are sugar and rape seed oil, on both products.
But the Lovehoney Oh! "Body Paint" costs £6.99 for 120g, in a non-recyclable squeezy tube. That's £5.80 per 100g. Your basic Tesco Value Chocolate Spread costs £1.50 for 400 grams, and the glass jar it comes in is easily recyclable. That's 37p per 100g! Is the convenience of having it in a tube worth that much more to you? I doubt it.
So while the Lovehoney Oh! chocolate tastes great, I struggle to see how it's worth *fifteen times* as much as just buying a tub of regular chocolate spread. And frankly, the Tesco spread looks a lot more appetising. (Pictured above: Lovehoney Oh! Body Paint on the left; Tesco chocolate spread on the right. Which you rather be licking?)
Perhaps there's some secret that I'm missing here, but that doesn't strike me as particular good value. Heck, you could probably buy a Waitrose Premium Organic Fairtrade Chocolate Spread, and it would still work out cheaper.
For that reason alone, we're scoring the Lovehoney Oh! Chocolate Body Paint a 3/10. It's deliciously good fun, but the texture is inconsistent, appearance can be unappetising, and the pricing is just plain wrong.
– Tigerlily
---
Where To Buy
Thanks to Pleasure Panel reviewer Tigerlily for this review of the Lovehoney Oh! Chocolate Body Paint.


The Lovehoney Oh! Chocolate Body Paint was sent free of charge, in exchange for a fair and honest review by the Pleasure Panel, by the Lovehoney online sex shop. Thank you! 🙂 
Contains affiliate links.